By Emma Ujah, Abuja Bureau Chief & Emmanuel Elebeke
THE Nigerian Economic Summit Group, NESG, yesterday, signed a Memorandum of Understanding (MoU) with the Nigerian Governors' Forum, NGF, to facilitate dialogue and develop joint programmes geared towards promoting sub-national competitiveness as a national economic development strategy. The MoU was signed on the sidelines of the on-going 23rd edition of the Nigerian Economic Summit.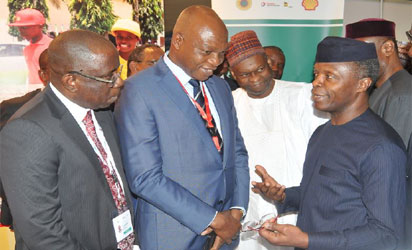 Chief Executive of the NESG, Mr. Laoye Jaiyeola, while commenting on the MoU, said that NESG was delighted with the platform created by the MoU for Nigeria's private sector to engage the ministries, departments and agencies in sub-national governments across Nigeria.
He stated: "We are optimistic that the dialogue created by this platform will lead to recommendations that will make the various states more competitive as destinations for local and foreign investment."
Under the MoU, the NESG and the NGF agreed to work together to develop strategies for national economic competitiveness. In addition, the NESG and NGF will convene regional/sub-national economic summits that are focused on building competitive advantages within state clusters, geographic corridors, economic belts across different sectors and unique opportunities that characterize different regional blocs.
As part of the agreement reached in the MoU, the NESG will provide technical assistance to the NGF in several areas including the development and implementation of sub-national economic summits as well as the development of a sub-national government agenda to address issues bordering on 'ease of doing business'.
On its part, the NGF will provide a joint secretariat for public-private dialogue and engagement with sub-national governments. It will also establish sub-national working groups comprising representatives of state governments' heads of ministries, departments and agencies crucial for driving economic reform actions and recommendations.
The Nigerian Economic Summit Group is a private sector led think-tank organization that promotes sustainable growth and development in the Nigerian economy.