***thanks Buhari, Atiku, Mark for support
By Levinus Nwabughiogu
ABUJA – The family of the late former Chief of Army Staff, COAS, Lieutenant General Victor Malu has said that their patriarch died in Egypt after a "protracted illness".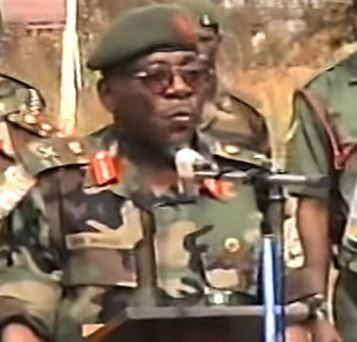 According to a statement signed by his son, Lt.Col. Tarumun Malu, the family said that the former COAS was flown to the country for treatment of an undisclosed ailment.
The family also expressed gratitude to President Muhammadu Buhari, former Vice President, Atiku Abubakar and former, Senate President David Mark for the condolence messages issued on Monday.
The statement read in part: "Our father, General Malu lived a life of service to God and Country.
"We will miss his fatherly love and affection, even as we believe he will always be remembered as a man that selflessly served his country in and out of the military.
"We would like to sincerely appreciate the outpour of condolences coming from different parts of the country.
"We most especially thank the President and Commander-in-Chief, Muhammadu Buhari for his heartfelt message to the family.
"We are thankful to former Vice President Atiku Abubakar and the former Senate President, Senator David Mark for their words of condolence.
"We also are grateful to members of NDA Regular Course 3, the All Peoples Congress (APC) and all other associates, friends of the family and well-wishers who have shared in our grief at this difficult time".
Lt.Col. Malu stated that burial arrangements for the former Army Chief will be announced by the family in due course.
It will be recalled that late Malu was appointed Chief of Army Staff in May 1999 by President Olusegun Obasanjo. But was removed in April 2001.
He was commander of Economic Community of West African States, ECOWAS, peace-keeping force, ECOMOG, from December 1996 to April 1998 during the first Liberian civil war.
The former Army Chief also chaired the military tribunal that tried former Chief of General Staff, Lieutenant General Oladipo Diya, in 1998 over alleged coup plot against the then late Head of State, General Sanni Abacha.
Malu enrolled in the Nigerian Defence Academy, Kaduna, in 1967 as part of the 3rd Regular Course and was commissioned as a 2nd Lieutenant enlisted upon graduation in 1970.