By Ayo Onikoyi
Pretty Yoruba actress, Aishat Ibrahim, who's beginning to turn things around in the industry, cuts the image of the proverbial beautiful woman who cannot stay with one man. But getting close and personal with the actress, shows that the light-skinned beauty is a sharp diversion from your normal beautiful woman who wouldn't want to stay with one man.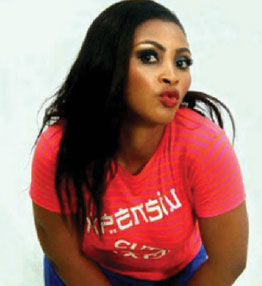 Chatting with Potpourri on the possibility of a woman loving two men at the same time, the actress stamped her foot on the ground, declaring that for her, loving two men at the same time is an impossibility.
" If we talk about real love, it's impossible to feel the same way for two guys. Though, love means different things to different people, but for me, love is submission to one man. When you truly love one man, it is impossible to love another, at least, at that particular time," she said.
Explaining further, she said, " Some people may find themselves in that unfortunate situation of loving two guys at the same time, especially when a woman broke up with a guy under circumstances beyond her control and finds another guy that sweeps her off her feet.
She may find herself loving the two guys at the same time but never  equally. As I said earlier, when I love one man, I stick to that man and there's no room for another man" she added.