By Kingsley Adegboye
PROSPECTIVE home owners who love to live exclusively close to nature in a serene and secure environment may not have to look too far to realise their ambition of ideal homes, as Lakowe Lakes Golf & Country Estate, an exclusive 308-hectare residential golf estate located along Ibeju-Lekki corridors, has brought nature and luxury to community lifestyle.
Owned and developed by Mixta Africa, a leading real estate development company based in Lagos, a wholly owned subsidiary of ARM Limited, the Lakowe Lakes Resort is a unique, nature- inspired, luxury hospitality product which takes advantage of the natural setting of Lakowe Lakes Golf & Country Estate in Lagos Nigeria.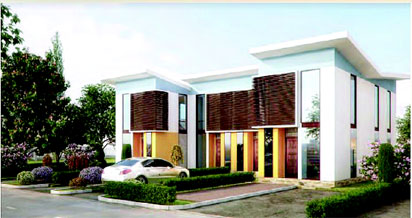 Specifically, the Resort includes 63 suites, comprising studio, one bedroom and two-bedroom villas, a full service spa & wellness centre for fitness and relaxation, with steam rooms and saunas, as well as an Asian themed specialty F&B outlet and other recreational facilities.
Recreational facilities
The residential estate is a secure and serene gated community with an 18-hole world class golf course comprising guest cottages, corporate lodges, spa facilities, hotel and a clubhouse.
Speaking on the multi-billion naira project during media tour,weekend, Mr. Korede Lawrence-Salu who is the Head of Sales at Mixta Nigeria, disclosed that special features of the expansive estate include The Village which is the luxury residential community within the estate, consisting of only 18 residential homes, offering two distinct home styles and specially designed to cater for  a select few.
According to him, each home has its own amenities, adaptable to the residents' requirements with wide doorways, ramp access, handrails, lighting and security features, adding that home owners will also enjoy the exclusive use of a dedicated gym, mini club house, swimming pool, landscaped gardens, bike rails and walkways. He said no future expansion is planned within The Village beyond these 18 unique homes.
"Another special feature in the estate is The Enclave which is a premium residential community within the estate featuring a range of houses themed around some of the spectacular and renowned natural landforms in Nigeria. The Enclave comprises 206 homes, delivered with infrastructural amenities including roads, water and sewage treatment plants.
The Enclave provides a unique take on the Lakowe Lakes experience. Residential units are offered in a range of styles to meet the diverse requirements of our clients, including palatial retreats for executives and holiday makers, cozy homes for couples and corporate clients, and larger units for families," Lawrence-Salu noted.
Disclosing further that there are equally serviced residential plots within the estate with full infrastructural amenities for those who desire to buy plots to build by themselves, the head of sales said clients or subscribers to the plots will be given the option to choose from 10 different house designs, with construction completed only by approved contractors.
Speaking on the hospitality aspect of the huge project, Mrs. Sade Hughes, Managing Director, Mixta Hospitality & Retail said there is The Lodge and Spa Resort at Lakowe Lakes that is the first of a number of hospitality products within the Golf and Country Estate, pointing out that it consists of a corporate lodge facility as well as a nature inspired Spa Resort that will promote wellness, relaxation and recreation.
According to Hughes, the resort is on a dedicated and secluded platform within the estate and overlooks a lake which enhances the serenity of the setting and offers a one-of-a-kind experience. She added that the adjacent corporate lodge overlooks the golf course offering stunning views of the 18-hole Golf Course and beyond.
"At completion, the Spa Resort will comprise 63 upscale suites in Balinese inspired timber villas comprising studio, one-bedroom and two-bedroom units. It will also include a full service spa and wellness facility, offering a wide variety of rejuvenating and therapeutic treatments. Recreation will also be a primary offering of the facility leveraging on the natural setting of the resort and the larger estate.
"It will include water activities as well as others such as hiking trails and bike rides. A specialty restaurant is intended to complement the other elements of the resort and will offer fine dining using organic produce, again promoting wellness within the resort. The Corporate Lodge will include 20 luxury rooms as well as meeting and conferencing facilities for up to 150 people in various configurations including a fully equipped boardroom, breakout meeting rooms and the strategy hall for larger gatherings.
"A full service restaurant is also included in the offering including a golf course facing outdoor dining terrace for private dining, cocktails and a host of other events. The Lodge and Spa Resort offers a perfect setting for corporate bodies looking for residential conference and retreat venues; leisure groups looking for weekend or holiday getaways.
Spa and wellness enthusiasts looking for one of a kind upscale experience previously only available outside the country, will not need to look outside the country for such. Social parties and other celebratory events requiring a unique destination venue can be taken care of at our Resort," Mrs. Hughes stated.