By Joseph Erunke
ABUJA-THE Chief of Air Staff, Air Marshal Sadique Abubakar, has challenged the National Defence College, Abuja, to be innovative with a view to proffering quick and permanent solutions to Nigeria's prevailing security challenges.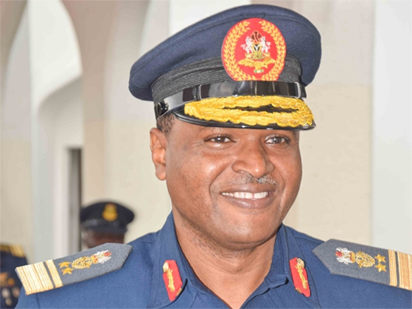 Abubakar insisted that it was by so doing that Nigeria can be a stable country with unhindered growth and development.
The Air Force Chief, who spoke while welcoming the Commandant, National Defence College, NDC, Rear Admiral Adeniyi Osinowo, who had paid him a courtesy visit at the Nigerian Air Force Headquarters, Abuja, also tasked the college to organise short courses for commanders and others in various leadership positions, in liaison with institutions such as the Administrative Staff College of Nigeria, ASCON, for enhanced capacity building.
Abubakar, who said the Nigerian Air Force takes particular interest in the college, being one of the institutions saddled with the responsibility of producing the Nation's strategic leaders, hailed the college's planned efforts to foster closer relationship with other institutions of strategic studies, which he noted, would facilitate synergy, to the country's advantage.
Air Marshal Abubakar also urged the college to come up with papers, similar to the college's traditional president's papers, to address specific challenges facing respective Services.
While assuring the commandant of the NAF's continuous support as might be required, Air Marshal Abubakar again congratulated the new commandant of the NDC and wished him well in the new assignment.
Speaking earlier, Rear Admiral Adeniyi Osinowo stated that he was at the NAF Headquarters to identify with the successes so far recorded by the NAF under the leadership of Air Marshal Sadique Abubakar.
While commending the efforts of the Nigerian Air Force in the fight against insurgency and other forms of criminalities in the country, Osinowo thanked the service for its continuous support to the college.
He cited the airlifting of staff and participants of the college during its study tours as well as the NAF's administrative support towards meeting the manpower needs of the college.
According to the commandant, the college was currently focussing its research efforts on addressing pertinent security challenges confronting the country.
He disclosed that efforts were ongoing to reposition the Centre for Strategic Research and Studies, CSRS, to support the Federal Government and the Armed Forces in proffering solutions to the nation's challenges by offering policy options.
In addition, the commandant said the college would work towards improving synergy with other institutions of strategic studies such as the National Institute of Policy and Strategic Studies, NIPSS, and the Nigerian Institute of International Affairs, NIIA, in order to proffer solutions to the nation's strategic issues.