Gov. Willie Obiano of Anambra has enjoined the people of the state to keep faith with the Nigeria project and shun divisive tendencies.
Obiano made the call at the 57th Independence Anniversary at Dr Alex Ekwueme Square in Awka on Sunday.
Obiano, represented by his deputy Dr Nkem Okeke, said that Nigeria had a lot to celebrate because many things had changed since the nation's independence in 1960.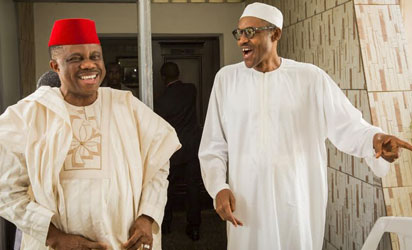 He called on the people of Anambra to effectively participate in the Nov.18 governorship election in the state.
Obiano, who read President Muhammadu Buahri's address, identified corruption as key problem standing on the path of progress of the country.
He said that everybody must support the fight against country if Nigeria must move forward.
The News Agency of Nigeria (NAN) reports that the celebration was peaceful and marked with church services and mini-Independence event.
NAN reports that police, immigration, Nigeria Prisons Service, Voluntary organisations, primary and secondary school children participated in parade.
Meanwhile, Rev. Fr. Mathew Attaseny, of St. Patrick Catholic Cathedral Church, Awka, has advised Nigerians to always eschew bitterness in their dealings with one another.
Attaseny, who is the Cathedral Administrator, also advised Nigerians to be proud of their culture and train their children in the way of God.
He said that the key problem militating against the development and peace was sin which among others include corruption.
"We must as a nation pray and fast for God to intervene in the problem of this nation, that is the only way we can make progress as a people,'' Attaseny said.
In a related development, Gov Udom Emmanuel of Akwa Ibom has urged Nigerian leaders to deploy available natural resources in the country to create jobs for the teeming youths.
Emmanuel said this during the occasion to mark the 57th Independence Day celebration of Nigeria held in Uyo Township stadium on Sunday.
He said that the country has been blessed with enough natural resources which if well harnessed by our leaders would create a viable economic growth for the betterment of the people.
"This is the time for our leaders to deploy our huge natural blessings to create an economic viable society where the youth will have jobs, hope of growth and development.
"Let us look for other creative ways of growing our economy using the tools of the 21st century, " Emmanuel said.
The governor said that there was every reason for Nigerians to be optimistic; noting that in spite of the challenges facing the nation, there was a brighter hope in future.
According to him, Nigerians were incredibly optimistic people that would not give up until they achieve their goals.
He said, "Let us as a people renew our faith in the immutable believe that this Nigeria is a blessed country, where each must give its own best to get us to where we are destined to be.
"Let us use our religious, tribal and cultural differences as a galvanising ingredient to foster stronger bond of friendship and unity to respect each other.
"Let us not use these differences to create a society of us against the others, or our political party against other political parties."
Emmanuel said that Nigeria should emulate the United States of America that has used their religious and political differences to ignite bond of nationhood.
He said that Akwa Ibom believed in the corporate existence of Nigeria and would continue to work towards its sustenance.
Emmanuel said that as a governor, he would continue to implement policies and programmes that will put food on the table for the people, adding that the state's industrialisation drive was on course.
He pledged to move the state to an enviable height while in office as the governor, stressing that the state would continue to provide free and compulsory education to all at basic level.
The governor thanked the Nigeria Army and other security agencies for their gallant efforts of fighting insurgency and other security challenges confronting the nation.
He commended the Vice President, Prof Yemi Osinbajo, for his presence during the just concluded celebrations marking the 30th anniversary celebrations of Akwa Ibom.
Highpoint of the event was march past by men of Nigeria Police Force, school children and other uniform organisations.
Meanwhile, Gov. Ifeanyi Ugwuanyi of Enugu in his independence speech at Okpara Square in Enugu, said every Nigerian deserved to be treated justly and fairly irrespective of their ethnic and religious backgrounds.
He said that the unity of the country was paramount, adding that every Nigerian needed to emphasise on those things that bound the country together.
He said that though the country had been challenged in certain areas, "but we have made progress and remained one united entity in the past five decades and seven years".
He congratulated President Muhammadu Buhari, state governors, legislators as well as all Nigerians for what he described as a great accomplishment.
Ugwuanyi said that glowing tributes needed to be paid to the founding fathers of the country who nurtured the dream of one Nigeria.
On the home front, the governor said he was appreciative of residents of the state, whom he commended, for the peaceful coexistent in Enugu.
"I thank residents of the state for their commitments for the peaceful coexistent of all Nigerians," he said, noting that his administration would continue to make the state secure for all.
Ugwuanyi said that infrastructural development would gather momentum across the state as the rain were subsiding.
Earlier, in a sermon during an interdenominational service, a Catholic Priest, Prof. Obiora Ike, said that the current challenges in the country needed prayers.
Ike, who is the director of Catholic Institute for Development, Justice and Peace (CIDJAP), called on politicians not to compromise their mandates.
He said that in spite of the differences in ideology and ethnicity "our common humanity unites us as Nigerians.
"We have started to see what democracy means in Nigeria after 57 years. It should be about equity, fairness, justice and allowing the people to be heard.
"Our generation stands in need of bowing to God and standing for what is right," he said.
Ike called on the Federal Government to heed to calls for the restructure of the country, adding "restructure is the language of equity, justice and fairness.
"That is the challenge of the country going forward," Ike said.
Newsmen report that the event featured march-past by school children.
Some dignitaries at the event include former governor of Old Anambra, Chief Jim Nwobodo, first civilian governor of Enugu, Chief Okwesilieze Nwodo, and Deputy Senate President, Chief Ike Ekweremadu.
Others are Sen. Chuka Utazi, Speaker of the state assembly, Chief Edward Ubosi, Chief Judge of the state, Justice Ngozi Emehelu, and heads of security agencies
NAN