By Emeka Obasi
What they shared in common was Flora, the name of their spouses. One an imperialist, the other a nationalist. Nigeria's first Governor General,  Frederick  John Dealtry (Lord)Lugard (of Abinger)and last of the Governors General, Nnamdi Azikiwe (Owelle of Onitsha) walked that path.
Flora Louise Shaw's first love was colonialism. She created the name Nigeria in 1897 as Colonial Editor of the Times, London. Her mother, Marie Adrienne Josephine (nee Desfontaines)was from Mauritius but had French background. Flora's dad, George, was a British Two-Star general.
The British journalist wined and dined with Cecil Rhodes, Prime Minister of Cape Colony, South Africa before shacking up with Lugard whom she married on June 10, 1902. She shared the same birth date, December 19, with Nigeria's first and only Prime Minister, Abubakar Tafawa Balewa.
Zik got married to Flora Ogbenyeanu Ogoegbunam at the Wesley Church, Jamestown, Accra on April 4, 1936. One of the guests was her cousin, Chief Henry Orefo,who became Owelle of Onitsha before Dr. Azikiwe. Other guests included Adolphus Kofi Blankson and Mrs Agbon Quartey, Zik's Landlady.
When young officers sacked the First Republic in 1966,  Maj. Gen. Johnson Thomas Umunnakwe Aguiyi-Ironsi  (Ironside ) grabbed power as Head of State. He chose Lt. Col. Yakubu Chinwa Gowon, as Army Chief. Their wives bore the same name, Victoria. The younger officer toppled his Commander-in-Chief in the next six months.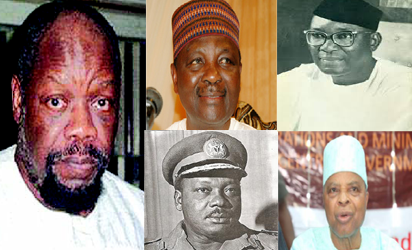 Noble Lady Victoria Nwanyiocha Aguiyi-Ironsi, Ezenwanyi Ibeku,was First Lady for just six months. Her husband was abducted and killed in Ibadan by a bunch of subalterns and other ranks. His son, Thomas Ikeokwuadighim, was the last family member that saw the general alive.
After Victoria Ironsi came Victoria Hansatu Gowon(nee Zakari ).Born to Malam Walter Bala and Lydia Fati Zakari, she won  Gowon 's heart during the Civil War and wedding day was April 19, 1969, in Lagos. Best man was Rear Admiral Akinwale Wey while Col. Iliya Bisalla was Military Coordinator.
The four ladies in waiting turned out to be Mildred Bisalla, Hilda Adefarasin,Dora Adefowope and Ruda Mohammed. The duo of Mary and Elizabeth Dimka functioned effectively as part of the wedding party.
Five months later in Kaduna, Major Ibrahim Badamasi Babangida went into 'Aure' (Marriage). Aure was also the codename for the July 1966 counter coup that toppled Ironsi and elevated Gowon. Babangida's wife was Maria, an Igbo girl from Asaba, whose cousin from the maternal side was a young officer, Garba Duba.
Maria was born in 1945, in Onitsha to Ogbueshi  Leonard  Nwanonyei Okogwu and Asabe Mohammed, King of Minna. She was one of his four Wives. IBB took her to the Kaduna Registry, the Islamic wedding was performed later . After that she became Mariam. Best Man was  Abubakar Waziri, who like his friend also got  married to an Igbo lady, Ngozi.
The bond between Babangida and Sani Abacha was so strong. Both were course mates at the Nigeria Military Training College ( NMTC ), Kaduna. They were Army Chiefs, military rulers and their wives were Mariam. Both were born in 1945, the year Lugard died. Abacha named his first son Ibrahim and his second son Mohammed which is also the name of Babangida's second child.
When Flora Shaw named Nigeria, the Queen of England was Victoria(Maria Louisa). Do not forget that Lugard's wife was Louise and her mother, Marie. Ironsi's wife is Victoria, one of his daughters is Louisa, who like Shaw is a journalist. Victoria Gowon's mom was Fati, the name of Abdusalami Abubakar's wife. Gowon's fatner-in-law, Bala, had same name as one  President Shehu Shagari's sons.
President Muhammadu Buhari is married to Aisha. That is the name of Murtala Mohammed's first child and daughter. Aisha is also the name of Babangida's first child and daughter. It is noteworthy that Babangida and Murtala, both from the North chose their wives from the South.
Babangida became military President on August 27,1985. He stepped aside on August 27, 1993. His wife passed on, December 27, 2009. IBB and Mariam had their first son in Umuahia, hometown of the Ironsis. He was also taught boxing by an Umuahia man, Abraham 'Assassin' Tonica.  IBB got married as a Major. His father-in-law was killed by a  Major.
Victoria Ironsi lost her husband in a coup in 1966,led by Murtala Mohammed that installed Gowon. Victoria Gowon lost a relation, Abdul Karim Zakari, in a coup in 1976 which  claimed Murtala's life and was organised by officers linked closely to Gowon.
In fact, the Military Coordinator of Gowon's wedding, Bisalla,was executed by firing squad. His wife, Mildred, lost an in-law, Joseph Dechi Gomwalk, who graduated from the the University of Ibadan, the same area where Ironsi died. Gomwalk was also one of the Special  branch cops that went in search of Ironsi's body.
Another Flora came up just before Babangida ascended the throne. Mrs Flora Ilonzo went into vision. She predicted the IBB coup. That landed her in detention. Yohanna Yah Kure, GOC, 82 Division, Nigeria Army, Enugu shut her up. The Anambra State Government demoted her to Level 12 from Level 15.
We have also had First Ladies with  names like Oluremi, Ajoke, Sefinatu, Margaret, Fati, Turai and Patience. Should Asiwaju Bola Tinubu become President, his wife will be another Remi. My  Crystal Ball tells me that anyone who wants to be President after Buhari should exercise patience until he gets him a wife called Aisha. Goodluck.