BY ROTIMI AGBANA
In a chat with Potpourri, budding Nollywood diva, Chinonso Sandra Onyenemere, blamed the now prevalent 'babymama' trend among entertainers on inability to control their libido.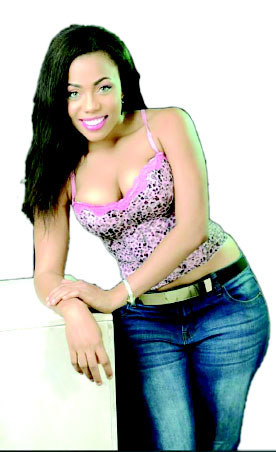 "Entertainers guilty of the babymama trend don't have control over their libido, they should be responsible for their actions", she said.
Asked why some entertainers are comfortable just being babymamas or single fathers, she blamed it on spurious societal transformations.
"Generally, the world has changed; it's not only in the entertainment industry that the babymama thing happens, it happens outside the industry too, but it's heard amongst the celebrities because they are in the news a lot. It also happens when one partner is not a celebrity, he/she wants to be in the spotlight as well, probably earn popularity or the benefits attached to it. A lot has changed in the world, nobody really cares, they just live their lives the way they want, you now see people going nude without shame."
Speaking further,  she however confirmed that there are still some entertainers who have not been affected by these societal changes taking place all over the world.
"Some don't really care, while there are some who are still very much cultured and family oriented. It all depends on the individual and the kind of life he/she has chosen to live. Our African culture and traditions are very much valid to those who haven't betrayed it and still have moral discipline and self control", she concluded.