The National Coordinator APGA Media Warriors Forum, Evang Chinedu Obigwe, has on Tuesday squashed the alleged court order restraining Governor Obiano of Anambra state from parading himself as the APGA candidate for the forthcoming November 18th election, as he also cautioned opposition party members from circulating and sponsoring false news in the social media.
"Stop fooling around hither seeking for a cheap political point from a nonexistent court order allegedly restraining Obiano from parading self as APGA candidate.  There is no court restraining order against Obiano. He is the authentic candidate for APGA and he will win the forthcoming election. You think you are inciting fear in Obiano's supporters? No! You are giving them more reasons to support him.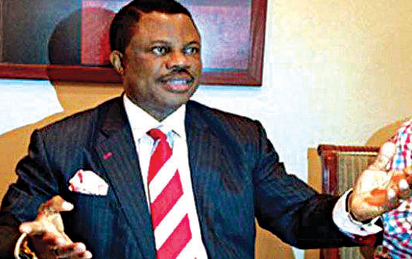 "The opposition party members conducted opinion poll and discovered that Governor Obiano will defeat all of them, hence the reason why they resorted to false news circulation of a nonexistent Court order in the media to dampen the spirit of the Governors supporters", he said.
In a statement made public to newsmen on Tuesday, Obigwe said that the opposition party members have started suffering from 'election defeat fever' owing to the mammoth support and loyalty  Obiano is gaining from the electorates.
"It is now crystal clear to them that the people of the State are determined to return Governor Obiano to office for a merited second term, hence their fever", he said.
Parts of his statement read:
"I see Martin Agbaso as an agent of darkness that is prone to the manipulation of the political evil forces which perhaps does not want the progress of Anambra State.
"Governor Obiano is a heavenly ordained candidate for the November 18th election who cannot be stopped by Martin Agbaso. His attempt to stop Obiano will be likened to a Golf car standing on the way of a moving train. Agbaso's latest evil plot will fall like a pack of card.
"Governor Obiano's victory in the forthcoming election is vividly written on the wall and will manifest itself on November 18."
Speaking further Obigwe lampooned Tony Nwoye the APC Governorship candidate for an alleged shooting incident that left one person wounded at Anaku in Ayamelum LGA by an alleged and suspected APC thug.
According to him, "Wherever the APC Governorship campaign train visits, blood will be wasted or there will be a fisticuff, implying that Anambra state will be turned into a lawless State if the people of the State mistakenly vote for Tony Nwoye.
"Anambra electorates should avoid opposition party member's governorship candidate because they don't have their interest at heart. They are on a condemnable mission to destroy the solid foundation laid in the State by Governor Obiano's administration and equally to plunder the resources of the State", he said.
Obigwe finally urged Anambra electorates to use their voting power to reward Governor Obiano on November 18 for his State infrastructural and human capital empowerment transformation agenda obtained for the state.