By Ikechukwu Nnochiri
ABUJA—Wife of former President Goodluck Jonathan, Patience, has dragged the Economic and Financial Crimes Commission, EFCC, before a  Federal High Court in Abuja, demanding N2 billion as  general damages/compensation for the violation of her fundamental rights.
Mrs Jonathan is praying the court to declare that the incessant harassment she had suffered in the hands of the  EFCC, through negative media publications, denigrating and degrading her person as corrupt, without any invitation by the anti-graft agency, trial or conviction by a court of competent jurisdiction, amounted to gross violation of her rights under Section 37 of the 1999 Constitution.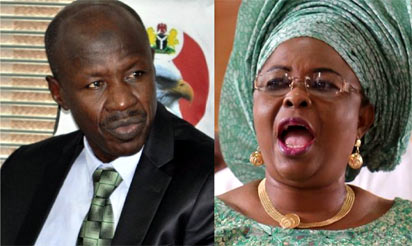 She also wants the court to declare that the indiscriminate freezing of her bank accounts and those of her relatives by the EFCC, under the guise of investigation of proceeds of crime, without any invitation or interrogation by the respondent, is a violation of her rights to own property and to fair hearing guaranteed under Sections 44 and 36(1) of the 1999 Constitution.
She also wants the court to declare that the invasion, breaking into and ransacking of the applicant's family property by the agents of the respondent in the absence of the applicant or any member of her family, while purporting to be executing a search warrant is a violation of the applicant's fundamental human rights to private and family life guaranteed under the provisions of Section 37 of the Constitution of the Federal Republic of Nigeria 1999 (as amended).
"An order of court restraining the respondent, whether by itself, its agents, privies or any person acting on its behalf from further violating the applicant's fundamental rights adumbrated above."
In a   21-paragraph affidavit deposed to by one Sammie Somiari in support of the suit, she averred that the applicant had on January 4, 2017, directed her lawyers to file a rights enforcement suit at the Federal High Court Port-Harcourt, Rivers State against the EFCC.
Mrs. Jonathan told the court that while parties had joined issues in the suit, the EFCC continued to violate her fundamental rights by invading and sealing up some of her properties in Abuja, including a property belonging to her non-governmental organisation.
She said that based on continuous violation of her rights, especially with respect to the properties in Abuja, she instructed her lawyers to withdraw the suit pending in Port Harcourt and file the instant suit.
Mrs Jonathan told the court that before her husband joined politics sometime in 1998, she had a private business she was managing.