IN Chief Mathew Agu's narrative, the teachings of motivational speakers about making the best of every situation, find full manifestation. With lessons learnt while serving the late Justice Ezekwe as a house boy, the village boy, whose first time of being in a city was at the age of 17, rose to become a successful entrepreneur, politician, and philanthropist. He is the Chairman of Common Services International, a multi-million Naira commodity trading firm. This is his story.
ON formative years I was not born with a silver spoon as people may think. I am saying that sometimes you encounter difficulties in life which would shape their line of thought, their lifestyle and even the way they  think about others especially the less privileged in the society. And that was what  happened in my case.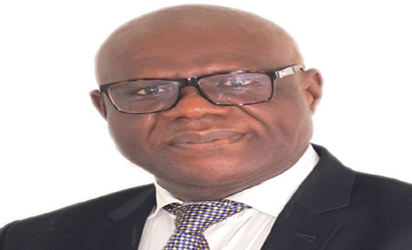 Growing up was very  difficult. It was a challenge I confronted frontally and pulled through to become fairly okay with my life because I don't beg for anything in life. It was very interesting and entertaining equally because sometimes you encounter some difficulties that will mould you in life. We had very hard experiences growing up but I think it contributed in shaping me and my general lifestyle indeed. And there are no regrets about that.
Can you be specific about the particular experience that  was extraordinary to you?
It was just the handiwork of God. Also, my background, culture, and the habit of honesty played important roles. My parents taught us to be extremely honest. I was a houseboy in Enugu to the late Justice Ezekwe.
Same traits and characteristics
He was a lawyer, and I remember that each time I travelled home my mother would admonish me against taking a dime from my master without his permission. She warned me against doing so even if it involved supporting my family at home with the thing.
So, she discouraged me from doing that and it formed my motto in life which is extreme honesty. That is why I don't joke with the personality of our President, President Muhammadu Buhari We are of the same nature and mould. I have same traits and characteristics with the President, who I love so dearly.
Was the experience as a house boy worthwhile?
It was an opportunity that exposed me to encounter people outside my community, Obollo Afor. I also learnt a lot from my master, who was very generous. He had the habit of treating everybody with respect and honour. To the late Justice Ezekwe, everybody had peculiarities and striking qualities.
You were a child during the Nigerian Civil War and your community is at the border between Eastern and Northern Nigeria. What are your memories of that time?
I was not up to a year when my father took me to a place called Uzoakoli in the present day Abia State. That was where we were when the war broke out and we were there till the war ended. My first time of seeing Obollo-Afor,(a principal town in Enugu State) was in 1970 when I was  15 years old. That was the first time of knowing my community. So I was at Uzoakoli all through my teenage years.
Youths should be librated
The point is that corruption is the problem facing the entire nation and it is at the centre of the problems we have in Nigeria.  Corrupt leaders tend to have overwhelmed the psychic of the youths and they should be liberated. That is why I am saying that the Igbo private sector should be engaged in our political permutations.
The Igbo private sector has to be involved because we are totally egalitarian. And the culture of everybody to himself will not be helpful to us. They should be encouraged to come on board, to know when the system will be going wrong, to know the direction the economy is headed and how it will affect them. They need to participate actively in Nigerian politics and show interest in the affairs of the nation. This will help the Igbo nation and Nigeria at large.
Ten trillion dollars
Once you are not  disposed to being honest, you cannot be honest. If you are not  disposed to this trait, you can exhibit it very freely. I detest dishonesty so much that even if you gave me ten trillion dollars to lie, I will not do  it. I apply that in business, politics and everything I do.
I hate deceit, anything that is not genuinely acquired does not give me the satisfaction I need. And I hate seeing people suffer because of the experience I had. Importantly,   I hate seeing people suffer unjustly. That is why I have gone back to the APC because I am a Buharist by nature and I am sure a good number of the people in the Southeast are Buharists. The challenge with  the current government is its poor publicity unit. This has given unlimited space to  highly corrupt leaders to blackmail the government.
Were there people, whose lives influenced yours in positive manners?
Yes. The first person is President Buhari. The attraction is his honesty of purpose. I share the same philosophy with him. I believe that leadership involves sacrifice. He believes in making  sacrifices as a leader and not to exploit those he had sworn to lead. This has been the bane of our country where the least qualified are always presented in positions of leadership.
In what ways have you impacted the society with your wealth and connections?
In my community, Obollo, I am a beneficiary of an irrevocable power of Attorney to superintend over the entire communal land. A case in point was one large expanse of land which I insisted must be left for industrialization by the state or corporate entities. I have had series of litigation over the same land to ward off individuals. All along, nothing should have stopped me from demanding for a portion of the land and turning the other way. But as poor, as I am, I have stood my ground and protected it. Today, Governor Ifeanyi Ugwuanyi has contacted the Maritime Authority for the establishment of a dry port, commercial banks and trailer park on this very land. Eventually, the major beneficiaries in terms of gaining employment and other economic derivatives will be the same people who have been on my neck, castigating my person for insisting that the land would not be appropriated. A leader, therefore, should be a good father, who plans for his children both during dry and the raining seasons.
On Independence Day memories and lessons
I was about five years in 1960 . I was very tender and when we went to school for the independence celebration, I wasn't among the people that received flags and cups but my elder ones received.  However, I know there were activities everywhere on that day. I was at Uzoakoli in the present Abia State on that day. I feel nostalgic. We have come a long way and that is why I find it difficult to appreciate people disparaging the country instead of finding solutions to our problems people are talking about the dismemberment of the nation. I won't say we have done so badly. The problem that Nigeria has is finding good leadership but for the first time, my family celebrated independence because we had every reason to do that. It is because we have a government that thinks about the people.   I ordered for palmwine  on the account of good leadership that we have today. Nigeria has the potential of coming on top in the world's political economy. We are creative and we are achievers. We must locate those who are prepared to lead the people.
On excellence in private sector
I must be frank, the Igbo must have to retool their political culture. In fact, I am coming with a programme aimed at establishing a pan Igbo movement that will really be addressing issues that affect the Igbo, politically. We are excellent in the private sector and I want us to ignite our political consciousness and awaken our interest in politics so as to replicate the zeal with which we participate in the private sector. That will help us to achieve our desired goals. So far much is still left undone in about out place and that does not augur well for our socio-political well-being as a people.
On pedigree
Apart from my successes in business, I have been so much involved in the emergence of leadership in the country. I am a strong political leader in Enugu State and I am very informed about Nigeria's political economy. I have a My Masters Degree in Public Administration with series of induction training and conferences.  I started politics in 1987 when I ran for the chairmanship of the then Isi-Uzo Local Government Area which I repeated in 1990 on the platform of SDP.
I was the governorship running mate to Chief Alex Obiechina in 2003 and also the running mate to Chief Dubem Onyia in ACN in 2007. And in 2015 I indicated serious interest for the governorship on the platform of PDP. My brief sojourn in the PDP exposed the party as lacking the capacity to lead Nigeria to the desired destination. The party placed no premium on credibility and resourcefulne