By Donu Kogbara
RIVERS State Governor, Nyesom Ezenwo Wike, is setting up an Academy in Port Harcourt, in partnership with Real Madrid, the famous Spanish football club.  Wike recently travelled to Spain with his Commissioner for Sports (Boma Iyaye) and former Nigerian International player, Adokiye Amiesimaka, to discuss details with senior Real Madrid officials and globally celebrated superstars such as Cristiano Ronaldo and  Sergio Ramos, the team's captain.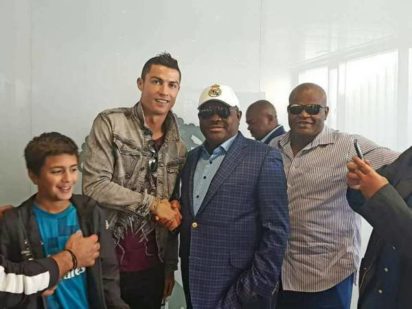 The aim of this collaboration – which has been enthusiastically applauded by Ramos and Ronaldo – is to provide top-class training opportunities to youths and to identify and nurture those who are found to possess world-class skills.
"We are," says Wike, "using football  as one of the key empowerment programmes for the next generation.   We want to grow international stars from a tender age. We will  tap from the experience  and exposure of Real Madrid…This project will revolutionise football  in Rivers State and Nigeria."
Fans often glowingly describe football as "the beautiful game", but I personally have always regarded football as extremely boring.  When we were growing up in London, my brothers regularly headed off to Stamford Bridge and Highbury, wearing blue and red hats and mufflers, to watch Chelsea and Arsenal. And I thought they were completely mad!
But it's not about me. The world is full of boys and men (and, by the way, females as well!) who absolutely adore that whole thing about kicking a ball around on a pitch and scoring goals (or preventing them from being scored).
Furthermore, football is BIG business. It generously rewards those who excel and has transformed many seemingly ordinary guys into iconic millionaire role models and enabled them to positively impact on their families and communities.
So let me congratulate Governor Wike for coming up with this inspired initiative.  Some folks are complaining about this project, either because they are political enemies of Wike (and will therefore criticise everything he does!) or simply because they genuinely believe that state funds should be spent on debt clearance or on projects that will help the majority (roads, hospitals, etc).
In a nutshell, the latter category of apolitical critics object to billions being spent on an elite minority who were lucky enough to be born with sporting talent. And I understand this point of view. But I don't think that it's frivolous or unfair to occasionally invest in above-average individuals.
This prestigious link-up with Real Madrid is a great idea, in my opinion. It will, I hope, enhance the image of my home state. It will, I hope, generate happiness, self-confidence and wealth. It will, I hope, encourage excellence.
Wike's football academy will, I hope, change lives.
Bitter truth
MALLAM Isah Dansallah, an associate of ex-Vice President, Atiku Abubakar, and a founding member of the ruling All Progressives Congress, APC, has abandoned APC and is now a member of the Peoples Democratic Party, PDP.
Naija politicians jump ship willy nilly and cross carpet all the time, largely because of personal grievances. They usually pretend to be motivated by principle or ideological issues; but some of us are not fooled by their rhetoric!
Anyway, I don't know Dansallah and am hearing about him for the first time this week and have not been following his career over the years, so don't have a clue whether he is sincere or not. But I am inclined to regard him as being more honest than the average politician because instead of claiming to regard his new party as the alpha and omega, he has drily described it as "a lesser evil"!
Announcing his defection last Sunday, this former Chairman of Kajuru Local Council in Kaduna State and former ally of Governor Nasir El-Rufai informed the press that he could no longer tolerate the APC's "lack of good governance".
Feelings of the masses
According to Dansallah: "What is happening in APC today is not what we bargained for. This is not why we asked people to vote out PDP. Today's players in APC do not care about the feelings of the masses…I [have decided to] dump the APC…because the opposition PDP is a lesser evil."
"…The APC has metamorphosed and turned into a ghost with crises all over. The APC-led government has succeeded in subjecting Nigerians to abject poverty and has successfully divided Nigerians along religious and ethnic lines."
Even if Dansallah has a hidden (and nefarious!) personal agenda, he has hit the nail squarely on the head. It's not about any one party being marvellous. It's about regarding one party as a lesser evil at particular points in time.
When Dansallah was doing APC Stalwart, he was anti-PDP. Now he has changed his mind. But he's not claiming that PDP is perfect.
I often stop partisan APC and PDP pals in their tracks when they try to persuade me to believe the utter fiction that the APC or PDP are blameless oases of probity and dynamism. I ask them whether they think I was born yesterday!
The bitter truth is that all Nigerian parties are immensely disappointing overall; and I am pretty sure that Dansallah will soon be disgruntled in his new home!