…The making of the Yoruba Generalissimo
…Says the late Gani Fawehinmi's prediction has come to pass
…Speaks on what the Alaafin told him about title
….'My wife was frightened I would die'
By Dapo Akinrefon
OTUNBA Gani Adams just emerged the 15th Aare Ona Kakanfo (generalissimo) of Yorubaland, a position last occupied by the late Chief MKO Abiola. The National Coordinator of the Oodua Peoples Congress, OPC, in this interview, speaks on how the Alaafin of Oyo, Oba Lamidi Adeyemi, picked him for the controversial title. Excerpts: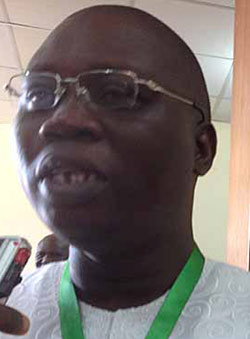 You mean so many things to different people. Who is Gani Adams?
Otunba Gani Adams was born on April 30, 1970 in Arigidi-Akoko. I attended many schools because of the nature of my father's job.
What was the nature of your father's job?
He was a transporter. I attended Army Primary School, Akure after which I was taken to the country home of my mother, Elusu, where I attended St Thomas Primary School. Three years after, I was brought to Lagos when my father relocated and I attended Municipal Primary School but now called Adeniji- Adele Primary School.
After my primary education, I attended Ansarudeen Secondary School and it was there I joined the struggle in 1993 after the annulment of the June 12, 1993 presidential election.
I am the founder of the Oodua Youth Movement and one of the nine people that founded the OPC on August 25, 1994 at number 110, Palm Avenue, Mushin, Lagos.
Can you mention the names of other OPC founding members?
Tony Igburidi, Dr. Frederick Fasehun, Olumide Adeniji, Silas Alani, Ibrahim Atanda, Alhaji Ibrahim Abobanawo, Mrs. Idowu Adebowale and Evangelist Adekunle Adesokan.
I had established a company before joining the struggle. Later, I continued my education at Lagos State University where I did a diploma course in international relations and strategic studies after which I got a degree in political science in 2015.
How true is the claim that the late Chief Gani Fawehinmi brought you into limelight?
I started my activism under Dr. Frederick Fasehun who was my leader from the beginning, but when he was detained in 1996, Chief Gani Fawehinmi mentored me because he was the Chairman of the Joint Action Committee.
As an activist then, anytime we had problems, we usually ran to the chambers of Chief Gani Fawehinmi. Chief Gani Fawehinmi discovered my determination as a freedom fighter and that was one of the reasons we were close.
Anytime he saw me, he would call me 'generalissimo' but it took me two years to understand what he meant. It was then I knew he was prophesying that I would one day become the Aare Ona Kakanfo of Yorubaland.
We learned about strategy from Chief Gani Fawehinmi and Dr. Beko Ransom-Kuti and since the demise of Chief Fawehinmi, the vacuum he left behind has been difficult to fill.
Having now become the Are Ona Kakanfo, what are your plans for Yorubaland?
I will not divulge my plans because it is too early to do so ,but I will stand by whatever I say. I have just been given the letter; I have my own team of strategists and advisors. On the day of my coronation, I will unveil my plans for the Yoruba race and Nigeria.
I am not a politician with a fake manifesto, who at the end of the day, will fail to deliver on it. So, wait for the coronation.
What happens to the OPC?
You need grassroots followers as the Aare Ona Kakanfo. If you lose touch with your roots, what will you use to defend the Yoruba when attacked by aggressors?
Don't be surprised that one of the factors that gave me the edge to become the Aare Ona Kakanfo is the OPC, the Oodua People's Union and the Olokun Foundation. I don't want to become an honorary Aare Ona Kakanfo.
You know the Yoruba are intelligent and sensitive people; when you abandon your platform, the OPC, what will you use to confront external aggressors when the need arises?
So, OPC remains the vibrant organisation that it is, but I will sit and discuss with the leadership to know what happens in the new dispensation. No matter the position I hold, I will be grateful to God and to the OPC.
When I have problems, the first family I see is the OPC. During my detention by the Obasanjo administration for 14 months, those who visited me, on a daily basis, were OPC leaders and members. OPC made me and I will never forsake the OPC. The Aare Ona Kakanfo is the generalissimo, OPC members are freedom fighters, when the generalissimo forgets his rank and file, how will he be a general?
We will continue with the Olokun Festival and look for a forum concerning unity for the Yoruba race.
In the process of consultations, your wife was said to have kicked against the idea of you becoming the Aare Ona Kakanfo. Why?
When I began consultations, she was frightened by the negative myths surrounding the Aare Ona Kakanfo, but she consulted and, from the results she got, after a week, she gave me the go ahead.
That is the first port of call when anything wants to happen to you, you must consult your wife. Within a week, she gave me her blessing. I also discussed with some of my close aides before I threw it open.
I went to the leaders of the OPC, consulted and all of them gave me their nod. They did not express any fears about the title.
I also went to Chief Ayo Adebanjo, an elder who stands by the Yoruba. He gave me the nod; I tried reaching Pa Reuben Fasoranti but could not reach him. I called Chief Olu Falae who told me he would pray and call back in three days. On the third day, he told me I was worth the title and gave me the go ahead.
I also spoke with my friend, Yinka Odumakin, who urged me to consult spiritually, but I told him I had done that. I also spoke to Dr. Joe Okei Odumakin and also to the leaders of the Yoruba in the cause of the Yoruba Summit; they gave me the go ahead.
I also consulted my royal father, the Zaki of Arigidi, the Owa Ajero, the Orangun of Ila. I consulted more than 23 traditional rulers in Yoruba land including the Alake of Egba land and they gave me their blessings before I went back to the Alaafin of Oyo.
There is no doubt that you will be wearing a big cap as the holder of the title. How do you intend to manage political actors?
I will not be partisan as the Aare Ona Kakanfo. When you hold a sensitive position, you need to be wise. I will be neutral in politics but you know that every human being is a political animal… but I can assure you that I will always be neutral.
You have to be tactical in political endorsement. The position of Aare Ona Kakanfo is a position of statesmanship. The position will moderate my radicalism but I will not support injustice. The position will not compromise my principle; it will not change my character. I will always be Gani but my position; my decision will always be moderate.
Moderation is the best way to attain peace and tranquillity in the society. A chieftaincy position is more sensitive than a political position because it is a lifetime thing and, if you value the position, you have to respect yourself.
Were you expecting to be picked as the Aare Ona Kakanfo?
We have been in the process since February. Before now, a lot of people would address me as Aare Ona Kakanfo but I usually didn't take them serious until January when we went for the Oodua World Congress.
After the dinner party, an adviser to the Alaafin approached me and asked whether I would accept the title of Aare Ona Kakanfo if approved by Oba Adeyemi? I told him to perish the thought because I already had 50 chieftaincy titles, it is now 52 and that I didn't need the Aare Ona Kakanfo title.
He now sat me down and encouraged me not to think about the myth associated with the title and that death is a product of God. According to him, God created death and if God did not want me to die at a young age, God knows how to do it. He said the position will assist me to promote Yoruba culture and Yoruba race.
After discussing for about three hours, I told him I would think about it. I left Oyo for Lagos and consulted my wife but she vehemently refused. It took me a week to convince her. This was in February. By March, I sought the opinion of people and this took me another two months. I consulted physically and spiritually.
I also consulted so many Yoruba leaders and most of them gave me their blessings. On my birthday, April 30, a royal ambassador from the Oyo Kingdom was present and told musicians to start praising me as the Aare Ona Kakanfo.
Like the adviser to the Alaafin told me, the title will be useful to promote the race. It was then I agreed to meet with Oba Adeyemi, who is one of the most intelligent traditional rulers in Africa. I met him in his office and told him I was interested in becoming the Aare Ona Kakanfo.
I told him I am 47 and that most of the people who previously held the title were not up to 50 years of age. Chief MKO Abiola was not up to 50 when he took the title in 1988. Even Chief Samuel Akintola in 1964 was not up to 50. Aside from the two, previous holders of Aare Ona Kakanfo were younger people.
According to history, they always look out for courageous, young blood that would confront external aggressors. So, it is not about the age, it is about your charisma, determination, loyalty to the Alaafin of Oyo, your focus and having the interest of the Yoruba race at heart. Those are the factors that determine who becomes the Aare Ona Kakanfo.
In the structure of the Oyo Empire, the Alaafin is the Commander-in-Chief, the Aare Ona Kakanfo is the head of the military, and the Ogbonis are the judges while the Oyomesi are the legislators.
When I told the kabiyesi that I was ready, he asked whether I was prepared for the title and I answered in the affirmative.
The Alaafin also talked about the OPU which has presence in 78 countries. He said even in Yoruba land, 77 communities have not converged in unity and, because of this, he said he had it in mind to give me the title but not confirmed. He promised to consult with various traditional rulers in Yorubaland and political stakeholders. That was in July.
Aare Ona Kakanfo is a position of service to Yorubaland, it is not a position where you would be paid by government. You can only attain that position as a freedom fighter and philanthropist.
Abiola attained it in 1988 as a philanthropist; Ladoke Akintola attained it because he was the Premier of Western Region. On my part, the Alaafin considered me because I am a promoter of Yoruba culture. He consulted widely and those consulted called to inform me, but I told them that I was not desperate but that I was ready for service to the Yoruba race and my country.
I have been serving since March 15, 1999 when I became the National Coordinator of the OPC. Despite the obstacles on my way, I did not give up. In any struggle, you must be prepared to have obstacles; people will test your determination. I thank God that the Alaafin has made me the Aare Ona Kakanfo designate.
When some of us heard the news, what came to mind was if you had the financial muscle to clinch the title?
Get it clear that the Aare Ona Kakanfo is not a position for a capitalist. Chief MKO Abiola was given the title based on his philanthropy. Chief Samuel Akintola was a seasoned politician.
Of the 14 former title holders, it was only Abiola that was wealthy. 12 were traditional warriors, the attribute of an Aare Ona Kakanfo is not about wealth but even if you talk about being wealthy, what is the yardstick?
In my capacity as OPC leader, I have six million followers. Human resource is the most lucrative resource on earth. I am not poor but I will not say I am as wealthy as Abiola. When you want to talk about how wealthy someone is, it depends on those around you. Even if you have all the money in the world and you don't have people, you will spend all the money and still remain poor.
I have a Foundation which has been in existence for 13 years and it has been for philanthropy purposes, it is called the Gani Adams Foundation.
Of all the activists in Nigeria, I won't say I am one of the richest neither am I one of the poorest. The only thing I have not bought in my life is plane or ship. I have owned luxury cars and I am okay with that.
When you talk about wealth, it is not all about money.
I will not brag, but besides the two main political parties in Nigeria, tell me any group that has the kind of followership that Gani Adams has. I started building an organisation at the age of 29 against all odds.
Unity of Yoruba race
The Aare Ona Kakanfo position will moderate my radicalism, I am ready to mend fence on any issue I may have with anybody in Yoruba land and Nigeria.
I will, as soon as possible, meet with Asiwaju Bola Tinubu and Chief Olusegun Obasanjo. I have been trying to reach Dr. Frederick Fasehun on phone but could not reach him. When you are fighting a cause, you will disagree to agree.
I can tell you that this position will moderate my radicalism but I will not compromise my principle. It will not stop the cause I believe in. I will fight for justice.
I will not betray the Yoruba people. I will be fair to Nigerians because the position of Aare Ona Kakanfo is a position of statesmanship.
Age criteria
Someone said I am too young to hold the title. How old was Chief Obafemi Awolowo in 1954? He was just 45 when he became the Premier of Western Region; General Yakubu Gowon was 31 when he became the Head of State, Obasanjo was 42 when he became the Head of State in 1979. So, who says Gani Adams at 47 cannot hold a position in Nigeria?