…What PDP must do to wrest power from APC
…What PDP must do to wrest power from APC
…Those who killed PDP moved to APC
…PDP out of ICU but still in hospital
…Anti-corruption war cannot be won on pages of newspapers
By Gbenga Oke
Alhaji Attahiru Dalhatu Bafarawa was governor of Sokoto State between 1999 and 2007. Since he left office as governor, he has remained a political icon in his home state of Sokoto and Nigeria.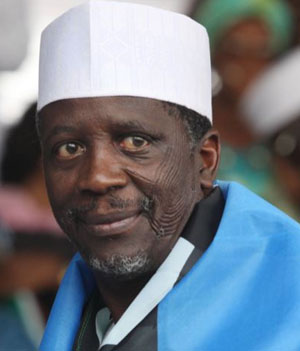 Towards the 2015 general elections, he defected to the Peoples Democratic Party, PDP, from the All Progressives Congress, APC, after he claimed the APC handed over the party structures to newcomers which included his then Governor, Aliyu Wammakko.
In this interview with Saturday Vanguard in Abuja, he condemned the selective fight against corruption in Nigeria and said the current government of President Muhammadu Buhari is finished. He also said PDP needs to put its house in order if it will wrestle power from the APC in 2019.
N igeria is 57 years years old as an independent nation. How well do you think we have faired? I believe Nigeria is a wonderful country, a country that has been on and off since we got our independence. Sometimes we see light and sometimes we see darkness.
But by the grace of God, things are moving, Nigerians are bearing the hardship however it comes, whether good or bad, we always manage any situation. Also, whether good or bad, Nigerians are familiar with their problems and that is one of the blessings God gave to us as a nation. We can always manage ourselves no matter the situation.
Having talked about Nigerians managing every situation, will you say that the President Muhammadu Buhari Administration, which campaigned on 'change' has brought any hope for Nigerians?
I must say that those who reposed hope and trust in this government are members of the All Progressives Congress, APC. Maybe because I do not have any hope in this government and because I knew there was not going to be any change, I am not surprised about what is happening. So whatever has happened, I am not moved because I did not vote for APC, so I do not have any hope in the APC government. It is those who put their hope in APC that are heart-broken right now.
Are you trying to justify what you said during the campaigns in 2015 that if this government was elected, it would not execute any of its campaign promises?
Yes. I was not a member of the PDP, initially. I was a member of the APC and I was the Chairman of the Constitutional amendment committee of the party before it was registered. The whole constitution of the APC was done in my house. I was a pioneer member of the APC, we formed the party and the party was registered. But from nowhere, the five governors, who were from the PDP, the party that was accused of not doing the right things then, were asked to come and join APC.
According to what we were told then, these people had the capacity, they had the money, they would join APC so the party could be better. And for people like me whom my governor was joining APC from PDP then, we were asked to hand over the party structure to them because we did not have money to finance the campaigns according to what we were told.
So, when you are thinking of good government, you need to start with a good foundation. How does a good foundation come by? A good foundation is forming a party without injustice right from the probation. So, once they brought in those governors on the basis of sponsoring the party and we were asked to hand over the party structure to them, I knew there was no hope any more for this country.
There could not be hope when you brought people you were not sure of and asked them to join those who were doing things rightly. It is like mixing a dirty mud water with clean water. So, there is no difference between APC and PDP because the same people who killed the PDP moved in again to join the APC.
So that is where the problems started, if they allowed the original members of the APC to continue without bringing the PDP to join us then, APC would not have derailed.
But do you see any hope?
Of course, there is hope.
With the current government?
The current government is finished. Why do I say so? The budget they are going to present for 2018 is the last budget they are going to present before they will leave. In the 2017 budget, they have not done anything. Nigerians can testify to the fact that they have not seen or felt any dividend of democracy from this government.
So, when they present their next budget, nothing much should be expected because any serious government should have performed in the first two years of its administration and the third year is for finishing the projects while the fourth year will be for campaigns. This is the third year of this government and we have not seen anything they have done or any completed project. As far as I am concerned, this government has not done anything they will use to campaign to Nigerians.
The challenge is not yet over. Even in the PDP where the people are putting their hope, there must be serious alignment and re-adjustment in the party. As far as I am concerned, for now, the APC and PDP are in disarray.
You are still a member of the PDP and with the judgement of the Supreme Court affirming Senator Ahmed Makarfi as the leader of the party, don't you think the PDP is better positioned to take over power?
While the crisis between the Makarfi and Sheriff factions lasted, the PDP was in Intensive Care Unit, ICU. Now by the grace of God, the Supreme Court judgement helped the PDP to be discharged from the ICU to the Hospital Ward level, that is where the party is right now. So, it depends on how we discharge our convention, which will show Nigerians whether the party can be discharged from the hospital. It will determine whether the party is fit to take over.
That is why I said both the APC and PDP are in some kind of problems. As far as I am concerned, the PDP is still in the hospital and until we hold our convention, elect leaders of the party successfully, we are not going anywhere. When the party is discharged from the hospital that means it is physically well to take over the reins of power in this country.
You as a leader in the PDP, what are you telling Nigerians?
I think I am supposed to be among the doctors who will help the party get out of the situation but it depends on whether doctors' advice is taken or not. If we agree to take advice, I think there is no cause for alarm. I think the party needs to sit together, agree on who becomes our leader with consensus before going to the convention. We do not need too many candidates to be vying for party chairman or secretary positions, it is uncalled for. If we want to save this country, we have to put our selfish interests aside, let's work for building the party and let's work for building the nation so we can have good governance.
Unfortunately, 80 percent of Nigerian politicians are not real politicians, they are just political office seekers. And unfortunately, these 80 percent are the rich and wealthy people who control almost everything. The real politicians don't have the means, so Nigerian politics has turned to an investment company where you can go and invest and get your money back.
So, this is how we run the affairs of the party and democracy in Nigeria. People get retired from the military, customs or even permanent secretaries, the next thing is politics because you have the money, you want to become a senator or governor.
And those who do not intend to contest will go and look for popular candidates in the states who they can invest their money on; they are not putting their money because they have the interest of the nation at heart, they are investing and waiting to recoup their investment when the person is in office. These are the problems we have in this country. That is why each time I hear them saying they are fighting corruption, I consider it a joke.
One of the selling points of the Buhari administration is commitment to fighting corruption. How will you rate this government when it comes to fighting corruption?
The problem is that this government is not serious about fighting corruption. The person who was seen fighting corruption was former President Olusegun Obasanjo. He created EFCC and ICPC just to fight corruption. When this government came to power, they did not make any change in EFCC and ICPC, but they claim the priority of their government is fighting corruption.
They did not even change a messenger and at the top level, they did not change any personnel. Like what he did with Customs, he brought Hameed Ali, who is not a customs man but a military man.
He brought him because he wanted a change in Customs. Why did he not do same in EFCC so that it will bring change to the agency? As I am talking to you, from messenger to the top hierarchy of EFCC, no changes at all. If they are serious about fighting corruption, EFCC and ICPC need to be restructured and they should put things in place and tell them the objectives.
The fight against corruption today is a huge joke because they will call you, investigate you secretly and then the next thing is a screaming headline on the pages of newspapers the next day before even going to court. Is this an investigation?
This government is just using EFCC to victimize whomever they feel is their enemy, otherwise, if you are being accused and an investigation is ongoing, you should not be prosecuted on the pages of newspapers. That is not fighting corruption. I believe it is not a big grammar to find a thief. If you have the evidence and you present it to the accused, if he can't prove it, then you take him to Court and let the Court decide whether you are guilty or not.
But what do we have today, people being prosecuted on the pages of newspapers once you are invited. It is unfortunate.
Are you saying it is more of a political witch-hunt than fighting corruption?
Of course, that is what they are doing and that is why they cannot find any better person to do the job except the person that is a tool in their hands. I believe in fighting corruption and every Nigerian should support it because we cannot move forward in the way we are moving public funds. All these shout that they are fighting corruption is uncalled for. How can you say you are fighting corruption and the investigators are the ones leaking information to the newspapers? That is not how to fight corruption and that is why nothing is moving with this government. People are fed up with the 'fighting corruption' rhetoric.
You seem to agree with the assertion of a senator that the Buhari Administration pampers corrupt APC members?
What I am talking about is exactly what the senator said. When the SGF issue happened, Buhari became the judge, his vice President Osinbajo became the prosecutor and the investigator, so he investigated the matter and he took it back to the judge which is Buhari, this time around because the suspended SGF is part of them, they did not take it to the EFCC, they arranged it within themselves.
The investigator is the vice-president, the judge is President Buhari and up till now, he has refused to give the judgement and no date has been fixed for the judgement. But if it is a common man, they will take him to Magu (EFCC chairman) for investigation. But if it were a member of APC, they will treat it as a special case like that of the suspended SGF. Don't forget that they first cleared him before the noise became too loud for them to ignore.
What about your case with the EFCC?
My case with the EFCC is in the court, so the Courts will decide it.
What is your take on the issue of restructuring?
I will make my views on it separately and not in the cause of this interview because this is a very serious matter and it is not a joke.
Do you think it is what the country needs now?
This is a very serious issue and we have to give special attention to it.
On the situation in the South-East, proscription of IPOB and Operation Python Dance
When Obasanjo was in power, he had the challenge of Sharia in the North but when he found out that Sani Yerima was the mover, all advice was given to Obasanjo to deal ruthlessly with Yerima but Obasanjo turned down that advice and invited Yerima as his son and he was able to manage that crisis.
After he left, Yar'Adua came and the Niger-Delta militants were all over the place. He too invited their leaders and he sat down with them at the Villa and they discussed the way forward. Now Buhari has come with his own, he needs to apply the same measures other leaders used to quench the fire.
When I was Governor of Sokoto State, I sold the idea of publishing the monthly allocation to Okonjo Iweala, which she sold to Obasanjo despite being a member of the opposition party, ANPP, then. And today, that advice is what government is still following by publishing the monthly allocation on the pages of newspapers.
So you feel dialogue is the best way out of IPOB crises?
Yes, a dialogue is the best way out of the IPOB crises. As a democrat, you must do things in a democratic manner because we are no more in a military era.