By Sola Ogundipe
Joy and Joyce Magsino, 10, born as conjoined twins attached at the forehead face certain death if they are separated. But their family is desperate for them to be separated despite the risk.
Doctors say the girls from the Philippines, have an abnormal condition known as Angular frontal partial craniopagus, which is a form of conjoined twins where the siblings are attached at the head.
The rare condition affects around 10 to 20 in every one million births in the US.  Each sibling has their own chest, abdomen and limbs. The condition may affect the entire head or just part of it.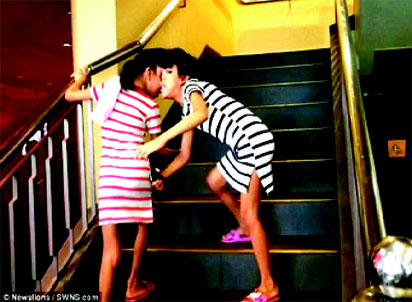 Experts say whether angular frontal partial craniopagus twins are eligible for separation depends on the extent of their physical attachment, if they are healthy enough to survive the surgery and the possibility of rehabilitation after the procedure.
Doctors told the girls' family it is possible to separate the sisters but involves a risky operation, which caused a local charity to withdraw its earlier financial support.
The procedure is estimated to cost £75,000 (over N35 million) which the family cannot afford on the twins' father's salary of £6 (about N3000) a day. His wife has even emigrated to work abroad in an effort to save up, leaving the girls in the care of their relatives.
"The doctors said the operation would be quite risky as one nerve connects the girls and it would have to be connected within seconds or else one of them would die. That is when the foundation withdrew their support," A family spokesperson remarked.
The twins' father Patrick Magsino, 30, is a market assistant porter, while his wife Jomarie emigrated to Qatar to work as a maid in order to save up for the separation procedure.
Magsino said: "We have been trying hard to organise the funds for the past five years after the doctors confirmed that the girls can be separated, but we haven't been able to garner even one third of it so far.
"I am seeking help from hospitals in countries such as the UK, the US and India. I'd be open to any procedure where the safety of both my girls will be ensured. Also, expenses should be covered as well, because on my own I would never be able to afford their treatment."
The family claims at the time of the twins' birth a local charity offered to help pay for medical treatment of the girls. Yet they apparently withdrew this offer in 2014 when doctors said the operation was risky.
"When the girls were born they were fed through a plastic tube but today they are playful. It has become hard to control them especially because they now want to be separated.
"The twins have developed a great sense of understanding, but they occasionally fight over doing their preferred activities. Joyce has a cleft lip and is dominant of the two twins and usually manages to get her way in most situations," Magsino added.
According to medical literature, Angular frontal junctions occur when the two twins are joined at any part of the forehead. Occipital twins are joined at the occipital lobe in the back of the head and vertical are joined on the top of the head and usually face opposite directions.
Documentations of craniopagus twins abound. Emilie and Elisabeth Stoll were born January 17, 1912. Their parents exhibited them until their death in July 1912. Their cause of death is unknown, but they were probably weakened by the stress of travelling and exhibition.
Rodney and Roger Brodie were born in Rock Island, Illinois in 1951. In December, 1952 a medical team led by neurosurgeon, Dr. Oscar Sugar attempted to separate the 15-month old twins in a surgery that lasted 12 hours. During surgery, the doctors discovered that the twins shared the sagittal sinus, the canal that drains blood from the brain to the heart.
This vessel was retained by Rodney Brodie. Both twins survived the surgery, although Roger Brodie did not regain consciousness and died 34 days later. Rodney Brodie recovered from the surgery but did suffer from neurological damage. Because his skull was never closed he wore a helmet until his death at age 11. This was the first case where craniopagual twins were separated and one survived.
Other cases include Lotti and Rosemarie Knaack, who were born in Germany in 1951 and were separated at age 6, with Lotti dying in surgery. Rosemarie survived until 2008.
Lori and George Schappell born 1961, are believed to be the longest-surviving craniopagus twins still living. Ladan and Laleh Bijani, who were separated at age 29, only to die 90 minutes apart after surgery.
Ahmed and Mohamed Ibrahim who were born in Egypt were successfully separated at age 2 years, 4 months in October 2001 in Dallas, Texas. Also, Anastasia and Tatiana Dogaru, who were born with the crown of Tatiana's head joined to the back of Anastasia's were classified inseparable in 2007.
In 2011, The New York Times covered a story of Krista and Tatiana Hogan—two craniopagus twin girls who share a brain and seem to show all different kinds of physiological and emotional responses due to their condition. Though they share a brain, the two girls showed distinct personalities and behaviour. Krista and Tatiana Hogan born on October 25, 2006 were also declared inseparable.
Joseph and Luka Banda from Zambia, born 1997, were separated successfully in South Africa by a team of surgeons led by Ben Carson. Trishna and Krishna from Bangladesh born in December 2006, joined on the tops of their skulls and sharing a small amount of brain tissue, were also separated in 2009.
Ganga and Jamuna Shreshta, born in Kathmandu, Nepal, were successfully separated by Dr. Chumpon Chan and his team from the Singapore General Hospital while Jadon and Anias McDonald were separated at 13-months in 2016 in a crowd-funded operation costing $2.5 million at Montefiore Hospital, in New York.