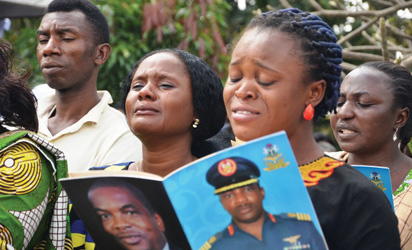 Tears, emotions as Air Force buries instructor pilot who died last week
By Joseph Erunke
ABUJA – TEARS ran down freely Wednesday, from the eyes of friends, family members and some military personnel, both junior and senior as the remains of Group Captain Adanu Ochai, the Nigerian Air Force instructor pilot, who died in an air crash last week, was buried at the Abuja Military Cemetery.
Most military personnel and mourners who converge on the military burial ground, to bid the late Ochai final farewell, could not hold their emotions as they broke down in tears.
Ochai died on Thursday , August 24 , 2017 , in Kaduna, Kaduna State, when Airbeetle, the Nigerian Air Force aircraft he was flying flying crashed.
Speaking at the burial site, the Chief of Air Staff, Air Marshall Sadique Abubakar described the late pilot as one of the most committed and dedicated pilots the service has ever had.
Noting that the late Ochai gave his all in his service to his fatherland, through his profession, Abubakar, who described his death as not only painful to his family but the Nigerian Air Force in general, said he would be greatly missed.
He tasked the bereaved family to take solace in God, who he noted, gives and takes at will, promising that the Nigerian Air Force would identify with them.
In his sermon at the occasion, the Chaplain, NAF Protestant Church, Group Capt. DB. Gani, tasked people to prepare their lives towards making heaven when they die, saying earthly gains were vanity.
Speaking from the theme: "When the owner demands for His property", the military cleric said the death of the deceased was a demand from God, his creator and appealed to those touched by the development not to question God for taking such decision in their period of their grieve.
The deceased was given full military honour in burial.
Group Captain Adanu Ochai died leaving his aged parents, wife and three daughters.