By Nwafor Sunday
National coordinator of APGA Media Warriors Forum, Evang Chinedu Obigwe, Monday, cautioned Anambra All Progressives Congress, APC, leaders, over an erroneous statement credited to them against Gov Willie Obiano and wife, noting that Obiano has never disobeyed any Court Order neither was the 250million naira reportedly pocketed monthly by his wife, Mrs Ebelechukwu Obiano from Anambra State resources was true.
Obigwe challenged APC Anambra leaders to come up with a verifiable evidence to substantiate their claim or shut up if they have none.
In his words, "blackmailing Obiano and wife who fight for the well being of Anambra people will not make you win, Ndi Anambra knows the truth", he said.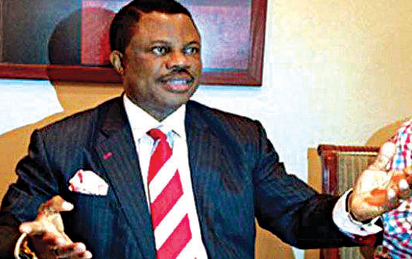 According to Obigwe, Anambra APC leaders are confused politicians who use their known penchant for electoral manipulation.
"Finally, you have plunged yourself into an ocean of confusion", Obigwe said.
Reacting to the press release issued by the Anambra APC publicity secretary, who faulted the APGA press release issued by Obigwe on IPOB ban by Southeast governors and other issues. Obigwe said that APC failed woefully in their attempt to score cheap political point against Governor Obiano on the IPOB issue because truth will always triumph over falsehood.
He said that Anambra APC politicization of IPOB ban is a proof that they are blood sucking demons that enjoyed the brutality unleashed on unarmed igbo's by their Federal government led military. He also disassociated Hon Chinedu Obidigwe, the Special Adviser on political matters from the defence of Governor Obiano' s administration by APGA Media Warriors Forum.
He said emphatically that Chinedu Obidigwe is not sponsoring them and should not be associated with what they are doing. Obigwe stated that APGA Media Warriors Forum is a child of necessity that deemed it necessary to compliment the effort of APGA led State government media team.
He also took a swipe on Anambra APC leaders for attempting to soil the reputation of Her Excellency Chief Mrs Ebelechukwu Obiano with their false claim that she is pocketing 250million naira of Anambra State resources on monthly basis. He challenged Anambra APC leaders to provide verifiable evidence to substantiate their claim which failure to provide prove, 'they should shut up their mouth.
Obigwe said that Her Excellency is living up to the expectation of the people of the State with the complimentary role she is playing in Obiano's administration. He further said that the only thing the wife of the Governor knows how to do is touching life positively and that she has been doing that for the people of the State.
He faulted APC's allegation that Governor Obiano disobeyed Court Order. He said that the Governor is fulfilling his oath of office and governing the State according to the constitutional provisions.  He urged Anambra APC to first remove the stick in their eyes before attempting to remove the sand in another person's eyes
Obigwe advised them to talk to APC led government in imo State and other States to conduct local government election in their various States.
He equally stated that Anambra APC in their foolish attempt to cover up the truth ended up running their mouth flippantly as those suffering incurable chronic diarrhoea of the mouth ailment. He also said that Anambra APC leaders plunged themselves into an ocean of confusion, thus resorted to blackmailing the working administration in a bid to save their sinking ship.
He advised Anambra APC leaders to prepare for their political funeral on November 18th because the irredeemable crisis they plunged themselves into through the fraudulent manipulation of their party primary will consume them on that day. Obigwe urged all lovers of good governance to support Governor Obiano's re election for the ascension of Anambra State to an enviable height.