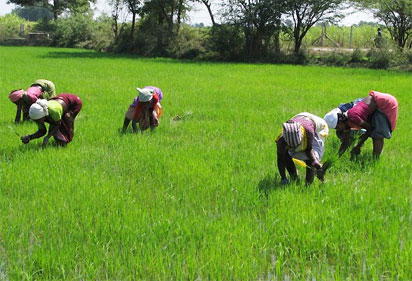 File: farmers
The Revenue Mobilisation Allocation and Fiscal Commission (RMAFC) has urged all states and local governments to show serious commitment to providing enabling environment to exploit potential in tourism, agriculture and solid minerals.
The commission made the call in a communiqué signed by Mr Ken Kayama, Chairman, Fiscal Efficiency and Budget Committee of the commission and made available to newsmen on Friday in Abuja.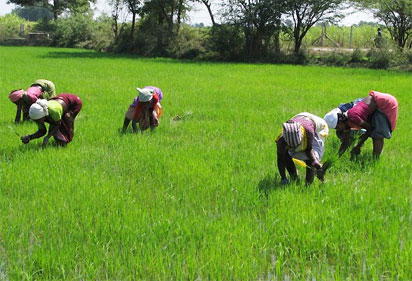 The communiqué was sequel to a two-day national workshop on "Alternative Sources of Revenue for Sustainable Development in States and Local Government/Area Councils in Nigeria".
According to the communique, the enabling environment will ensure the full exploitation of the potential of the sectors for and improve the Internally Generated Revenue (IGR) accruable to those tiers of government.
The communiqué quoted the participants at the workshop as saying that the Federal Government should encourage states and local government/area councils to register companies and obtain mining licences.
"They should also be allowed to monitor companies and individuals holding mining/exploration licences in their respective domains.
"Provisions of the 1999 Constitution related to the solid minerals sector should be reviewed to allow for the active participation of states and local government/area councils in the sectors." it said.
It also urged states and local government/area councils to look beyond their traditional sources of revenue and explore new areas of investment with short or medium-term pay back capacities.
This, it said, would help them generate more income through Public-Private Partnership (PPP) model in agro-business and tourism.
It also said there should be attitudinal change to governance, adding that government should be run efficiently in business-like manner.
"To reduce the high cost of governance at all levels in Nigeria, there is urgent need to deliberately restructure and streamline government bureaucratic operations, processes and institutions.
"Also, a standard ratio of recurrent to capital budget should be set to ensure rapid physical development of the country.''
On tax, the communiqué said states and local government/area councils needed to adopt an easy system of filing tax returns to encourage compliance.
It said they should, occasionally evaluate the impact and upgrade their collections and monitoring strategies to enhance revenue drive.
"Each state government/area council should develop a comprehensive tax payer database. This is necessary for effective planning, monitoring and collection.
"They should urgently identify and look at the possibility of harnessing untapped revenue sources available to them. For example, environmental/ecological tax, capital gain tax, among others.
"They should conduct strategic training for their personnel in order to cope with challenges of modern revenue assessment, collection, documentation and accounting.''
The workshop was organised by RMAFC in collaboration with Switch Consulting Limited.
According to RMAFC, this was to sensitise states and local governments/area councils on new and alternative sources of revenue generation to meet the ever increasing expenditure requirements of governance and development.
NAN