It's a new Legislative day in the Senate of the Federal Republic of Nigeria. Senate President Bukola Saraki took the official prayer and led the chamber into today's proceedings.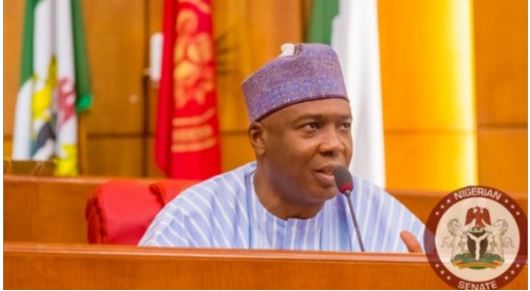 EXECUTIVE SESSION
Senate now moved into an Executive Session at 10:51am.
Senate resumed from its Executive Session at 12:24pm.
Senate President Bukola Saraki reported Progress that at the executive session Senate deliberated on issues bordering on the workings of the Senate and the National Assembly in general.
At the Executive Session the Senate resolved that:
-The Unity of Nigeria is not negotiable.
-Senate seeks an avenue to make sure Peace is restored in all parts of Nigeria.
-All groups seeking to achieve agitation should do so through Constitutional means.
Senator Rilwan Akanbi moved for the approval of votes and proceedings II of Thursday 27th July, 2017. Senator Fatimat Rasaki seconded.
EXECUTIVE COMMUNICATION
Senate President Bukola Saraki read a letter from Mr. President Muhammadu Buhari on his resumption of office as Mr. President on Monday 21st August, 2017.
Senate President Bukola Saraki read a letter from VP Professor Osinbajo then Ag.Pres requesting the amendment of the Fiscal Responsibility amendment bill Act, Passage into law of the Fiscal Responsibility Amendment Bill, also approve legal backing to the Fiscal Responsibility Act.
Senate President Bukola Saraki welcomed colleagues and said the recesss has helped to take stock of the success so far and the journey ahead.
Senate President Bukola Saraki said some of the bills passed into law has increased employment of our people. He commended the exit from recession and said there is still a lot to achieve. Senate President Bukola Saraki also said we should review the the implementation of the 2017 budget from the first week of October. He stated that we must call on the standing Committee to work harder during progress of oversight and give priority to Made-In-Nigeria products in the 2017 budget.
Senate President Bukola Saraki said the Constitutional review is a continuous process, as promised we would review and revisit our constitution. He congratulated the Super Eagles on their World Cup qualifiers Journey so far, he also congratulated the women basketball team on winning the Championship.
Senate President Bukola Saraki welcomed President Muhammadu Buhari and prays ALLAH continues to be with Him.
"I commiserate with all Nigerians affected by the flood"- Senate President Bukola Saraki.
MOTIONS
Flooding and Flood Control: The need for Urgent Action by Senator Yahaya A. Abdullahi.
Senator Aliyu Sabi commended the work and said the mitigating measures should be put in place in solving this.
Senate Leader Ahmed Lawan congratulated the sponsor of the motion and sympathized with the people of Kebbi State.
Senator Emmanuel Paulker said issues of flooding needs to be addressed in this country, Federal Government has to take drastic steps.
Senate resolved to:
Urge the Federal Ministry of Water Resources to design and implement a National integrated community-based riverine and water channel dredging, desiltation and drainage program to cover the entire national riparian network, Urge the Federal Ministry of Water Resources to commence the dredging and desiltation of River Niger and Benue,
Urge the Federal and State Governments to institute strict land use and environmental planning, including codes and cadastral planning of all urban locations under their respective control to ensure proper drainage systems and siting of dwellings and business premises away from water courses, river channels and flood plains, and
Urge the National Emergency Management Agency (NEMA) to urgently mobilize to the locations affected by the flood disasters with a view to extending humanitarian and medical assistance to avoid the outbreak of communicable diseases, particularly gastroenteritis and cholera which are very much prevalent in such places.
Senate President Bukola Saraki thanked the mover of the motion and hopes different relevant agencies will take responsibilities and look into it.
Stabilizing and Sustaining post-recession growth of the economy by Senator Yahaya A. Abdullahi.
Senator Barau Jubrin seconded the motion and commended the mover of the motion, said we all should be focused so we don't go into recession.
Senator Na'Allah commended the Executive and called for immediate implementation of the budget, said its important and urged his colleagues to support the motion.
Senator Dino Melaye said we must awaken our consciousness to the fact that we need to work on our economy, he went further to ask that if we are out of recession, why are we incapacitated in funding the 2017 budget.
Senate resolved to:
Urge the national economy managers to remain focused and ensure that the current weak growth of a mere 0.55% is built upon and increased substantially in the months and years to come,
Urge the fiscal and monetary authorities to come together and harmonize fiscal and monetary policies with a view to drastically reducing the high interest rate that has adversely affected borrowing for investment by the real sector of the economy, and Urge fiscal authorities to drastically reduce the accumulation of domestic debt in order to free the market for better access by the private sector.
Senate President Bukola Saraki thanked the mover of the motion, thanked the Executive and says work is not done yet but we are moving in the right direction, he stated that we have economic bills that has to be fast tracked and Government needs to do more on our infrastructures.
Innovative Education Technology: E-Leaening and Blended Learning in the education sector in Nigeria by Senator Rose O. Oko.
Senate resolved to:
Urge the Government through Universal Basic Education Commission (UBEC) to examine the feasibility and adopt the policy of education technology in promoting e-learning especially at the basic education level,
Request the Ministry of Communication to provide broadband facilities to cover e-learning in schools in Nigeria, and Mandate the Committees on Education (Basic and Secondary), TERTFUND and Tertiary institutions and Communication to conduct a public hearing on Innovations in Educational Technology with relevant industry stakeholders with a view to enriching such a policy and report back in 4 weeks.
Inadequate releases in 2017 Budget and the need to expedite releases in Order to stimulate the Economy by Senator Gbenga B. Ashafa.
Senate resolved to:
Request that the Honourable Minister of Finance and the Honourable Minister of budget and National Planning appear before the Senate in plenary immediately to brief the Senate on the cause of the inadequate releases and steps being taken to expedite release of funds for the capital component of the 2017 Appropriation Act.
Senate President Bukola Saraki said Senate Leader Ahmed Lawan should follow up with the Honourable Ministers of Finance and Budget and National Planning.
ANNOUNCEMENT
Senate President Bukola Saraki announced new committee chairmen and vice chairmen.
CHAIRMAN COMMITTEE
Interior – Senator Andy Uba.
Trade and Investment- Senator Sabo Mohammed.
Culture and Tourism-Senator Fatimat Rasaki.
Public account- Senator Matthew Urhoghide.
Local Content- Senator Yayi Adeola.
6.Cooperation and Integration- Senator Stella Oduah.
Capital Market- Senator Bukar Mustapha.
COMMITTEE VICE CHAIRMAN
Trade and Investment- Senator Sani Mustapha.
Communication- Senator Demola Adeleke.
Judiciary- Senator Jide Omoworare.
National Population Commission- Senator Shuaibu Lau.
Local Content- Senator Godswill Akpabio.
Senator Demola Adeleke is also a member of Committee on Federal Capital Territory (FCT), Establishment, Public Service, Marine Transport, Defense, Ecology and Climate change.
ADJOURNMENT
Senate Leader moved that all other items on the Order paper be moved to another Legislative Day. Minority Leader seconded.
Plenary is adjourned to Wednesday 27th September, 2017.