YENAGOA—Niger Delta Revolutionary Crusaders, NDRC, a militant group has alleged that a desperate leader of the newly established Pan Niger Delta Peoples' Congress, PNDPC, was behind the formation of faceless militant groups in the Niger Delta region to dislodge the Pan Niger Delta Forum, PANDEF, led by Chief Edwin Clark.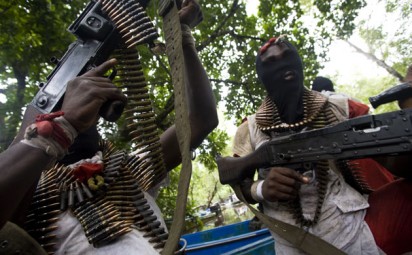 The group in a statement by its spokesperson, W O I Izon Ebi, said that the PNDPC leader and some ex-militants, who were desperately in need of funds "Started forming hydra-headed pseudo militant groups with different names in a quest to intimidate the leadership of PANDEF to hijack the structure of the organisation for personal benefit."
Meanwhile, the Amananaowei of Tuomo clan in Delta State, HRH S O Emokpo, in a statement, yesterday, said that the people had passed a vote of confidence in an illustrious son of the community, Chief Mike Loyibo, chosen by a coalition of Niger Delta militants to coordinate  PNDPC.
He said: "Mike Loyibo is known as a patriotic activist from time immemorial, who has maintained an impeccable moral standard in community affairs over the years. He has demonstrated integrity and does not compromise in resolution of crisis and always ensure peace and tranquillity within his domain and beyond."
But, Izon Ebi maintained that NDRC and its affiliate organisations stand with elders and distinguished personalities of the region under the auspices of PANDEF, urging them not to succumb to the Machiavellian tactics of PNDPC.
NDRC urged the former national chairman of the Traditional Rulers of Oil Minerals Producing Communities of Nigeria, TROMPCON, and paramount ruler of Seimbiri Kingdom, HM Charles Ayemi-Botu, who is the national leader of PNDPC to abandon the group.