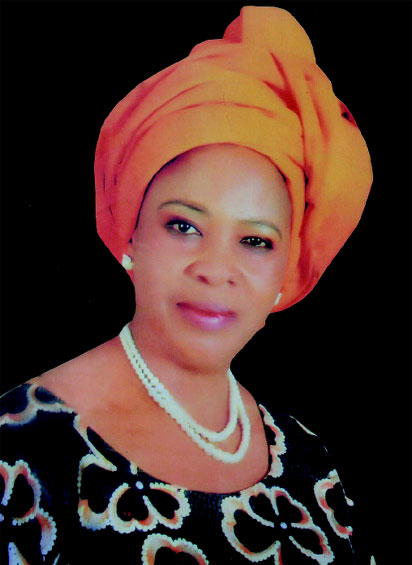 Lady Dr. Nma Love Onyechere
By Chris Onuoha
Lady Dr. Nma Love Onyechere is the former Commissioner for Women Affairs, Imo State under His Excellency Governor Rochas Okorocha. She is a woman of many sides: educationist, politician, community women leader, motivator and the Chief Executive of Child Trust Action and Center for Gender Studies.
In this personality  interview, Nma Love, having carved a niche for herself and still making impact in the life of women and vulnerable in the society, captures how life was at her early beginnings and those inspiring stories that shaped her life.  Excerpts:
Who is Nma Love?
I am the second daughter of late Most Reverend Dr. Joshua Dimoja. My native town is Ihube Community in Okigwe Local Government, Imo state. I grew up around my grandmother. I did my primary education at Ihube Central School and proceeded for my secondary education at Ohum Girls High School, Aba, where my father was residing then as a clergyman.
I went to University of Nigeria Nsukka, UNN for my first degree in Education (History) and my master's degree was in Educational Management and Administration at the University of Lagos, and then my PHD was on Evaluation Management.    I am a mother of six children, married Ike Onyechere, MFR, a social analyst and Founding Chairman, Exam Ethics Marshal International.
Generally, certain things must come to bear in shaping your upbringing. What are those things and how did they impact you?
The most important value that shaped my upbringing was my family background. As a daughter of an Archbishop, I would tell you that I did not have any social life. All the life I had was to attend church services, youth meetings, choir practice and Scripture Union (SU) meetings.    My father, a Methodist Church Clergy was among the first indigenous bishops in South Eastern Nigeria then. In the family, the peer pressure vices were seriously under control because of parental influence. What else would you expect if not purity in character? That also accounts for why I finished school very early.
There must be other interesting stories about your growing up.
High moral, discipline and strict observance of etiquette existed, but my grandmother, whom I lived with then, contributed immensely to what I am today. She was very strict, conservative and a brave woman. She would need nothing from you than the best.
She would not tolerate or even hear that you return home from school beaten up by a fellow schoolmate rather she would prefer that you are the one that beat up the person. Instead of her to go to another home and complain, she would rather wait in her house to receive such a bully report. Her belief in self-defense and bravery in the face of any situation contributed to things that shaped my life. For her, you must be in charge or be the leader in everything you do.
Does that translate to mean you were a threat to boys of your age then?
Boys of my age then could not challenge me. They respected me a lot. Not as a physical fighter but as a mentally intelligent and smart girl. The boys knew that's how I was from childhood and I carried myself with a lot of self-esteem and courage. Even in the class, I would outperform them. They saw me as a star in their midst, as somebody everybody should beware of, socially and academically but not as a threat.
What was the girl child education like then?
In my experience, the girl child education then was highly encouraged in my locality in particular. Although, it was a period some parents had realized the importance and value of girl child education. I went to school with so many of my mates that were girls. There was no inhibition. Out of six daughters my father had, all of us are graduates.
Some are medical doctors while others are in different professions. The other thing that happened during my growing years was a period when ignorant girls were taken advantage of, either in early marriage or engaging in social vices as a result of family background or lack of parental control but my family was an exception.
In your growing days, some women must have inspired you apart from your grandmother. Who are they?
I have great respect for our amazons who went out of their way to do great things. Funmi Ransome kuti was one of them. Margaret Ekpo championed women causes in her life time. The Aba women's riot to resist colonial tax imposition stood out. I once told myself, if Queen Amina of Zaria could ride on a horse and go to war, why can't I? These are models that inspire my focus. Whenever I want to embark on any project or do something, I Google their names for research. I had an uncle, a renowned historian, late Prof. A. A. Afigbo who also influenced my choice of course in school. When I was encouraged to read medicine, I said no because I want to read Education or law but my father had his feelings about law as a career. So, I chose History under Education.
As a former Commissioner for Women Affairs in Imo State, you were observed to be passionate about rescuing the vulnerable, especially the baby factory issues then.
When I was a Commissioner, the charge I had was to calm the issue of baby factory down.    I did my best and people of Imo state can attest to that. I attracted global media  interviews  on that course. I personally went on the streets picking lunatics, making sure they were not treated badly and made sure the homes they were kept  in were in good shape. I made them believe that been a lunatic was not a curse, that it can come to an end.
I was totally in control of baby factory cases everywhere in Imo state and I am still in contact with the rescued girls as of today.    That has been my passion. Outside office, I am doing more work than when I was in the office. I have been vigorously pursuing some media sensitizing programmes with Federal Ministry of Women Affairs, Health and others. I am making sure that a girl child is recognised and appreciated in the society. Although there has been abuses of women in the past but those abuses has reshaped their attitude to life.
Other efforts…
Prior to my appointment, I have been in the fore front of the campaign against abuse of women and children. I have been interested in making sure that women get to understand themselves, work for their families, and get to know that with a strong family, future is assured. I have always been interested in women matters even from childhood. After graduating from the university, one of the things I did as my first project was to parley with women of Ihube community for development agenda. I initiated 'August Meeting' in my town. Some years back, I have picked some women, trained them on groundnut oil making business. I have also empowered and supported them with self-reliance initiative. I grew up in a family that discusses women a lot and also married   a man that is so supportive of women causes.
Before then, I was also member of the Imo State committee against trafficking set up by NAPTIP. I have an NGO called Child Trust Action, an organisation fully recognised by the United Nations' UNICEF. I have earned one of the Most Vibrant NGO award in Nigeria made possible through Child Trust Action. My childhood background gave me opportunity to preach against bad practices towards children and women. My father had a refugee camp during the Biafran war where he saved a lot lives and that transited to an orphanage home after the war. He is the reason for what I am doing today.
Were there challenges in actualising those set objective as a commissioner?
You know, when you are appointed, the person on ground would draw out roadmaps for you. The focus that was before me was the fight against baby factories and child trafficking in the state which I pursued with all dexterity, sanitizing homes, using state officials and local governments, doing campaigns among women groups, using media and other means to do the work. As of that time, I also worked closely with the wife of the governor.
Everybody in Imo state knows that the governor's wife Nneoma Rochas Okorocha was busy rebranding and reshaping the lives of women in Imo state, building houses and empowering them with materials and funds that were done in open transparence.    We trained women in various capacities building on how to support their husbands and build strong families.
Despite all the effort, you were seriously misconstrued and even attacked by your people…
I am an open minded person and very positive in thinking. Most times people around me see me as a very vocal person. I was brought up to speak out and fortunately I married a man who respects that disposition. One thing I don't like is people taking advantage of people. That you are a man does not make you superior to a woman.
It is not like I should be asking people for money to do things, I can generate funds by myself to the glory of God. They see me as a threat. When it comes to politics, they will say 'Ah this woman has come'. One thing I like is openness. I don't mind whose ox is gored. If it is 'A's right, give it to him. You don't have to take 'A's right and give it to 'B'. I can stand before anybody and say my mind.
This has been a sort of challenge. I dislike intimidation. Both sexes are created by God and factually, all men were born by women. So, men should respect women who are their mothers. What of if she had killed you before you breathed your first breath. A man should accord honour to his mother. The issue is when someone sways one red cap chieftaincy staff, he brags. To me, I hold 5 chieftaincy titles, still I maintained. Everybody deserves respect.
Women in Nigeria still cry foul of marginalization.
The Nigerian woman is going down. Look at the number of representation at the national level. Before 2015, we had over 7 women in the Senate but today we have less than 5. Look at the House of Representatives, and States Assembly, how many women are speakers? Women don't even have up to 25% not to talk of the 35% affirmative granted by Obasanjo administration then. Women are not being treated well.
Women should be given the opportunity. Come 2019, there should be total restructuring in creating space for women. The political parties have women leaders in the global sphere who are actively involved in running things, but in Nigeria, they use the women to buy and share wrappers during political campaigns. After a long run, they will not give them tangible appointments. If we want to make serious impact in our communities and states, give women more opportunities to serve.
Another 'August Meeting' has come and gone, what impact did it reflect?
Well it is another time for women to gather together. My view here is that August Meeting should not be seen as rhetoric. I believe that we should be seeing greater impact by women in their communities. It should not be another time for showing off big wrappers and fashion parade. August Meeting should be channeled on "how many indigent women in the rural community benefited from grants and capacity development?" How many vulnerable women were talked out of baby factory syndrome and given a new life? Which woman has a new story to tell? The initial objective of the August Meeting is a community development initiative to support their husbands. If all these are not seen or carried out as it should, then the essence should be reviewed.
You grew up in Okigwe town, can you recount how the city looked then, and the impact of colonial presence in terms of development because there used to be a derogatory festival    song that says thus: "All cities in old East Central State have developed except Okigwe town…"
I grew up in Okigwe town in the late seventies, but unfortunately, at that time, most of the colonial signs had disappeared. I started my primary school after the war and the story I know then was what I read as history. I got to know that Okigwe was one of the colonial district headquarters in Eastern Nigeria without visible development.    The backwardness of the town can be attributed to the unproductive period of the colonial masters in Okigwe.
They did not lay good foundation or leave anything to be remembered. All they could do was to bring much unhealthy rivalry between orthodox and Christian religion. They were more interested in converting people to Christianity without infrastructural developments like hospitals and others. The churches only built few schools which was in pursuance of their Christianity project.
Even as of today, Okigwe Senatorial district in the present political dispensation is still the most backward. There are no industries. No particular attention for even the youths in terms of empowerment, nothing encouraging but rather, they are been used as political thugs.
This is one zone that has high rate of out- o-f school syndrome as of today. If you see any meaningful development in Okigwe, it is an individual effort. No Okigwe person in government has pursued any vigorous development agenda for the zone. Unfortunately, we have not had committed leadership in the zone.
Okigwe reflects so much of the local parlance that says "Igbo enwe Eze" meaning, Igbo do not have a King. We are yet to come up with someone who I will say is the voice of Okigwe people. We have had democracy in Nigeria up to 18 years, yet no sign of it here; rather they are busy fighting among themselves. Unfortunately, we have had a governor, senators and others, yet none left a legacy worth mentioning. I can only see some efforts from the present Imo House speaker at least for now. You know his position as a speaker does not give him the state power.
As a social activist, has your social drive rubbed off on the backwardness of your people in Okigwe?
We are already doing much. At least you can see that the Okigwe woman is not the type that sits at home. We will begin from somewhere. Politically, we are very viable. Women are voices you must listen to. If the women are not supporting you, you are not going anywhere. The Okigwe women are no longer the passive type. In other zones in Imo state, women are doing great and we want to follow suit, but we cannot do it alone without the support of our men.
What are your goals and prospects in life?
My goal is to see a society where children are saved, a society in Nigeria where children are not sold for money, society where children are well trained to be leaders of tomorrow. To the youths, they should be focused and pursue their dreams. Peer pressures and vices that have taken over our society today should be avoided. Frivolities of modern day lifestyle can only bring pains and misery.