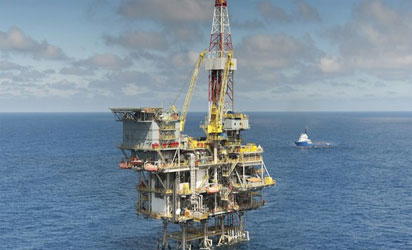 oil rig
By Michael Eboh
ABUJA—The Nigerian National Petroleum Corporation, NNPC, yesterday, said it plans to drastically reduce the impact of fraud on its revenue base by training 50 per cent of its workforce on the rudiments of fraud detection and examination.
In a statement signed by its Group General Manager, Group Public Affairs Division, Mr. Ndu Ughamadu, the NNPC said this was part of a grand strategy to eliminate corruption from its system.
According to the statement, Group Managing Director of the NNPC, Mr. Maikanti Baru, stated this while receiving a delegation of the Association of Certified Fraud Examiners , CFE, Abuja chapter, led by its President, Mr. Ishili Emmanuel.
Baru noted that training its staff on fraud examination would ensure that NNPC was not involved in the five percent annual global revenue loss to fraud.
He said:  "We will seize the opportunity offered by the CFE to train at least 50 per cent of our staff on fraud examination. We do know that there are a lot of advantages in getting as many staff as possible trained in fraud examination."
He explained that as the major foreign exchange earner for the country, NNPC was very conscious of issues of corruption in all its ramifications and had gone beyond looking at corruption in terms of money alone.
He said: "NNPC under my leadership has instituted what we call Governance, Risk and Compliance, GRC, Division, which is very much in line with the mission of CFE.
''The division is not only looking at corruption in terms of naira and kobo but also at the system itself. The new division will ensure that fraud did not manifest in our system and if it does, it would be quickly nipped in the bud."
Also speaking, President of CFE, Abuja Chapter, Mr. Ishili Emmanuel, stated that the NNPC, as the apex oil and gas company in the country, ought to have a robust human asset capability to deal with many of the unique socio-economic development challenges within the oil and gas industry.
He applauded Baru for his tenacity and commitment to fighting corruption since assuming duty as the helmsman of the corporation.
Emmanuel stated that by joining the CFE as a corporate member, the NNPC stood to benefit from the pool of unlimited anti-fraud resources like other world class organisations around the world.