By Peter Duru
MAKURDI—The camp opened for people displaced by the flood disaster in Makurdi town and its environs has been hit by malaria fever, fungal, respiratory and urinary tract infections, due to poor and inadequate toilet facilities.
Cases of Post-Traumatic Stress Disorders, PTSD, commonly found among the adults inmates, also abound among the displaced persons.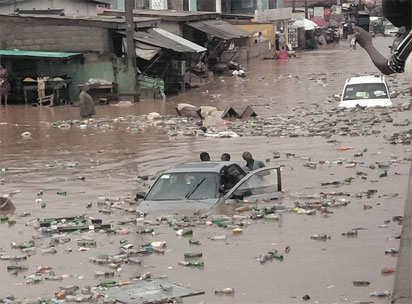 Vanguard learned that the situation could be as a result of the camp being overwhelmed by the number of persons pouring into the facility on a daily basis.
Confirming the development, Director, Advanced Medical Centre for Trauma Victims, Dr. Dimoji-Okoro Chibuzo, said there was urgent need for supply of more mosquito nets in the camp.
Dr. Dimoji-Okoro, whose organisation is offering free medical services in the camp, stated further that there was dire need of the services of clinical psychologists in the camp to help counsel the victims in their trying moments.
He said: "From what we have seen so far, malaria fever, fungi infections abound in the camp. I have also seen lots of them come down with post-traumatic stress disorders common among the parents, which is coming from anxiety and fear.
"There are lots of high blood pressure cases as well as lots of respiratory and urinary tract infections which could be attributed to poor and inadequate toilet facilities."
According to him, the situation is beyond state government, adding that "there is, therefore, urgent need for more assistance and support from the Federal Government, public-spirited individuals, Non Governmental Organisations and the international community to help the state government overcome this challenge."