By Rotimi Fasan
THE above could be the cry of Armageddon, reminiscent of Jesus' anguished poser to Saul on his way to Damascus, from our much abused country, Nigeria, to the Joint Admissions and Matriculation Board, JAMB.
Nigeria has suffered badly in the hands of her handlers and the recent revelation of what miserable remittance JAMB made into the national coffers makes it one of the persecutors of our dear country.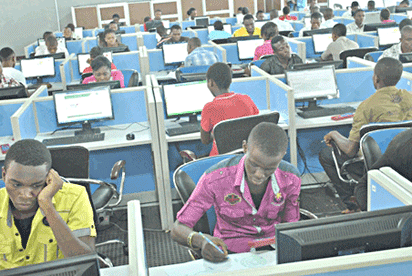 According to the Minister of Finance, Kemi Adeosun, JAMB under its new Registrar, Ishaq Oloyede, remitted a princely N3 billion into the national treasury this year alone with a promise of an additional N2 Billion in a short while.
This would bring the total remittance from JAMB in 2017 to N5 Billion, a far cry from the N3 Million the body hitherto remitted to Abuja under Dibu Ojerinde its former Registrar. Mrs. Adeosun, speaking after last week's Federal Executive |Council Meeting, disclosed that the Federal Government has ordered a probe of the last chief executives of JAMB and the Nigeria Maritime Administration and Safety Agency, NIMASA, for the poor remittances recorded during their tenure. I'll limit my observation this week to JAMB that has been in the news of late.
Certainly, the probe needs to go a little further into the past- perhaps as far back as the last one decade at least. Such probe should also be extended to other government agencies that have become national drainpipes.
Similar discoveries of huge discrepancies in actual as  opposed to expected revenues have been made in many government agencies but there has not been any systematic investigation of these agencies. The Nigeria Customs and the Nigerian National Petroleum Corporation are cases in point.
There is the need for a systematic investigation of remittances made into the national coffers by revenue making agencies. Such investigation has to be well planned, not the ad hoc arrangement that has so far been the case.
That the last registrar of JAMB is to be probed is a chance occurrence. It came from the unprecedented improvement in the revenue making capacity of the agency under Prof. Oloyede. The FEC was at loss understanding how a body that made N 3 Million under one man could suddenly become the multi billion naira-making agency under another who took office only a few months ago.
It is not only scandalous but criminal that all JAMB remitted to government after all it makes from sales of forms at the rate of about N5000 to millions of Nigerians yearly is just N3 Million. Not even the higher institutions that charge an average of N2000 par candidate, far less than JAMB, for their post-University Tertiary Matriculation Examination, post-UTME, would claim all they make is N3 Million.
And that is speaking at the individual level. How then is it conceivable that all JAMB could remit was just an average of N3 Million annually for the period under review? Somebody needs to do a lot of explaining and this is not only the former registrar of JAMB.
The government, the Ministry of Education and the Ministry of Finance stand indicted for whatever discoveries have been made.
It is only reasonable to imagine that these ministries with oversight roles over the activities and finances of JAMB should have some idea of what revenue is accruable from JAMB based on her revenue earning activities.
Or do they just sit back passively taking whatever is handed over to them? How could a body capable of making billions in revenue have remitted a mere N3 Million without anyone realising? There is more to this story than meets the eye.
Surely, there were some hisses here and there of sharp practices during the tenure of the last registrar of JAMB.
Such hisses ought to have got those with oversight role over JAMB to sit up. But apparently they did not see anything worth investigating until now. It is a proof of government's irresponsibility and gross ineptitude that corruption on this scale could be perpetrated without detection. This discovery is also an indication of what must be happening in other government agencies and ministries.
This is why the probe must be extended beyond JAMB and NIMASA.  But there is not much to expect from this government that is quick to make discoveries of corruption but is ever slow to follow up on the prosecution and conviction of offenders.
These certainly are not good times for JAMB and this investigation of the immediate past registrar of the body can only soil its image further with the public.
Yet JAMB would seem to be recording giant strides under Prof. Ishaq Oloyede who has come under severe and, in the main, apparently unfair criticisms for the recently released low cut-off marks for admission into the country's tertiary institutions.
Not just JAMB as a body but Professor Oloyede as an individual has come under withering attacks for a decision that has now been proven to be the handiwork of so-called stakeholders made up mainly of pretenders, misnamed administrators of higher institutions, who are too cowardly to face the consequences of their action.
They would rather leave one man to bear the heavy burden of their own action. It speaks to the integrity of the current JAMB Registrar that a body that could not make enough to pay its own staff could be transformed into a multi-billion naira establishment.
Without assessing the rightness or otherwise of his actions or the criticisms leveled against him while in office, it would seem like Prof. Oloyede's earlier incarnation in the public space, namely, his controversial tenure as Vice Chancellor of the University of Ilorin has heralded his appointment as JAMB Registrar and is affecting the manner his action in his latest position is being perceived by many Nigerians, especially with regard to the low cut-off mark for admission announced by JAMB.
His achievements are being undermined by this less than charitable perception from the past. Yet, there have been some remarkable steps taken by Oloyede's JAMB in addition to the great improvement in its revenue base which is a matter that should not be trivialised.
His improvement in JAMB's revenue is truly praiseworthy, something deserving of a national award when compared to the activities of others in similar position. The recently introduced Central Admission Processing System is another initiative that is likely to have a vey positive effect on the admission process into our tertiary institutions.
But for the abysmal remittances it's been making into the national coffers, JAMB has recorded incremental improvements in its processing of applicant into higher institutions even as admission fraud and malpractices have grown more sophisticated over the years. The bottom line is however to know when to give praise to whom it is due. Prof. Ishaq Oloyede sure deserves our praise.