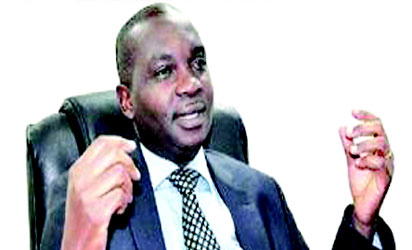 Mr. Eguarekhide  Alonge
By Rosemary Onuoha
Chairman of Pension Fund Operators Association of Nigeria (PenOp), and Managing Director, AIICO Pensions, Mr. Eguarekhide Longe, in this interview talks on ongoing engagement with the National Assembly on the bill to amend the Pension Reform Act 2014 to exclude members of the Nigeria Police, the Nigerian Security and Civil Defence Corps, Nigeria Customs Service, Nigeria Prison Service, Nigeria immigration Service and the Economic and Financial Crimes Commission from the CPS and other related matters. Excerpts
WHAT do you think will be the effect of exempting the police and other paramilitary from the Contributory Pension Scheme?
Exemption of the personnel of the Police and other paramilitary agencies indicates, by implication, the dismantling of the institutions, systems and processes that government had put in place in the last few years towards the implementation of the pension reform programme, including the culture of national savings as well as the efforts to eradicate the structures that encouraged corruption during the pre-pension reform era.
This is contrary to the policy thrust of the current administration of diversification of the economy and fight against corruption.
Another immediate negative impact of exempting these agencies is the erosion of the pool of long term investible funds accumulated under the CPS, which is suitable for economic development of any nation as illustrated in other jurisdictions including developed economies.
This would thereby undermine the process of the attainment of development initiatives in the infrastructure, housing and real sectors of the economy, which are largely hinged on the utilization of a portion of the pool of pension fund assets.
Have you engaged the National Assembly on the disadvantages of exempting these agencies?
As an industry, we have engaged members of the National Assembly on the ills of passing such bills into law, though it was more reactionary than being proactive. But we have learnt our lessons and realized that we can't let people without information make laws on issues as crucial as this, but as operators, we believe we will surmount this hurdle.
Many times when laws are made in this country, findings show that they are not made because they are beneficial to anyone, there could be some ulterior motives behind some of the things that are being sponsored. So, we have stepped up our engagement with members of the National Assembly, since we have to deal with the issues, especially now that these bills have passed a second reading and are still proceeding.
Is the government ready to resume pension payment of these agencies?
We have a history of government being behind in pension payment. So if you exempt these agencies, it is absolute chaos you are looking for. You are going back to long queues, going back to verification and all of that, which, to me, does not make any sense. So, I think that people who are supporting this bill are not thinking about this, instead, focusing on very porous issues.