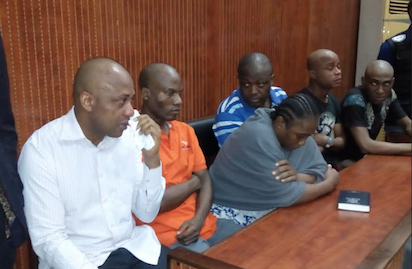 Kidnapper, Evans and others arraigned In Court
…Reveal how he recruited them
…Evans ruined my life—Baba Eko
…He disappeared with my community riffles—Udeme
…I spent my money on women, hotels—dismissed soldier
….I thought Evans had quit crime —Chinyere
By Ifeanyi Okolie
The guilty plea entered by Chukwudumeje Onwuamadike, aka Evans, during his arraignment for kidnapping before Justice Oshodi of the Lagos State High Court Ikeja, last Wednesday, didn't come as a surprise, giving the level of cooperation he had exhibited to his investigators.
Saturday Vanguard gathered that prior to his appearance in Court, Evan had revealed the identities of his accomplices, who gave him information about his targets.
The arrested suspects, who spoke to Saturday Vanguard made shocking revelations about how they were recruited, their remuneration and modus of operation among others.
An intriguing aspect of their narratives is that they were unanimous in describing Evans as a wicked man, who cheated  and took advantage of them.
Chiemezie Arinze narrated how he gave Evans information about the owner of The Young Shall Grow Motors.
I passed  information about Young Shall Grow boss to Evans
"I am Chiemeka Arinze and a native of Izu-Umudebute in Oba Town, Idemili North Local Government Area of Anambra State.  I am 35 years old and I am married.   I attended Merchant of Light Secondary school in Oba and I graduated in 1996.  I came to Lagos State in 1997 and started trading.  I served one of my uncles. We sold stationeries in Mushin, Lagos.
I served him for six years and he settled me and I used the money he gave me to set up a boutique at the Mile 2 Shopping Complex which has been demolished.  But before my shop was demolished, there was this Uche from Ojoto area of Idemili South LGA Anambra State, who used to patronize me in my shop.
He usually buys expensive clothes from me. We later became friends and we were always hanging out.  After my shop was demolished and things became difficult for me, I asked Uche for assistance and he asked me to join in his business which turned out to be armed robbery.  Since we were very close, I couldn't resist and I joined him.  Our first operation was at Mobil Fillings Station in Apapa.  We were four persons that went for that operation, Uche,  two others and myself.
''That was in 2008 and we broke into the fillings station at night and stole the sum of N150,000.   Uche who as the leader of the group had two Ak47 rifles and he told me that he was a big time armed robber, adding that he normally burgles fillings stations when he had no big job.
''Our second operation, which was just a few days after the first one was also at a fuel station in Ogun State and we made the sum of N300,000.  At that time Uche told me about Evans and said Evans was a big time boss in the criminal world, who specialized on robbing bullion vans. Uche said he was always working with him.
Uche also told me that Evans was based in Edo State, saying that he was trying to lure him to Festac Town.  In July 2012, Evans eventually joined us in Festac,  Uche told me that there was a man known as Raymond Okoye, who they wanted to kidnap. He said all they wanted me to do was to monitor the man's movements.
''I was given the discretion of the man's vehicle and I trailed him to a bar where he went to drink on 21 Road, Festac Town.  I watched him as he sat in the bar drinking with his friends. I also watched as he left the place.  I called Uche and informed him that the man had left the place. After a while, Uche called and informed me that the man had been kidnapped.
I didn't  know where they kept the man because I didn't  have access to Evans and I also did not know how much was paid as ransom before the man was released but I was given the sum of N300,000 one month after the man was kidnapped.
''I had bought a car with some of the money I made while robbing fillings stations and after I got the N300,000 from the kidnap job, I sold the car and traveled to Ghana. I started to buy Indian Hemp from that country and was selling it in Nigeria.
I became a distributor and was supplying many people.  By the end of that year, Uche called and said Evans had instructed that I should look for any rich man in Festac Town, who could pay us big money when kidnapped.
'' I thought about the owner of The Young Shall Grow Motors, Chief Vincent Obinudo because I knew where he lived.  I told Uche about it and he relayed it to Evans who approved it. Evans even said that he was confident that the Chief would pay big money because the owner of GUO Motors also paid big money as ransom when he was kidnapped.    I was given an instruction to monitor Chief Obianudo's movements daily and report back to them.
I followed the Chief for about one month and I studied his routine.  I discovered he had a team of policemen escorting him whenever he moved and he usually visited the Federal Housing Authority, FHA, Club in Festac Town on a daily basis.  I was told that he was the Chairman of the Club.  I was always  hanging  outside the club and I  gathered lots of information about his activities within the club.
I gave all the information I gathered to Uche and Evans and on the day they agreed to kidnap the Chief,  I monitored him when he entered the club. I also monitored him while he was leaving and I called Uche and informed him about it.  I told Uche that he had his police escort with him and they were in a Toyota Hilux driving behind him.   I also told him that the Chief was the one driving himself.
At 11: pm that night Evans called me and told me that Uche had been killed in their attempt to kidnap Young Shall Grow boss.  He also told me that of two of his boys were also killed, adding that he was on his way out of the country.
I became very sad after I got the news of my friend's death and decided to stop communicating with Evans.  I went back to my Indian Hemp business.  A few months later, Evans called me again and told me that he was back, saying that he wanted me to monitor the movement of a man he wanted to kidnap.
I told him that I wasn't interested. He kept on disturbing me and I had to change my phone number.  Evans was desperate on getting me back into the gang and I vowed never to work for him again.   He even contacted me through one of my brothers but I told my brother not to communicate with him again.   I was very happy when I heard that he had been arrested. ''
Evans ruined my life—Baba Eko
Narrating his story, 44-year old Okechukwu Nwachukwu aka Baba Eko said Evans ruined his life.
Evans had told the Police that Baba- Eko was one of his major informants, adding that he was the person, who provided information that aided the abduction of Chief Donatus Dunu,
The IRT operatives went into town, in search for Baba Eko and they apprehended him at a bar in Iba area of Lagos.
Baba Eko told Saturday Vanguard how he met Evans, the jobs he did for him and the money he received.
Baba-Eko, who is native of Ichida in Anaocha Local Government Area of Anambra State, said Dunu is from his home town, adding that he was the person, who gave Evans Dunu's vehicle registration number.     He said: "  I came to Lagos in 1986 and I adopted the name Baba Eko while I was playing football at Coker area of Lagos. This is the first time I have been arrested by the Police. I was arrested because of Somtochukwu who I now know as Evans.
I met him first in 2013 when he came to my shop at Trade Fair Complex where I sold recharge cards, phones, and accessories.  He bought so many phones and Sim cards and introduced himself as Somtochukwu.  He asked me where I came from and I told him and he asked me if I knew a man called Raymond Okey, who imported generator set from Alaba.  He told me that the man was indebted to him.
I heard nothing from Evans again. After three months,   I heard that Chief Raymond had been kidnapped.  A month later he came to my shop and gave me N1million and told me that the money was for the information I gave him about Chief Raymond.
In 2014, he came to my shop again and asked me about one Ucheson who had a shop in Trade Fair where clothes are sold.  He asked me to take him to the man's shop which I did and he bought a perfume of N9, 500.
A few weeks later he asked me to start monitoring Ucheson and tell him whenever he was leaving the market.  I did what he said for one week and I gave him the information he demanded.  He kidnapped Ucheson and kept him for months and afterward he gave me N1million but I rejected and he threatened to kill me and my family, leaving me with no choice but to take the money.
''Last year, he called me again and asked about Chief Dunu who is from my home town.  I told him that I knew him because I was very close to Dunu's brother, Ansalem, who is a member of Anambra State House of Assembly.  I campaigned for him during the elections and he asked me to get him the man's vehicle registration number.  I gave him Chief Dunu's vehicle registration number which I got during our monthly meeting in Lagos.
In 2017 I heard Dunu had been kidnapped and his kidnappers were demanding N500 million as ransom.  I didn't know how the negotiation went because Dunu's family kept the information to themselves.   I knew that my life was over.  I knew the Police would come after me.  I knew that I have messed myself up when Evan's story was trending.  I didn't know that Evans was collecting a huge amount of money from his victims and he gave me peanuts.  I was a living corpse. I have told the Police all I knew about Evans.  He was just a wicked person."
I worked for Evans, prevented him from kidnapping my kinsman
Opkara Linus, another informant was arrested for providng information to Evans.
The 53-year old man, who claimed to be a graduate of Civil Engineering from the University of Ibadan said he was deceived into crime by Evans.
He told Saturday Vanguard thus: "I visited my home town in 2014. When I was travelling to Lagos State I took a car at Asaba. The driver of the vehicle identified himself as Doctor. He told me he was a drug peddler and promised to assist me with building contracts.  He told me that he would link me to some of his rich friends.   A few days later I got a call from a man who identified himself as Nnwachinemelu, who told me that doctor gave him my number.
"He asked me what I was into and I told him. We agreed to meet.   We met at Ajao Estate, Lagos where he told me that there was a man trading at Trade Fair Complex, who was indebted to him. He said he needed me to monitor the man so that he would arrest him. He sent a bike to pick me up and asked that I should wait on Trade Fair Bridge and look out for the man because he had told me the colour and the plate number of the man's vehicle.
When I sighted it, I called him and he asked me to follow the man. When we got to Alakija, we watched the man as he entered Festac Town. He asked us to go back, saying he would take care of the situation from that point.  He asked me to go home and two days later he sent N2million into my bank account.  About seven months after then he called again and told me that the bike man would come to my house and would take me to a place in Agbara.
He said I would help him monitor the movement of a man.  We got to Agbara and waited until the man, started leaving his office and we followed him down to Alakija. Evans asked me to pull back again, saying he would take care of the situation.  Two months later he called me and paid N700, 000 into my account.
''A few weeks after then, he asked me to go to Abule-Oshun to monitor the movement of a man who had an office there.  I monitored the man and discovered that I knew the man, who is Mike Umuberede.   I refused to give him complete information about the man because I knew him and he is from my home town.  The man is the owner of Super Master electrical appliances and he had once helped me when my father fell sick.  I told Evans that I knew the man and he must not kidnap him but Evans got angry with me.
Evans said all his men were on standby, saying they were ready to kidnap the man.  I lied to him that I had alerted the man and he has contacted the Police.   He cursed me for betraying him and threatened to kill all the members of my family.
He stopped communicating with me from at that point.  When I heard he was arrested I was glad because he is a beast and a very greedy man.  I learned from the newspapers that he collected millions of dollars as ransom and he gave me peanuts.  I didn't know the Police would come after me. But I regret my actions and would turn a new leaf. But I am happy Evans has been arrested.''
I spent my money on women and hotels—Aduba, dismissed soldier
Nnoso Aduba Victor, 28-year-old  dismissed soldier from Onitsha North Local Government Area of Anambra State told Vanguard thus: "  I joined the Nigeria Army on August 15, 2009. I was posted to Abati Barracks. I went into crime in the year 2015.
My income was low and it wasn't enough to fend for my family.  One of my friends who is also from my home town known as Ikenna, led me into crime. He brought one of his friends, known as Skudo. They told me that Skudo was an importer. He told me that he imported clothes from China and we became friends. I used to escort him to his village whenever he was travelling and he paid me handsomely. Sometime in January 2015, he called me and asked that I should meet him at Ago-Palace Way where he claimed he lived with his family.
''He told me that there was a man owning him money and he needed me to come with my army uniform so that I could intimidate the man with my uniform. When I got there I saw Skudo, Ikenna, Evans and another person inside the car.
The front seat was empty and I entered and sat on it. We drove towards Ajao Estate.  Ikenna and Skudo brought out two rifles and when I saw them I was shocked.  I asked what they were doing but Evans gave me a  hot slap. He told me that I was now part of their group. Then they brought out a cup filled with gin and a bullet in it and they asked me to swear never to disclose what I saw to anyone.
After that Evans got a call from someone about someone he had been monitoring. Evans drove fast and he caught up with the person and kidnapped him. Skudo, Ikenna and the other man came out of the vehicle and kidnapped the man. While on our way, I saw a man on a power bike and I suspected he was the person giving information to Evans.
'' He asked us to all alight from the vehicle and gave me N5000, promising to call me. One month later Skudo called and gave N200,000 as my share, saying the balance of the money would be paid later. One month after that Skudo called again and said Evans said I should come for my balance. When I got to Ago and entered his vehicle, I sat in the front and we drove into Festac Town where we kidnapped a man.
One month after, Skudo called and gave me N1.8million as my share. Also took part in two other kidnappings in Amuwo Odofin and Satellite Towns where I was given N800,000 each as my share.  Evans didn't pay me for the last operation and he stopped calling me for jobs. I spent most of the money on women and hotels. I also got married with part of the money."
Another soldier, Lance Corporal Chilaka Ifeanyi, who was arrested by the police and dismissed by the army in connection with Evans, said he didn't  partake in any kidnapping with Evans.
The 30-year-old who is from Mbaise area of Imo State said; " I am also attached to the band core of the Nigeria Army at Abati Barracks. A brother of one of my colleagues got me into this mess. His name is Ikenna and I knew him through my colleague, Nnoso. Last year Ikenna came to my house.  I met him at Cele bus stop and we went to Ago together.  We drove around in Festac looking for a target but we didn't get the person after which I left. After Evans was arrested, my colleague was also arrested and the Police came for me. We were both dismissed from the army but nobody wants to believe that I had no hand in this.''
Evans duped me when I sold my community rifles to him—Udeme
Another suspect, who identified himself as Frank  Udeme said he sold Ak47 rifles belonging to his community stated that Evans short-paid him and ran away with his rifles.
" Evans duped me and ran away with my money when I sold our community rifle to him.  I met him through one of my friends known as Emeka.  The rifle belongs to our community and we used it in protecting our community.
As a community leader, the rifles were in my custody and I decided to sell them because we were no longer having communal wars.  Emeka took me to Evans in Port Harcourt and he gave me N250,000.  We agreed that he would pay the balance of N300,000 when the rifles arrived in  Lagos State.  I chartered a bus from my town and we took the rifles to him in Lagos. After taking possession of the rifles, Evans disappeared.  I didn't see him again until I was arrested. ''
I thought Evans had quit crime —Chinyere
Godwin Chinyere, a native of Abia State said he thought Evans had repented.
He said: " I met Evans in 2006 when he came to my town to treat bullet injuries.  We  were manufacturing locally made guns.  After Evans was treated,  we sold so many guns to him.  I can't give the exact number but I knew we sold four K2 and G3 rifles, 50 magazines and 10 pieces of ammunition.  That was a long time ago. I knew Evans as an armed robber. I didn't know he had gone into kidnapping.  I was in my home in Asaba when the Police came and arrested me.
I was a car bugler, but Evans lured me into kidnapping —Ezeana
On his part, Erica Ezeana, who hails from Umukabia village, Ehime Local Government Area of Imo State, said Evans lured him into crime.
He said:" I am 42-year-old.  I attended Umukabia Primary School.  In 2006 I went into crime. One of my friends known as Chuka, introduced me to crime.  In 2014, a man known as Emeka invited me to Port Harcourt. I met him with Evans and one Egbo.   He told me that someone owed him N30million and he did not want to report to the Police.    I followed him to kidnap the man.  N1million was given to me for keeping the man in my house while I was given N1.5million as my share.''