By Dr. Ugoji Egbujo
My President. We are still in the season, so happy Eid Mubarak. I had wanted to send you this message in Igbo. So that you get the message. But I hate tit for tat.  And I know you will never give us a Sallah message in Hausa again.
Our prayers were answered. You are back.  Alhamdullilah! But we are not happy, we have not heard from you. We know that the other speech was an emotional outburst, of an angry father. No father feels happy when some of his children cross red lines.  May our anger not lead us to sin.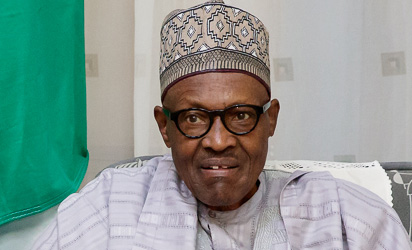 Mai Gida, we have been waiting for a talk from the heart. We know you are not afraid of telling us the nature and scope of your illness and recovery. We suspect you want the evil wishers to get drenched and drunk in their rumours. It shall be well with you sir. When you are done with them, please speak to us. You owe us that moral obligation.
It's 18 months to another election. Sarkin Nigeria, please help us. We can't have someone as forthright and as foresighted as you are, and grope in the darkness of uncertainty.  We have withstood the economy. We have nothing to spare.  Subjecting us to the tedium of reading body language will exhaust us.
We have to know if you plan to run in 2019. Let not your party men chase a wild goose. If you won't run, save your party acrimony. Tell them your preferred candidate. This is Africa. Or tell Asiwaju to tell them.  We won't call you a godfather. A good leader grooms successors. Remember the Saraki fiasco. You sat on the fence, and got the fabric of the party shredded. No 'duwaduwa' has been able to mend it.
Mai Gaskiya, be vocal.
We saw you slaughter that ram for sacrifice. It was impressive.  It's good you no longer disobey your doctors. We know you won't  get carried away. But isn't it time  you  started taking on the hyenas and the jackals and not just rams. The EFCC has moved some files to the Justice Ministry. The Justice Ministry has a  funny reputation.  Some members of your committee on corruption have not minced words. They don't trust the Justice Ministry. The ministry could have demonstrated its prosecution prowess by securing convictions against the judges arrested by the DSS. The EFCC must feel raped. Ambitious politicians and routine civil servants cannot spearhead any meaningful anti-corruption war. Not yet.
Something bothers me sir. How do you cope with a chaotic presidency? A retired General, a strict disciplinarian; a man who hasn't tasted polygamy and doesn't take refuge in alcohol. How do you cope with public spats and internecine feuds that have become rampant in the presidency? These 'face me I face you' quarrels by agencies and officials of the presidency are not good for your health.  They do violent damage to your reputation. The perception from afar is that you are not in control. I know age brings permissiveness.  You can't let your presidency become the Oshodi of the old.
While you were away something happened. I know you were monitoring events. You may have missed it. Someone issue a deadline for the capture of that serial murderer, Shekau. That deadline has come and gone.  No new deadline was set.  What was the point of that deadline sir? Who sets such deadlines for such tasks? I had thought that deadline was 'fake news.' But it wasn't. And no one has claimed he was misquoted. That deadline was like something contrived by the PDP to ridicule the great achievements of your government.
Baba, your cabinet has overstayed. We heard you planned a refurbishment before you took ill. Now we hear you are changing only office furniture.  Baba, you have to buy new players now. You have many deadwoods. Please don't leave Nigerians feeling like Arsenal fans. Return the ones you borrowed, to their masters.  Imagine Mama Taraba and her effrontery.  Remove the ones Madam exposed as having no voters card.  They are overheating the polity, not only in the 'other room' but, across the country.  The air is stale. We need a breath of fresh air. You need a new team.
Before I close sir, Biafra. It's a political problem. It cannot be solved by frowning.  On October 1, go to the South East. It's been long you danced in public. You can arrange a dance with Ariaria  market traders. You can invite all IPOB boys who have taken their oaths. You can dance Abriba war dance with them. They will teach you. You can promise Aba and Nnewi technological parks. Don't pay any attention to those ranting about the proposed rail for Daura. You have to give Daura something. But please give Aba and Nnewi what they need the most. So that the kite and the eagle can perch  together, amicably. And tempers are soothed.
The nation needs healing. The army is beleaguered. It doesn't need a new front. The economy is out of recession but  remains very fragile and anaemic. It can't sustain new wars and more IDP camps. Baba, while in Aba, hold earnest discussions about  the restructuring of the federation. It won't make you a wimp.
We know you are not the National Assembly. But you are the president, and the leader of the ruling party. The north has stood resolutely against restructuring.  The North trusts you. Use that trust and give the nation a sound foundation. Igbos  need a genuine sense of belonging. You can commence the correction of all appearances of marginalization with immediate effect. The restructuring bill can reach the National Assembly in due course.
Mai Gaskiya, this matter needs tact. You are a General. You understand strategy. You handled the Niger Delta. Not with law and order, but with 'give and take.'  You handled the Gambia. Not with condescension and arrogance, but with diligent persuasion and determination. You can be humble, you are very generous. You were tactful with Abacha, and you were decisive with Maitasine.  You have perseverance. You ran four consecutive presidential campaigns. Take those skills to the Southeast and you will score 97%.
Bayajidda II of  the Daura Emirate, go to Igbos yourself.  There is a snake in the hedges. You won't go to Igbo land to prove that you are not  a Sudanese product of plastic surgery. You will go to tell them you belong to them, and they belong to Nigeria.
The Ogbuagu I of Aba! See you soon, in Aba.
Sai Baba.