Abuja — Two educationists in the Federal Capital Territory have condemned the recent reduction in the cut off mark for entry into the country's educational institutions.
The Joint Admission and Matriculations Board, JAMB, had recently reduced the post-Unified Tertiary Matriculation Examination, UTME, scores to 120 from 180.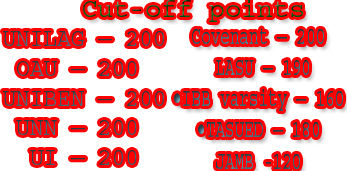 They made this known in separate interviews with newsmen in Abuja, Monday.
Prof. Pauline Okon, a professor emeritus of University of Abuja, said that the new cut-off mark would encourage laziness among students.
According to her, it is capable of causing a ripple effect on the standard of education in the country.
''It is very embarrassing to hear that JAMB defended their reason for the drop in the cut-off mark.
'It is bad enough that our educational standard has deteriorated terribly and caused our system to be viewed as a joke, leading young Nigerians to seek better education abroad.
"Let us remember that the Nigerian economy, which is currently fragile, depends on the ability of the fresh graduates to contribute to building the economy.
"Also, the teachers who will teach our children and grandchildren in the future are expected to go to these universities with a cut-off mark of 120 and come out with nothing to show for them.
"With their brains not being challenged, they will be unable to be innovative and smart, causing them to teach the future students absolutely nothing.
"This will lead to a troubling future for Nigeria,'' Okon said.
Similarly, Mr Biodun Adewale, a teacher with Shining Star College, said he was disappointed by the reason given by JAMB to reduce the cut-off mark.
Adewale said that instead of reduction of cut off mark, JAMB should work with the government to improve Nigeria's educational system.
Foreign examples
According to him, improved educational system would deter Nigerians from travelling abroad for education.
"The British universities tend to have a more lenient system for admission when compared to other countries like U.S, Canada, Australia and more.
"Not to mention that the Nigerian and British systems requirements are pretty much quite similar yet many students travel out especially to the UK to get their post-secondary degrees.
"The reason given by JAMB does not hold water because we know that the inability to get admitted to Nigerian schools isn't the reason why most schools aren't taking people.
'Let's not forget that it is harder to get admission to a good accredited school abroad.
"The major reasons people travel out are because we have a mediocre educational system and we have a problem with regular strikes causing students to spend more time in school than required.
''JAMB dropping the scores only increased the level of mediocrity in our system and this will eventually cause more students to seek quality education abroad.''
Subscribe for latest Videos