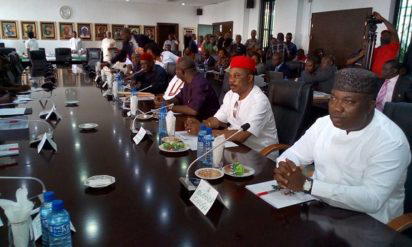 South-East govs currently emergency meeting with army over IPOB, Op Python Dance
By Vincent Ujumadu, Awka
The Indigenous People of Biafra (IPOB) Saturday night condemned the South East Governor's Forum over their proscription of the activities of the organization which it described as most peaceful body in the world.
In a statement signed by its media and publicity secretary, Comrade Emma Powerful, the organization said the speed with which the governors announced the proscription of IPOB activities had proved that the governors would remain slaves in the hands of their Hausa Fulani masters.
According to IPOB, it was unfortunate that the governors declared the group as illegal without condemning the barbaric and unprovoked killings of IPOB people in Umuahia, Aba and Port Harcourt, as well as the continuous killing, raping of women and destruction of farm crops by herdsmen masquerading as cattle rearers in Biafra land.
IPOB said: "We want to find out how the governors who do not know the foundations of IPOB, would make such a statement when they know that IPOB had staged 297 peaceful protests and rallies both at home and in Diaspora without a single record of violence or crime. With the record on ground, IPOB under Mazi Nnamdi Kanu, is one of the most peaceful organized freedom fighting group in the world today.
"It is dangerous that the governors who are the chief security officers of their respective states in the zone would decide to hand over their people to the enemies who were out to kill, maim and destroy because of their selfish reasons.
"We are also aware that late Chief Emeka Odumegwu Ojukwu and General Philip Effiong protected their people during the first pogrom and ethnic cleansing from 1966'to 1970.
"These governors and their collaborators are in the forefront to eliminate our leader, Mazi Nnamdi Kanu and other peaceful members of IPOB. It is on record that IPOB activities are peaceful since the inception and nobody can prove where and how IPOB activities became violent over night.
"The solders brought in to eliminate or murder our leader, Mazi Nnamdi Kanu and IPOB members, including the innocent civilians across Biafra land, are still going from house to house picking anyone suspected to be IPOB or seen with any Biafra insignia.
"IPOB under Mazi Nnamdi Kanu must remain a nonviolent group in the pursuit for Biafra freedom, despite the high handedness meted against IPOB members and our leader."