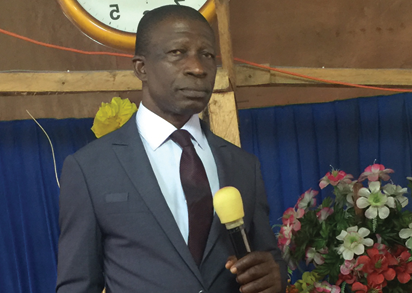 Pastor Bamidele
By Pastor Layi Bamidele
Judas Iscariot was the apostle that was infamous for his betrayal of Christ. In the journey of Christendom, one of the greatest offence is betrayal. In Matthew 26:3 the Bible says: "Then assembled together the chief priests, and the scribes, and the elders of the people unto the palace of the high priest, who was called caiaphas."
That someone is close to you does not mean he cannot betray you. The Bible made us to understand that Judas Iscariot is one of the closest persons to Jesus yet he betrayed him.
Micah 7:2,5-6 says: "The good man is perished out of the earth, and there is none upright among men, they all lie in wait for blood, that hunt everyman his brother with a net….trust ye not in a friend, put ye not confidence in a guide, keep the doors of thy mouth from her that lieth in bosom. For the son dishonoureth the father, the daughter riseth up against her mother, the daughter in law against her mother in law, a man's enemies are the men of his own house."
After Judas Iscariot betrayed the master, the Bible recorded that he later on hanged himself. One of the principal thing that often affect a betrayer is that their end is always disastrous.
Luke 22:47-48 says: "And while he yet spake, behold a multitude, and he that was called Judas, one of the 12, went before them, and drew near unto Jesus to kiss him, and Jesus said unto him Judas, betrayest thou the son with a kiss".
We have seen brothers of the same womb stabbing his fellow brother, sister's betraying their fellow sisters.
I have seen a situation where sisters snatch their fellow sister's husband. We have seen cases where a house help snatched her master's husband.
Most Bible school students are humble in the school, but the moment they graduate, they will drop all what they learnt for so many years and carry the garment of their old self which they dropped by the school gate when they entered the school.
These acts of pride and arrogancy have destroyed so many young ministers of God. Many that are supposed to be under a tutelage for some years, will not be ready to serve, they are carrying the heart of a master right away from their beginning.
God put the Church in the world for a purpose, but the devil is trying to put the world into the Church. So many church workers have literarily turned against the same church and the same man of God that God used for their change. So many will forget how they got to church weeping, the moment they had their comfort, their pastor becomes irrelevant to them. The moment you dispise the man God has placed ahead of you, or you turn against him to rebel or betray him, when will you not turn against the Lord you are not seeing.
Remember where leaders fumble, then the followers will stumble. It is the quality of leaders in the church that determine the type of people the Church will produce. When you try to pacify wickedness you are just postponing the days of evil. When you see a pastor that is discrediting his fellow pastor in the same church, he has started creating a problem that may bomerang in future.
Some pastors and evangelists once they have small gift, they begin to see themselves as the ones making things happen in that church, some of them, the members will make them look as if the church will crumble once they are not there.
Many of them forgot that they were not there when God called his servant. The bible says "whoever he called he justified, and whoever he justified he glorified". Many assistants do see them as they are the ones making things work, many thought once they are gifted they too carry even a higher grace than their senior pastor. It is a deceipt of the devil. I have seen so many pastors that God is using greatly under the grace of a particular ministry, but once they experience the slightest insult or challenges or corrections from their senior pastors or members or General Overseer, the next is they storm out of that church angrily to start their own ministry.
When God has not called them to establish a church, they suddenly become general overseer. Such ones mislead people, they have no where to go in life.
Ministry is not all about gift. Ministry is all about grace. The way people are going about ministry these days, the spirit of discipleship is fast fading away from the Church. Discipleship means loyalty in stewardship and selfless service. All these things are becoming very difficult to get in the Church. We are in the era of everybody trying to become a number one so as they can occupy the position of authority.