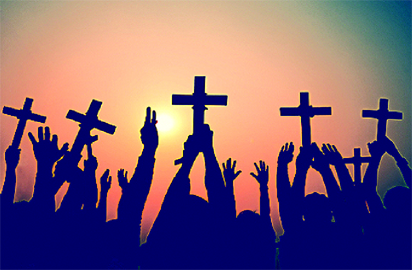 By Funmi Komolafe
Brethren to the Glory of God we are in the  'Ember' months. A clear indication that we have less than 100 days to the end of the year 2017.  You and I definitely have cause to be grateful to God.  Even if you have not attained that desired goal or the miracle you so much desire is yet to manifest, you still have cause to be grateful to God. That God has kept you alive is enough reason to continue to thank him.
However, as human beings, we do not feel complete when  what we so much desire to possess remains elusive.
This could be a job, a child or children, a marriage partner, promotion, spiritual development, riches, a car, a personal building, etc.  Human needs are so varied.
As Christians we are taught that the way to ask from God is through prayer but when we have prayed and nothing seems to be happening, then we begin to feel dejected but the solution is not to stop praying.
Rather, it is that prayer must be intensified.  Time to change the focus of our prayer and be determined to pray until something happens.  Something must happen.   Prayer can never be in vain but we must realize that answers to prayers do not come like magic.  God moves meticulously.
Since you are conscious of the fact that millions of people are crying unto God, you need to do something that will single you out.   Ask God to remember you.  When he does, you are singled out for favour.  By the grace of God, this season for whatever it is you a trusting God for, he will remember you in Jesus name.
How do I know that when we ask God to remember us, he answers swiftly?
Our authority is found in  Ist Samuel  1 vs. 11 and 19. First, verse 11 " And she vowed a vow, and said, O LORD of hosts, if you wilt indeed look on the affliction of thine handmaid, and remember me, and not forget thine handmaid, but wilt give unto thine handmaid, but will give thine handmaid a man child, then I will give him unto the LORD all the days of his life, and there shall no razor come upon his head".
The answer to this prayer is found in verse 19 " And they rose up in the morning early, and worshipped before the LORD, and returned, and came to their house to Ramah: and Elkanah knew Hannah his wife; and the LORD remembered her".
The result was an end to her reproach with the birth of Samuel.
Brethren, this may be a familiar story to you but I tell you nothing is as disturbing as waiting to have children. I know because I have experienced it.
The waiting period if not properly handled can turn the love in your marriage to bitterness. This challenge could also be used by the enemy to drain your financial resources.
Brethren, be not deceived.  Money cannot give biological children and this is why many have had failed cases of scientific efforts to have children. It is only God Almighty, Jehovah Elohim that gives children.
Psalm 127 vs. 3 " Lo, children are a heritage of the Lord and the fruit of the womb is his reward".
When God remembers you, you will be favoured. His favour will remove your reproach and you that have been mocked will be celebrated.  This however does not come easy but when the result comes, all the pains of the reproach will disappear.  By the grace of God, this season, the Lord will remember you. You will not end this year without your desired miracle in the name of Jesus.
Let's take a look at the word of God in Genesis 30 vs. 22 to 24. The story of Rachel. " And God remembered Rachel, and God hearkened to her, and opened her womb.  And she conceived, and bare a son; and said God hath taken away my reproach:  And she called his name Joseph; and said, God hath taken away my reproach:"
Brethren the story of the lives of Samuel and Joseph confirm that they were special children.   For someone who is waiting on the Lord for a child or children, marriage partner or promotion, God is about to give you something special.  Something that will make your story the talk of the town.   Remain focused and ask him to remember you.
However, you must be clear  about  what you want God to remember you for.  There cannot be too much of prayer for God's ears are ever listening. If anyone complains that you pray too much, refuse to backslide.  Rather, intensify your prayers and the result will come. As we would say in the Pentecostal churches, add fire to your prayer.
I have chosen to use child bearing as the focus today because it is the basis of this column.   It is also essentially because this is the ninth month of the year and pregnancy in most cases is carried for nine months. Who is that Hannah or Rachel that is close to you?  You have a duty to encourage her with prayers.
As for the woman on God's waiting list, beyond prayer, you need to make prophetic declaration to yourself. I did it and it worked for me. I have also seen many women who did it and it worked for them.
Begin to say to yourself, my Samuel is on the way.  My Joseph is on the way in the name of Jesus.
If you desire to have a set of twins because of the years of delay you have had, your authority can be found in Genesis 25 vs. 24  " And when her days to be delivered were fulfilled, behold there were twins in her womb".
Declare to yourself  " I am a mother of twins".
Testimony- A woman in one of the Pentecostal churches who had been waiting on the Lord for about 15 years, made Genesis 25 vs. 24 a coat on her tongue. While cooking she will repeat it.  While driving, she will repeat it.  Whatever she was doing especially whenever she was alone she would declare to herself.  "I am a mother of twins; one boy, one girl". It was not long before her spirit picked it up.  Such that even in her sleep, it was those words she heard.  Soon she   conceived . When she  received her pregnancy test result, her joy knew no bounds.  She was so filled with joy that she didn't know she had driven past the road to her house.
Within a few months, a scan was conducted and the doctor confirmed a baby in her but the woman said, " doctor look very well, there are two babies in me".  The doctor rebuked her saying, you have one and you are still arguing that they are two.
By the next appointment for another scan, the doctor confirmed to her that she was carrying two babies. The bigger one was lying on the smaller one.  To shorten the story, the woman whom neighbours had been mocking openly and secretly became a celebrity.
People trooped to her house for the naming of the babies and she became an inspiration to others.
By the grace of God, irrespective of what you may be trusting God for, your story will be better than hers.
I'll end this story be recalling a popular song " Remember me O Lord, remember me O Lord, remember me O Lord today".
When the Lord remembers you, your story will change.
As the Lord lives, before this year ends, God will remember you in Jesus name.
Have a fruitful week.