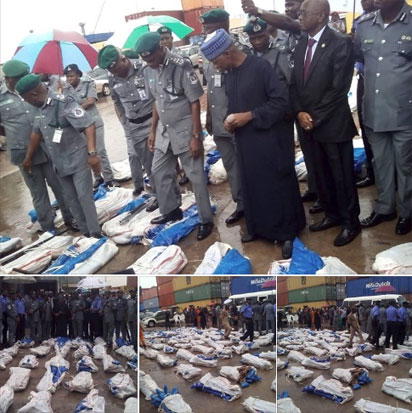 Comptroller-General of Customs, Col. Hameed Ibrahim Ali (Rtd) displays the seized 1,100 Jojef Magnum Pump Action and Jojef Magnum Plastic Single Barrels Hunting Gun Pump Action Rifles at Lagos Tin-Can
Container still at Tin-can as probe continues
By Godfrey Bivbere
LAGOS— Two more persons have been arrested by officials of the Nigeria Customs Service, NCS, in connection with the illegal shipment of the 20-foot container of 1,100 pump action rifles imported from Turkey.
Although the Customs authorities denied the arrest, a source at Tin-can Island Container Terminal told Vanguard that the two persons were arrested as a result of their involvement in the shipment.
The Public Relations Officer of NCS, Joseph Attah, and an official of the Tin-can Island Container Terminal, TICT where the container was arrested denied any arrest.
Attah told Vanguard that the container was still at Tin-can Command and that investigation was on-going.
Asked about the arrest of the two other people, he told Vanguard that he stood by what Comptroller General of Customs, CGC, Hameed Ali, said on Monday until he got new information.
He said: "I stand by what the CG told you yesterday. Until I am updated, I do not speculate and please we are talking about arms here; we are not talking about rice or bread here, this is not the time to go into speculation."
Efforts to speak with the Terminal Manager of TICT, Greg Sikpi, proved abortive as he could not be reached on his phone line.
However, Deputy President of the National Council of Managing Directors of Licensed Customs Agents, NCMDLCA, Uchu Block, told Vanguard that the seizure was suspicious.
He said:"My brother all these seizures they are recording, normally before you position a container, there must be an agent doing that work. The agent must have paid the TICT charges and then book for examination.
"So for them to put down the container saying they do not know those behind it, all these are government plan to protect themselves one way or the other, they know who the importers of these arms are, there is no way the container will be drop for examination without the agent.
"I mean TICT; somebody would have booked for that container, make payment before they the terminal operator can position. They do not just go to take any position they see there and position without request. So who requested for the container to be put down?  Which company is doing it?
"From the company you will be able to trace whoever gave them the job to do. So all these their seizures without arrest I do not know, sometimes I see it as government import.
"Most of these agencies that are asked to leave the port will go and organize and bring in something and when they discover it they will use it to justify why they should be in the port," he concluded.
Recall that Customs Monday seized a 20 foot container of 1,100 pump action riffles imported from Turkey.''