By Monsuru Olowoopejo
Lagos—governor Akinwunmi Ambode of Lagos State has unveiled a 20-foot statue of the first Premier of defunct Western region, Chief Obafemi Awolowo, even as he revealed the state's stand on Nigeria's restructuring.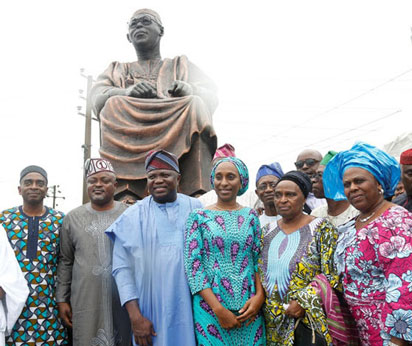 Ambode noted that the statue was not for tourism or beautification, rather will serve as a constant reminder to all, especially future generations of the need to value sacrifice of our heroes and strive to uphold and promote the ideals which they stood for.
The governor unveiled the statue erected at Agidingbi Junction end of Awolowo road, Ikeja.
The event was attended by wife of Vice President, Dolapo Osinbajo and Olusegun Awolowo, both grandchildren of the late sage and Dr. Tokunbo Awolowo-Dosunmu, his daughter.
On reasons for the statue, Ambode stressed that the monument was erected to celebrate the legendary achievements and contributions of Awolowo to development of the country.
He said: This statue is not just about beautifying the environment or serving as a tourist attraction, but more importantly, it is meant to be a constant reminder to all of us and future generations of the need to value the sacrifice of our heroes and strive to uphold and promote the ideals which they stood for.
On restructuring
Ambode hinted that the state government remains committed to manifesto of All Progressives Congress on restructuring the country.
While quoting the party manifesto, he said: "APC shall initiate action to amend our Constitution with a view to devolving powers, duties and responsibilities to states and local council in order to entrench true Federalism and the Federal spirit."
The governor vowed that the state will ensure that a section of the party's manifesto comes to pass.
Earlier, Awolowo-Dosunmu said her late father was able to utilise taxes to drive most of his people-oriented policies and that those who  criticized his tax drive later rallied round him and adopted same for economic growth.
While thanking the governor for the honour done to her late father, she commended him for steadfastly following Awolowo's footsteps, noting that Lagos under him, is recording impressive achievements.