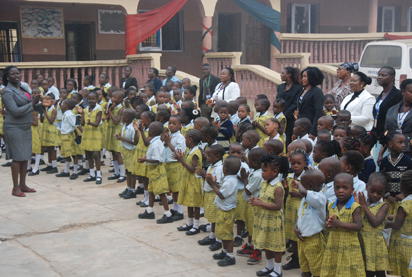 Students of Supreme Basic Schools, Magada, Ibafo, Ogun State, on resumption of a new term after the Christmas and New Year Holiday. Photo: Lamidi Bamidele
By Josephine Agbonkhese
As schools resume for a new year,  parents and guardians are shopping for new school items ranging from writing materials to school shoes, backpacks, lunch boxes and other supplies can. As usual, the prices of these items are at their peak right now too. The following tips can help you spend less while shopping for quality items.
1. Shop your house first
You may have some back-to-school items in your house. Check for unused notebooks, pen, pencils, crayons, and other materials needed in school. Clothing, shoes, backpacks and electronics that are still in good shape can still be used. An inventory of such items will help you to determine the ones you need to purchase. Thus, you will spend less than if you are buying all the required items.
2. Let your list be your guide
It is likely that you might have received a list of items required for the new term, from your children's school. To avoid wasting money, parents should use the back-to-school list as a guide while shopping. Using a list and checking off purchased items will help you to keep to budget while shopping. However, it is ideal to shop for school items before the new term begins.
3. Check online
Even though t is peak period and the prices of school items are inflated by the day, there are still some humane sellers out there, especially online, who are selling at give-away prices at this time. You can check online for discount promo sales or clearance sales so as to get the lowest prices of these items. Thus, you can spend less if you are able to get the best prices for the supplies.
4. Ignore some of your children's want
It is ideal to involve your children when you are shopping for their supplies. However, they tend to want trendy items, even when new ones have been bought for them. Imagine a kid who has a new backpack requesting for a different design of backpack just because his friend has such design. Thus, parents should remind their children to keep to the budget and teach them the difference between wants and needs.
5. Avoid purchasing the items on credit
It is not ideal to shop for items on credit as you may incur higher interest charges. Instead, you can shop with cash or your debit card.
6. Buy before the mad rush
This report is coming a bit late though, but next year, remember to buy before the mad rush begins.   Buying when resumption is few days away is buying at a high cost. Buying during holiday will help you beat down the cost as patronage can be very low during holiday; you will also save time as you will not have to queue to be attended to at shopping centers or bookshops. This can also let you buy bit by bit without waiting to have all the money you need as that may delay you; and you may end up getting stuck in the mad rush.
7. Do not insist on brands
Do not insist on a particular brand as some brands are higher in cost but not necessarily in quality; they just have an established name. You have ample opportunity to search and scrutinize.