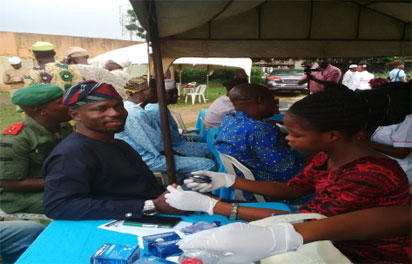 HIV TESTING: The Chairman of Ijede Local Council Development Area, Mr. Salisu Fatiu, undergoing HIV testing and counselling during sensitization by medical personel of Lagos State Aids Control Aency in Ikorodu area of Lagos.
By Gabriel Olawale
THE rate of HIV transmission in Lagos State and environs has dropped dramatically.
Disclosing this to newsmen last week, the Chief Executive Officer, Lagos State AIDs Control Agency, LSACA, Dr. Oluseyi Temowo, said results of series of HIV testing and counseling exercises carried out in Ikorodu area of Lagos, showed that less than 0.1 percent of the population tested positive to HIV.
Speaking in Ijede LCDA of Ikorodu Division, Temowo said in every 1,000 people screened the Agency found that 2-3 tested positive.
Temowo said the exercise was in accordance with commitment of the State Governor, Mr. Akinwunmi Ambode, to eradicate HIV/AIDS by 2030, as stated at the World Health Assembly last year.
"Our commitment is that even if we only identify one person out of 1,000, they must be enrolled because we are committed to the UN strategy which identifies with the 90;90;90 initiative.
What that means is that 90 percent of the population must know its HIV status, 90 per cent must be enrolled in care, and 90 percent of those enrolled in care must have  viral suppression by 2020. In so doing we would have eradicated HIV/AIDS by 2030.
He explained that the current HIV prevalence rate in Lagos as at  2014 was 4.1 percent but the pilot study carried out recently shows it's about 1.5 "This reduction was made possible by what we call 4/3, which means that every four weeks in a month we go round the three Senatorial districts on the instruction of the Governor to sensitize people about HIV/AIDs.
"Also we have made progress in prevention of mother-to-child transmission because our focus is on epidemic control which means that if you are husband to a woman, and you are using your drug regularly, you cannot infect your wife or if you are a woman that is pregnant and you are using your drugs regularly, your baby may not be positive to HIV.
"This is the reason  the state is clearing zero tolerance to babies born positive to HIV.
He expressed worry over the prevalence rate of HIV among youths and males who practice gay sex (Men having Sex with Men, MSM).
Disclosure of identity is one of the biggest challenges to the presence of HIV among MSM but for female sex workers we do what we call Mulan Testing for them at night and they are cooperating which informed the significant drop compared to MSM.
"Low educational status, some of our clients don't understand English but we ensure we have people that can speak. Another challenge is penetrating the interior, which has been solved by the governor.
"Our message to Lagosians is that HIV is not a disease that can kill anybody again, when you have it you can live normally, so it is no more a death sentence but life sentence. People should not run away from those that have it because it cannot be contacted through association but only by blood contact.