President of the Nigeria Football Federation, Mr. Amaju Melvin Pinnick on Tuesday met with Governor Udom Emmanuel of Akwa Ibom State and members of the State's cabinet as the countdown begins for next month's 2018 FIFA World Cup qualifying battle between Nigeria and Cameroon in Uyo.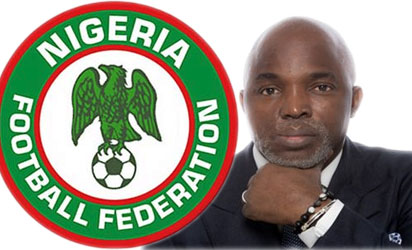 The NFF President, alongside Chairman of the NFF Technical and Development Committee, Barrister Chris Green and Chairman of the Akwa Ibom State Football Association, Mr. Emmanuel Iba met with Governor Emmanuel at the Government House in Uyo, where the Governor and his team assured the Federation officials that every item on the checklist for organization of the match was being painstakingly attended to.
"We had a useful meeting with His Excellency on all areas concerning organization. The NFF does not want to leave any stone unturned with regards to arrangements for this match."
"While we are doing everything necessary to prepare our team for the big match, we are also fully focused on the organization. Nothing must be left to chance. I am happy His Excellency, Governor Udom Emmanuel and his top officials are on the same page with the NFF."
We are confident of having a very successful match on all fronts," Pinnick said after the meeting.
The Super Eagles, three –time African champions, welcome reigning African champions Cameroon to the 'Nest of Champions' in two-and-half weeks, in what could prove one of the deciding games of Africa's 2018 FIFA World Cup Qualifying Series' Group B.
Nigeria won the last encounter between the two countries at senior level, when the Eagles lashed the Lions 3-0 in a friendly in Brussels, Belgium on 11th October 2015.
Presently, the Super Eagles perch at the top of the pool, with six maximum points from two matches, after edging Zambia 2-1 in Ndola in October 2016 and defeating Algeria 3-1 in Uyo the following month. The Lions are second with only two points, after 1-1 draws with Algeria away and Zambia at home.