HusbandS and relatives of nursing mothers have been encouraged to give adequate support to exclusive breastfeeding during the first six months of life with the aim of increasing compliance rate in the country.
Making the appeal during a community outreach tagged; 'Sustaining Development Together' in Shomolu/ Bariga area of Lagos State, Chief of Party, Stop Diarrhsea Initiative of Save the Children, David Atamewalen said that the level of compliance with exclusive breastfeeding in Nigeria still remains a great concern as the most recent data put it at just 25 per cent.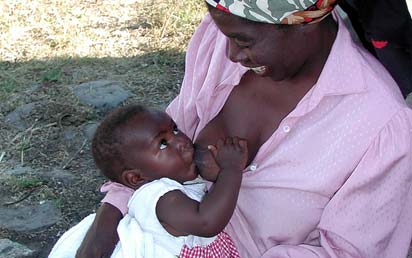 Atamewalen said that the figure can be improved upon through the support of husbands and relatives of nursing mothers. "Husbands play a key role in sustaining their wives on exclusive breastfeeding because during this period there are lots of tasks the nursing mother will be doing and require support of their husbands and relatives.
"When a woman is breastfeeding, she tends to eat a lot, so the husband should endeavour to make available nutritious foods that she will pass on to the baby. Another thing is housework. Husbands can  assist in this area because most nursing mothers, when  overwhelmed with housework, tend to stop exclusive breastfeeding after four months."
Atamewalen explained that husbands should understand the fact that when their wives are breastfeeding, there will be  physical changes in their bodies so they must not insist that their breasts remain  firm.
"Such issues will discourage women from complying with exclusive breastfeeding.
"After six months, nursing mothers need to sustain that habit up till a year with supplementary nutritious food. The more a child stays on the breast, the better for him or her, because breastmilk contains natural immunogens that help the child in fighting diseases. The economic benefits  include saving hospital expenses and the mothers' time."
He regretted that children that miss out on this critical period, tend to be vulnerable to some childhood killer diseases such as diarrhoea, cholera, malaria, among others.
The Advocacy Advisor, Save the Children International, Nigeria chapter, Mrs. Folake Kuti said that government and private sector can also  support through enabling environment, "Having crèches in different organisation will help the nursing mothers to be more focus at work.