*Says fashion can stabilise Nigeria's economy
By Josephine Agbonkhese
Chief (Mrs) Sade Thomas-Fahm is notable for kick-starting the Nigerian fashion industry and for being the first to own a boutique in the country. She speaks to Woman's Own on the evolution of Nigerian fashion and decries the failure of government to see the opportunities in the sector, urging them to revive the textile industry.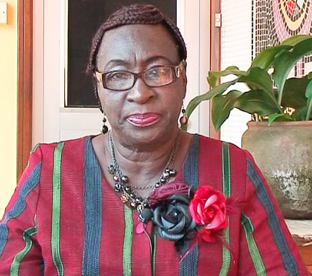 YOU'VE helped to shape Nigerian fashion since 1960 and have been a mentor to younger designers. From your experience, would you say fashion has the potential to drive Nigeria's economy?
Fashion business is a huge money spinner. In other countries, the western world especially, over 25 percent of their economy depends on fashion. They export to all other countries and it could be the same for Nigeria if we realise it and put more effort into it rather than spending on foreign products to the detriment of our economy. We import fabrics, ready-made outfits, etc. and that is our money going abroad too. But of course, all our textile factories are closed. Economic stability can be derived from fashion if we are wise enough to concentrate on our fabrics and bring our textile mills back. If our textile mills were working, most of these young men roaming about will be meaningfully engaged. So, fashion is not just for fancy or glamour but for the economy.
Can you take us down memory lane on how Nigerian fashion was in the early days and how it has evolved into one now fancied globally?
I don't like proclaiming my name but before, we saw our fabric as nothing in this country. We didn't make efforts to utilise and beautify it until I returned from England in 1960 and tried to prove that our fabric could be used to produce a lot of the things we were ignorantly importing.
Imported fabrics
Before the 60s and in fact in the 60s, Nigerian women were spending so much money on imported fabrics. We were so wasteful. I came back, therefore, to prove to them that we could make interesting designs from our fabric; on akwete, adire, okene, aso-oke, and the beautifully coloured prints by the Nigerian Textile Mill, Aba Textile Mill, and all.
We had beautiful fabrics, cottons and designs which people abroad loved so much. But I preferred to import; so we were spending so much money importing all kinds of fabrics until we get to where we are. It was not an easy war trying to project the Nigerian fabric. Most times, I had to work day and night in my factory, along with tailors who were working with me. But I thank God we eventually began to embrace our fabric. But now is the time to concentrate more on it and make other countries aware of what we have, and then export more. Frankly, our current economic situation does not need us importing. Instead, we should export more and our fashion, in all sincerity, has reached the stage where we can begin to go  into full scale exporting.
Aba designers: I am happy to hear about Aba people and all that they are doing in fashion. They are making shoes, bags, clothes, and all; and that is very commendable. In the western world too, women are now particular about using our prints, adire and aso oke. The only thing I have not noticed is our akwete which is also a beautiful weave as it can beat kente anytime. The beautiful part of our fabric is that they are durable. Thus, we can concentrate on exporting to ensure the growth of our economy and  better life for Nigerians.
But the Aba designers you talked about, in the opinion of many, have issues with quality and finishing that even a  majority of lower middle class people find it unclassy to wear their products..
Let me tell you, that is what is wrong with Nigeria. If they produce these things and we don't buy them, how will they improve? The more we buy Aba, the better they become. I don't know what people mean by "the fabric they use is inferior". There's nothing inferior about the materials they use, it is only in our minds. The truth is, the finishing cannot be better if we don't buy them. This is simple logic. People cannot produce 100 pieces and we buy only 20 and expect that the person to produce newer and better ones. No! People improve everyday if patronised. If we keep patronising imported designs, it will be to our own detriment in many ways. First of all, there will be no money in the country, there will be many idle people and there will also be serious robbery, kidnapping and all manner of evil because many people will not have a means of survival.
So, I believe the products in Aba, in the West and all across Nigeria, are good enough and will get better if we keep using them. No nation's fashion grew in one day, after all.  Remember that at one time we were saying China's products had poor quality. But now, China is leading the world and even America now gets from China. So, what we should do is to learn to love and appreciate what we produce.
Lastly, what's your assessment of current indigenous designers?
What I will tell our designers is to stop copying.  If we keep copying, we are still giving dues to where we copied from. And that is one of the reason we do not develop; because we are yet to recover from the brainwash given to us by the west.
Unwearable outfits
Our designers should design what suits our environment. A lot of these flowing dresses dragging on the floor cannot suit us because we don't even have places to wear them to. Abroad, apart from the runway, those kinds of dresses sit in the factories. Where will you walk in Nigeria that will  be free from mud?  In fashion, those unwearable outfits are called 'gimmicks' and in fact, after the runway most times, they are converted into wearable pieces.
Why government should think
Fashion is not only glamour but economy and we should understand that. Otherwise, why do you think manufacturing fabrics works both day and night in western countries? Their economies depend heavily on fashion and of course, it is also creating jobs for millions. This is what we should be looking forward to. We have to get people away from the streets because the people on the streets are just too many. For God's sake, the Nigerian government should bring back the textile mills; they should think! Some of these looted funds being recovered can be channeled into reviving the sector.