…UN says action unauthorised
BY NDAHI Marmara
THE Nigerian Army has said that its decision to raid the United Nations Head Office along Pompomari Bye- Pass Road in Maiduguri yesterday was informed by an intelligence report that Boko Haram insurgents had infiltrated the camp.
Saturday Vanguard gathered that the action which took place at 2 am yesterday was carried out by troops, who performed a cordon and search operation.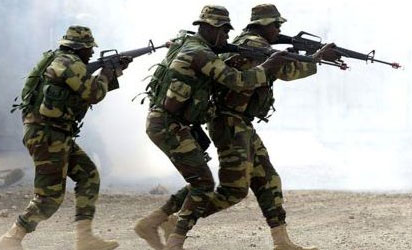 It was learnt that the property which was rented by the UN belonged to the late former governor of Borno State, Malla Kachallah.
However, the Army in a statement by Lieutenant Colonel Kingsley Samuel said it got information that the camp had been infiltrated by Boko Haram insurgents, adding that there was no sign to indicate that the property housed the UN office.
The statement reads: "As part of ongoing counter insurgency operations, the theatre command of Operation Lafiya Dole has been conducting several clearances as well as cordon and search operations in urban and rural areas within the theatre. The clearance operations effort has been yielding several successes.
"It has forced the Boko Haram Terrorists ,BHT, to change tactics and resort to the employment of suicide bombers to target military locations and the populace.  This necessitated the need to intensify cordon and search in Maiduguri metropolis and environment.
"In the last one week cordon and search operations were conducted in Jiddari –Polo, Muna Garage, Jakana amongst several other areas. On August 10, 2017, Theatre Command received information from one of its credible sources that some high-value BHT suspects had infiltrated into Pompomari Bye-Pass.
"It, therefore, became expedient to take pre-emptive action by combing the area through cordon and search operations.  The operation was successfully conducted as over 30 houses were searched.  One of such included a property which was said to be occupied by United Nations staff, although the property did not carry a UN designation. On the whole, operation in the general area was successfully concluded but no arrest was made because the suspects were not found."
Reacting to the incident in a statement, the Head, Communications UN Office for the Coordination of Humanitarian Affairs, Miss Samantha Newport said the agency was concerned that the action could undermine its duties in the Northeast.
The statement reads:"On August 11, 2017, at circa 0500 hours, members of the Nigerian security forces entered a United Nations base for humanitarian workers in Maiduguri, Northeast Nigeria, without authorization.
"The security forces carried out a search of the tented camp and left the area at circa 0800 hours."
"The United Nations does not have any additional information at this time regarding the reason or motivations for the unauthorized search.
"The United Nations Humanitarian Coordinator and the Designated Official for Security in Nigeria, Edward Kallon, is liaising with the government of Nigeria.
"The United Nations is extremely concerned that these actions could be detrimental to the delivery of life-saving aid to the millions of vulnerable people in the northeast of Nigeria".