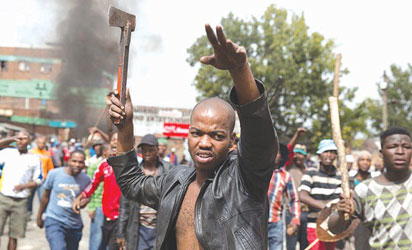 File: Xenophobia
UN human rights experts warned on Wednesday that racism and xenophobia are on the rise across the U.S.
According to a statement, the expert expressed deep concerns at the proliferation and increasing prominence of organised hate and racist groups.
"We are outraged by the violence in Charlottesville and the racial hatred displayed by right-wing extremists, white supremacists and neo-Nazi groups," said the experts in a joint statement issued Wednesday, in the wake of the far-right demonstrations and violence in Charlottesville, Virginia.
"We view these events as the latest examples of increasing racism, racial discrimination, Afrophobia, racist violence and xenophobia observed in demonstrations across the USA," they added.
The experts who jointly signed the statement are Sabelo Gumedze, Chairperson of the Working Group of Experts on People of African Descent; Mutuma Ruteere, Special Rapporteur on contemporary forms of racism, racial discrimination, xenophobia and related intolerance; and Ms Anastasia Crickley, Chairperson of the Committee on the Elimination of Racial Discrimination.
"Acts of hatred and racist hate speech must be unequivocally condemned. Hate crimes must be investigated and the perpetrators prosecuted," they said.
The experts made an urgent renewed call to the U.S. authorities to step up its work to tackle the issue.
They also called upon the Government and State authorities to adopt effective policies as a matter of priority, to urgently tackle the manifestations of incitement to racial violence.
"The government must be vigilant in combating all acts of racism, xenophobia and racist violence, wherever they occur.
"Recent incidents in California, Oregon, New Orleans and Kentucky, as well as Charlottesville, demonstrate the geographical spread of the problem," they stressed.
The experts noted that the Charlottesville far-right demonstrators had chanted anti-Black, anti-Semitic, and anti-immigrant slogans, and said it was of critical importance for those who had committed racist crimes or violence to be held to account.
"We call for the prosecution and adequate punishment of all perpetrators and the prompt establishment of an independent investigation into the events," they noted.
On Sunday, thousands of white nationalists, neo-Confederates and right-wing protesters, clashed with groups that oppose them, during demonstrations in Charlottesville, a historic college town in Virginia.
After hours of brawls, a sports car ploughed into a group of counter-white supremacist protesters, killing a 32-year-old woman and injuring 19 others.
NAN