"To say that night guards and drivers in private establishments earn far more than a police Sergeant in Nigeria should be a thing of serious concern to every sane Nigerian. Under the present discouraging atmosphere, there is no way Nigeria can have a fully committed and  highly motivated police force."
By Afe Babalola
In modern society, the primary aim of working is to earn a living. This is measured in monetary terms either by way of wages, salary, proceeds of sale, remuneration etc. it is not really the nomenclature that matters but the substance – money.
What our police officers earn in Nigeria as salaries are nothing short of stipends. The salaries and emoluments of policemen in Nigeria are embarrassingly poor. It is highly discouraging. This singular factor, if the truth must be told, has robbed Nigeria of finest brains who would have easily opted for policing had the salaries been made attractive.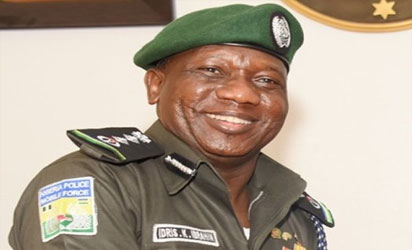 In sharp contrast to what obtains in Nigeria, policemen in Britain are well remunerated. This is aside the fact that graduates and well-educated people join the Force.
Abysmal remuneration
Perhaps the abysmal remuneration picture of the Nigerian Police is best painted in a paper presented by the former Inspector-General of Police, Mr. M.A.K. Smith titled "A Retreat". He submitted, quite frighteningly thus:- "it is now a matter of common knowledge the need for an upward review of police salaries. Not minding the recent general increase in salaries of public officers, it stands clear that the police salary still ranks low at the bottom of the national wage"
The salary of an average constable is almost conterminous with the national wage. A situation which makes a police constable rank with cleaners and rewards in the ministries. What this means is that the qualifications and status of an average policeman are not adequately compensated by his pay. This is in contradistinction to developments all over the world, where Police pay is one of the highest in those countries.
In the United States of America as at April 2017, a table of the 100 highest paying cities or localities showed that the average annual salary in the highest ranked city of San Jose-Sunnyvale-Santa Clara, California was $118,920,. In Napa, California, which was ranked second it was $112,840 while in Nassau-Suffolk, New York it was $111,770. At the current exchange rates of N170 naira to the dollar this translates to N44,000,400, N41,750,800 and N41,354,900 respectively. In the least ranked cities of Boston-Cambridge-Quincy, Massachusetts, Ithaca, New York and Hawaii-Maui-Kauai nonmetropolitan area, Hawaii, the average salaries were $67,230 (N24,875,100), $66,980 (N24,782,600) and $66,780 (N24,708,600) respectively.
To say that night guards and drivers in private establishments  earn far more than a police Sergeant in Nigeria should be a thing of serious concern to every sane Nigerian. Under the present discouraging atmosphere, there is no way Nigeria can have a fully committed and highly motivated police force.
What is more, virtually all these poorly paid policemen have wives, children, dependants and aged parents, the feeding responsibility of which falls heavily on their shoulders. And some policemen even have the additional task of funding the education of their younger brothers and sisters!
The sad aspect of it all is that our policemen work under a very dangerous, un-conducive and thoroughly hostile environment as opposed to their foreign counterparts who have everything modern at their disposal and under a beautiful, encouraging atmosphere within which they operate – also with fantastic salary to show for it!
Again in the United States of America, apart from the general earnings of the police, the Federal law provides for special salary rates for the benefit of federal employees who serve in law enforcement. In addition, the Federal Special Agents and Inspectors receive what is known as "Law Enforcement Availability Pay, LEAP," or " Administratively Uncontrolled Overtime (AUO)" which is equal to 25% of the agent's grade and step mainly awarded because of the large amount of overtime that these agents are expected to work.
Compared with what operates in Nigeria, there is no doubting the fact that the above represents very tempting, mouthwatering financial incentives.
To be continued.