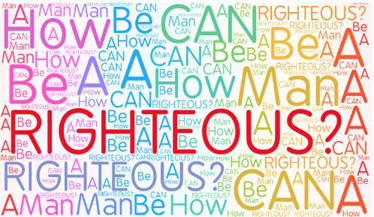 By Femi Aribisala
Paul presents Adam as the father of sin: "Sin entered the world through one man, and death through sin." (Romans 5:12). However, Jesus says different. He says Satan is "the father of lies." (John 8:44).
He completely debunks Paul's notion that Adam's sin was transferred to all mankind. Jesus declares Abel, the direct son of Adam, to be righteous: "Upon you will come all the righteous blood that has been shed on earth, from the blood of righteous Abel to the blood of Zechariah son of Berekiah, whom you murdered between the temple and the altar." (Matthew 23:35).
Since Abel did not inherit the sin of Adam, his father; we cannot be said to have inherited Adam's sin.
Imputed righteousness
Paul says: "There is none righteous, no, not one." (Romans 3:10). Therefore, he develops a doctrine that we shall nevertheless be deemed righteous even though we are not. He calls this "imputed" righteousness; or "the righteousness of faith." Hear him: "(Righteousness) shall be imputed to us who believe in him who raised up Jesus our Lord from the dead." (Romans 4:24).
Paul presents Abraham as the principal exemplar of this righteousness of faith without works: "If Abraham was justified by works, he has something to boast about, but not before God. For what does the Scripture say? "Abraham believed God, and it was accounted to him for righteousness." (Romans 4:2-3).
"Therefore it is of faith that it might be according to grace, so that the promise might be sure to all the seed, not only to those who are of the law, but also to those who are of the faith of Abraham, who is the father of us all." (Romans 4:16).
However, Abraham is not our father; we have no other Father but God. Jesus says: "Do not call anyone on earth your father; for One is your Father, He who is in heaven." (Matthew 23:9). We are not sons of Abraham: we are sons of God. We are not going to "Abraham's bosom." (Luke 16:22). We are going to "the bosom of the Father." (John 1:18).
Moreover, faith without works is dead. (James 2:20). Jesus told those Jews who claimed to be sons of Abraham: "If you were Abraham's children, you would do the works of Abraham." (John 8:39). He says furthermore: "Those who have done good will rise to live, and those who have done evil will rise to be condemned." (John 5:29). Indeed, God told Isaac that Abraham's righteousness was of works: "Abraham obeyed my voice and kept my charge, my commandments, my statutes, and my laws." (Genesis 26:5).
Blueprint for righteousness
Paul says: "By grace you have been saved through faith, and that not of yourselves; it is the gift of God, not of works, lest anyone should boast." (Ephesians 2:8-9). But while he mentions "grace" ninety-one times in the bible, Jesus never even mentions it. Isaiah warns: "Let grace be shown to the wicked, yet he will not learn righteousness; in the land of uprightness he will deal unjustly, and will not behold the majesty of the LORD." (Isaiah 26:10).
If man cannot be righteous, Jesus would not call us to righteousness. The righteousness of God that he calls us to is not imputed. It is the genuine article and it is attainable. He says: "Blessed are those who hunger and thirst for righteousness, for they shall be filled." (Matthew 5:6). This means those who strive for righteousness will become righteous by the power of God.
Jesus himself is our example in this regard. He is the way, the truth and the life. (John 14:6). Accordingly, he shows us the way of righteousness and the life of righteousness. Thus, he says: "Love your enemies, bless those who curse you, do good to those who hate you, and pray for those who spitefully use you and persecute you, that you may be sons of your Father in heaven." (Matthew 5:44-45).
There is nothing imputed here but the real deal. Jesus calls us to the very righteousness of God. He gives us a commandment that is not grievous: "Be perfect, therefore, as your heavenly Father is perfect." (Matthew 5:48).
Freedom from sin
How can a man be free from sin? Jesus says: "If you hold to my teaching, you are really my disciples. Then you will know the truth, and the truth will set you free." (John 8:31-32). What is the truth of God with regard to freedom from sin? The answer is straightforward. For man to be free from sin, he has to die. We attain the righteousness of God by following Jesus' noble example of laying down our life. That is the message of the cross to which we are called.
Jesus says: "The man who loves his life will lose it, while the man who hates his life in this world will keep it for eternal life. Whoever serves me must follow me; and where I am, my servant also will be. My Father will honor the one who serves me." (John 12:25-26). This means the heir of eternal life must hate his life.
Paradoxically, both Paul and Jesus agree here. Paul says: "He who has died has been freed from sin." (Romans 6:7). He then claims believers died by being crucified with Christ: "Our old self was crucified with him so that the body of sin might be done away with, that we should no longer be slaves to sin." (Romans 6:6).
However, Jesus does not say we shall be crucified with him. Instead, he asks us to follow his example by carrying our crosses: "If anyone desires to come after me, let him deny himself, and take up his cross, and follow me. For whoever desires to save his life will lose it, but whoever loses his life for my sake will find it." (Matthew 16:24-25).
Love of life
According to Jesus' doctrine, man's love of life is the foundation of every sin. We steal, cheat, fight, kill, commit adultery and every other sin because we are determined to save our lives. But the man who loves his enemies and lays down his life by turning the other cheek does not sin. We overcome sin by laying down our life. The man who lays down his life out of love for God cannot sin. That then is the challenge of our faith.
Jesus says: "My Father loves me, because I lay down my life that I may take it again. No one takes it from me, but I lay it down of myself. I have power to lay it down, and I have power to take it again. This command I have received from my Father." (John 10:17-18).
When we lay down our life we don't have to commit suicide or be martyred. When we lay down our life we deny self and thereby overcome the lust of the eyes, the lust of the flesh and the pride of life; the tripod of our sins. (1 John 2:16).
Christians persist in the heinous sin of the love of life, while deluding ourselves that we have the righteousness of Christ. But no man can overcome sin without losing his life.