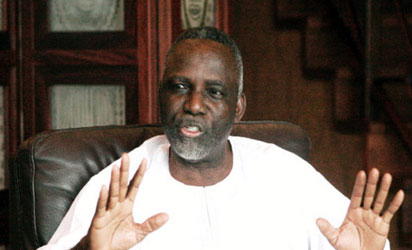 Prof. Bath Nnaji, former minister of power
By Prince Okafor
FORMER minister of power, Prof. Barth Nnaji is considering various options against the Senior Special Assistant to his former boss, Goodluck Jonathan, over what he described as unguarded statement linking his exit from the administration of president Jonathan on account of corruption.
Mr. Reno Omokri, an aide to the former president said Nnaji and his aviation counterpart Mrs. Stella Odua were relieved of their appointments following allegations of corruption leveled against them.
Omokri was reported to have made the comment while reacting to a statement credited to the director general of the Voice of Nigeria, Mr. Osita Okechukwu, that former President Jonathan failed woefully during his tenure as president.
Nnaji who reacted to the issue on the sideline of the one day conference of the National Association of Energy Correspondents, NAEC, in Lagos, expressed shock at such statements. He said,"My tenure was typically free of fraud as I focused on solving technical issues around the power sector and wasn't directly in charge of appropriating funds. When I discussed about my intention to resign with the president the so called adviser was not there.
"More so at a public function when Jonathan was confronted by concerned persons about my resignation he publicly declared that I did not commit any offence. As a minister I brought about positive negotiations on Investments and major contracts with foreign investors were signed which significantly changed and improved on the sector".
Nnaji said he has never been confronted by any agency nor been placed under probe of any missing money or misplaced priority, adding that the EFCC has beamed its searchlight on corrupt officials of the regime and the agency which acts independently has not invited him nor any whistle blower accused him of fraud.
"My hands are clean and I am proud to have left government without blemish and comments from foreign commentators allude to my successes and no finger has pointed to the negative. The Geometric project which my company is pursuing in Aba, Abia State is a testament to my transparency and commitment to provide excellent services in the sector. We have secured and paid $26 million to take over the Aba ring fence in which we are set to provide about 118 megawatts of power. Geometric power is one of the projects the government is looking up to to deliver power, it is one of the models I introduced and if meticulously pursued the country would quickly solve its energy crises" Nnaji added.