WEST African crude differentials were steady to firmer on Monday, supported by recent refining margin strength and demand from Indian tenders. The market is awaiting new loading programmes due in the next few days, so spot trade is limited.
According to Reuters, Qua Iboe was offered at dated Brent plus $1.70 for cargoes loading in late September, a trader said. That is up 10 cents from an offer reported on Aug. 9. However, earlier-loading cargoes are being offered at below dated plus $1.60, the trader added.
Shell's Nigerian venture lifted a force majeure on exports of Bonny Light crude. Exports of the grade have been continuing nonetheless, at a lower-than-normal rate. Most of September's cargoes have sold out and traders were awaiting the October loading plan, which is due this week.
A few September-loading cargoes were left including Dalia with Mercuria and possibly a Girassol. The latter was last heard offered at dated Brent plus $1.00, a strong offer for the grade.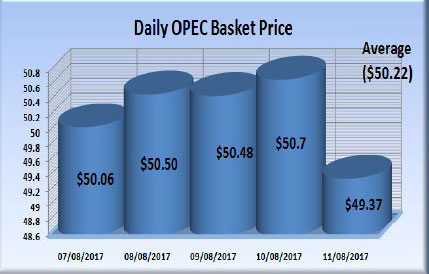 Indian Oil Corp is running a tender closing on August 17 to take cargoes of West African crude loading in late October, a trader said. However, the Joint OPEC-Non-OPEC Technical Committee (JTC) held an extraordinary session in Abu Dhabi, the UAE, with some of the producing countries participating in the Declaration of Cooperation. The objective of the meetings was to discuss conformity with the voluntary production adjustments outlined in the extension of the Declaration, which became effective on 1 July 2017. The session was held in Abu Dhabi in view of the UAE's upcoming presidency of OPEC in 2018.
At the most recent Joint OPEC-Non-OPEC Ministerial Monitoring Committee (JMMC) meeting in St. Petersburg, Russia, the JMMC instructed the JTC to hold additional technical level meetings with some OPEC and Non-OPEC participating producing countries with the goal of further improving conformity levels in order to accelerate the rebalancing of the global oil market for the benefit of producers and consumers alike.
Accordingly, meetings were held in order to further assess oil market developments with the UAE, Iraq, Kazakhstan and Malaysia, who presented on their outlook and prospects for their respective production levels.