Sen. Chris Ngige, the Minister of Labour and Employment, has restated the Federal Government's commitment to combating unemployment through supporting viable economic ventures.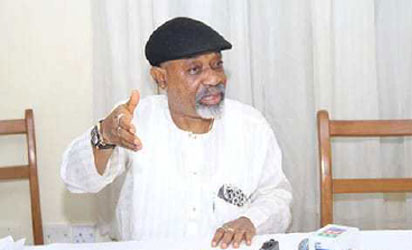 Ngige gave the assurance at the end of a three-day retreat organised for workers of the National Directorate of Employment (NDE) in Sokoto.
A statement issued on Friday by the directorate's Head of Public Relations Department, Malam Sani Musa, said the retreat was tagged: "Repositioning the NDE for Operational Excellence through Effective Leadership and Team Building.''
"Combating the unemployment challenge through creation of jobs and poverty reduction constitute very daunting tasks, which in turn, have always tasked the dexterity of governments the world over.
"It becomes even more challenging in time of economic recession due to dwindling funds and the capital-intensive nature of employment creation,'' Ngige said.
According to the minister, the present administration included his ministry as key to its efforts to improve the wellbeing of its citizens.
He said that the Federal Government would increase access to productive employment as a catalyst to the nation's growth.
Ngige, who was represented by a Director in the ministry, Mr Eyewumi Neburagho, described the theme of the retreat as critical, relevant and able to broaden participants' minds for achievement of government's programmes.
The minister commended NDE's present leadership, saying that they made distinguished contributions in the recently concluded International Labour Conference.
He urged Nigerians to avail themselves of the reintroduced employment programmes.
Ngige pledged more support for the NDE and other related agencies to ensure maximum success in providing active entrepreneurship skills, good business conditions and training of Nigerians.
He urged workers to complement government's intentions through dedication and promoting transparent dealings.
In his remarks, the NDE Director-General, Dr Nasiru Argungu, said he was impressed by workers' participation and commitment, assuring them of more training avenues.
Argungu said that training was a very vital incentive and motivational factor for employees in both the public and private sector.
He described training as an effective tool for sharpening the skills of the workforce for efficient performance at work.
"The NDE management realises that it is imperative to train and re-train its personnel to acquire the appropriate skills, knowledge and attitude.
"This will enhance productivity and efficiency to meet the special needs of directorate operations,'' the NDE director-general said.