•Ogun drags hunters to court for killing elephant
•Customs seizes imported snakes
By Daud Olatunji, Abeokuta
24 hours after a stakeholders' workshop on wildlife trafficking organized by the Nigerian Conservation Foundation (NCF) in Ogun State, Governor Ibikunle Amosun forwarded to the state House of Assembly a bill for the conservation, reservation and control of forest and wildlife in the state.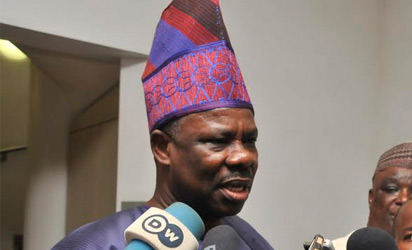 Sunday Vanguard gathered that high rate of poaching in forest reserves in Ogun and other states prompted the move by Amosun and the NCF.
Stakeholders at the workshop believed wildlife trafficking in Nigeria was on the increase and must be stopped so as not to endanger the environment.
The workshop was geared towards engaging actors and key players in the wildlife trafficking sector particularly on the vulture decline in Africa.
Present at the workshop were   market women, transporters, government officials, traditional and religious leaders, as well as various associations   who came   together to discuss the sustainable pathway to reduce and ultimately combat vulture decline.
Amosun, in his letter to the House and read by Speaker Suraj   Adekunbi at plenary, said the correspondence followed a resolution of the 18th State Executive Council meeting.
Speaking on   the importance of the workshop, the Director   General , NCF, Adeniyi   Karunwi, said the body and other organizations   in Africa, with support from BirdLife International, had been working to advocate the protection of vultures and other endangered wildlife that are commonly traded at domestic and international markets.
Karunwi said, "In January 2017, a strong level advocacy effort was organized where then Minister of Environment   who is now the United Nations Deputy Secretary General, Ms. Amina Mohammed, spoke   on "Decline in Vulture: Consequences on Health and Economy"
He explained that as a follow up, a local market assessment in Osun, Ogun and Ondo states was conducted to document the belief-based system as key driver of vulture decline while considering the trade routes, hubs and corridors along those states.
"It is evident that there is so much for us to do as stakeholders within the wildlife trafficking value chain. The decline figures are alarming as approximately 500 tonnes are trafficked monthly ending up as derivatives used in traditional medicine. It was also revealed that this figure is widely sourced from Northern Nigeria in meeting the demands in South-West Nigeria for use in rituals and other traditional medicinal purposes.
"Our belief system must be able to accommodate a new thinking that not only recognises but also preserves the right of the African vulture species to live in order not to jeopardize the future of our unborn generations.
"NCF is not asking for too much but we need a determination and commitment to change our lifestyle, particularly to see vultures as environmental sanitation agents/cleaners and that human survival depends on them.
"We cannot but seek your support as much as it may be a challenging task to curtail the trafficking and racketeering in vulture and its parts without you. It is a collective effort that must be enshrined in our public roles and responsibilities regarding vulture survival as what we owe the future generations and why today's programme is being held in Oshogbo and Abeokuta concurrently.
"We should be able to identify possible solutions to reduce the demand and supply of vulture parts in traditional medicine while developing a road map to tackle the threat to vultures and other wildlife from being sources for use in traditional medicine".
The Director of Forestry in Ogun State, Oludolapo Odulana, called for the review of the law on wildlife and forestry, adding that the penalty for the breach was too mild. Odulana cited a recent case of hunters who killed an elephant in a forest reserve in the state, saying though the case was in court, the penalty was mere N50, 000 fine.
Also speaking on the activities of government to protect wildlife, Ogun State Public Relations Officer of the Nigeria Customs Service (NCS), Abdulahi Maiwadah, said the service does not allow the import or export of wildlife.
According to him, the state command of the NCS recently confiscated some snakes being imported into the country.
The guest speaker, a lecturer at the Federal University of Agriculture, Dr. Gabriel Dedeke from Animal Eco-Physiology, who spoke on the topic, 'The Decline in Vultures: Consequences on human and other wildlife survival, said the vulture might be ugly but has great benefits for man.
"They are culturally significant; vultures eat dead bodies in Parsi community in India. Vultures are sentinels of poaching activities. They are key component of healthy ecosystem; they are nature's garbage disposers, they keep environment clean and free of contagious diseases. Their extremely corrosive stomach acid allows them to consume rotting animal corpses. Vultures consume 70% carrion in Africa.
According to him, by ridding the ground of dead animals, vultures prevent diseases from spreading to humans and animals.
"Vultures play an extremely important ecological role in most terrestrial ecosystems. They keep the environment free of carcasses, waste (including human excrement), thereby restricting the spread of diseases (such as Anthrax and botulism) and pests such as rats. Hence their decline as a significant scavenger can lead to associated changes within their environment", he stated.