By Olasunkanmi Akoni
As residents of Lagos besieged the 20 Local Government Areas and 37 Local Council Development Areas, LCDAs, of the State to purchase Lake Rice, Governor Akinwunmi Ambode has charged workers in all the designated retail centres to ensure fairness in the sale of the commodity.
Ambode gave the charge through Commissioner for Agriculture, Mr. Oluwatoyin Suarau during a  visit to the Agricultural Development Authority Complex Oko-oba, Agege, one of the designated sale centres.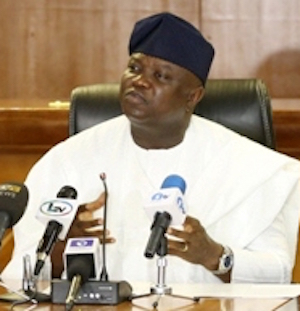 He noted that monitoring mechanism had been put in place to ensure fair sales of the product in all centres on the basis of first-come, first-serve.
Suarau said that the need to ensure access to the product was what prompted the state government to decentralize the sale to designated centres in all the councils.
"I have gone round some of the sale outlets and I can authoritatively tell you that the process of purchase of the product is fair, simple, orderly and stress free. Any resident irrespective of religion, tribe or social status can come in and get the product without any hassle", Suarau said.
While warning against possible complaints from residents on poor services, the commissioner charged workers at designated sale centres on customer satisfaction, stressing that quality service to customer should not be compromised.
While noting that the prices of the product has not changed, he said that the 50kilogramme bag of Lake Rice is sold for N12,000 while the 25kg and 10kg is being sold at N6,000, and N2,500 respectively.
"The State government has made all necessary arrangement to ensure that the product is available during the festive period and beyond", Suarau said.