By Jemi EkunkunborBy Jemi EkunkunborShe was a young, naïve school girl who, after a brilliant performance at  her school's Festival of Arts, was lucky to have her photograph plashed on the pages of Daily Times in 1957. That brilliant move earned her a place as a contestant for the Miss Nigeria pageant that same year. Luckily for her, she emerged as Miss Western Nigeria, throwing her further into fame.   As a face that was already popular not only as a beauty queen but also as model for many household products, it was an easy ride getting a job in broadcasting.  This year marks the 60th anniversary of her foray into the media.   In this interview, the UK- based broadcaster and media trainer takes out time to reminisce on her life in the media.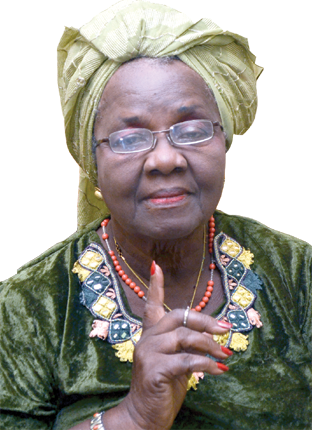 How was your first appearance on TV like? 
It was magical. I was only 17 years old at the time. I was one of the students that featured at the Festival of Arts. Daily Times covered the event and the late Jackie Phillips took a photograph of me performing that was published in paper. That was in 1957.
 How did you get on Miss Nigeria contest? 
Well, after I left school, I decided to go back to Warri where I come from because I had spent all my life in Lagos. I thought everything would be smooth sailing but it wasn't. However, I managed to get a job as a teacher at Our Lady of Apostles Convent School. At this time, I had met the female editor of Daily Times, former Miss Theresa Ogunbiyi.
Then there was this advert in the paper asking people to send in their pictures for Miss Nigeria competition. And a friend who had seen that photo of mine that was published in Daily Times said, 'why don't we send Julie's picture which had appeared in the papers earlier?' So she put her picture and mine and sent them to Daily Times. Somebody else provided the postage stamps. It was very exciting.
A week after, we found ourselves as candidates selected for an interview in Ibadan. There were different centres -Kaduna, Enugu, Ibadan and, of course, Lagos. We started preparing and, to my greatest surprise, I won the competition. That was the first Miss Western Nigeria competition. The press came around and started interviewing me. The late Chief Segun Olusola was a reporter with the Nigeria Broadcasting Corporation, NBC. He came around with a little gadget to interview me, what I later came to know as a midget. The following Sunday, I appeared in the papers dancing with Chief Anthony Enahoro who was then Minister of information. And that was the beginning of my life in the media.
 Was there an allure for you when you saw yourself in the newspaper? 
The allure was already there back in my school days. Performing was already like being in a fantasy world. It made me feel like I had something to offer; seeing myself being featured in the papers, and people wanting to know more about me. That was enough allure.
 So how did this pull you into broadcasting?
From my school days, I had always wanted to work in radio because we had a choir in school that used to go to the old NBC to sing, do recordings and later listen to myself on the rediffusion. At that time, even if you didn't have your own radio, you could stay with a family and listen.
So, it happened that I wanted a job in broadcasting. I was groping around for one but some people would say 'why don't you go and work in Kingsway Stores as sales manager or sales assistant?' because working in such places was like being in the glamour world. Anyway, while waiting to get a radio job, I was getting little advert jobs to do; Nescafe, Dettol, Blue Band, etc. I eventually never got on radio which was my dream. But two years later (1959), I got on TV.
When I got back to Warri, my aunty, Senator Daisy Danjuma's mother, said to me, 'You have been doing all this stuff but you haven't got a permanent job yet?', because they had been seen me here and there and in the papers advertising products. She then said to me, 'Maybe I should hand you over to my brother-in-law' who was Minister of Justice in Ibadan. At that time, TV was just coming into being. And she felt because I was Miss Western Nigeria, I could be on TV. So I followed Mr. Ighodaro who then introduced me to Chief Enahoro with whom I had danced when I won the competition.
When I was introduced to him, he said he would like me to work with him but that there was no vacancy as an announcer and that if there was an opening, he would get me fixed up. Luckily for me, two weeks after the station opened, I was there to work.
 So 60 years after, how has it been?
At the very beginning, with all humility, I didn't think I was doing anything special because, just as the nuns groomed us to go for the Festival of Arts, every day was like that. I didn't feel like fish out of water. I could deliver whatever lines I was given to deliver. It didn't look like I was doing any strenuous kind of work, unlike teaching where I still had to look at my notes and write something for the headmaster to look at.
It's been very wonderful for me. I've enjoyed every bit of it; being in front of a camera person is different from being behind.
 What have you done in the last two decades?
I have done many other things. I have had a magazine programme on TV called 'Julie's World' which was like the Oprah Winfrey show.   I have done a couple of children's programmes, I have written a couple of books in the process. I have written on my 30 years on TV. I have written some children's stories which I have given out as souvenirs to mark some of the events in my life.   In the last 15 years, I have been living in England and I have been involved with some TV stations out there. During the period I was in television, I was in charge of training people. I still do that. I get invited to TV College in Jos to train Presenters. Occasionally, University of Lagos also invites me to come and train their people because they built a studio there. Those are some of the things I have been doing in the last few years.
Now I am in the process of starting a TV channel in England with some people. It will be like a reality show with the help of the Ministry of Cultural affairs in England. I do a lot of events, weddings and concerts. I set up the Richard Coker Foundation in memory of my late son and that also propels me in areas of work related to the media. I have a book written on me and the BBC is trying to work out a documentary from it. I am an elder statesman now. So those are some of the things I have been busy with.
 How do you compare broadcasting then and now?
The way things have broadened out in broadcasting is quite phenomenal. In our time, it was only WNTV. And later on, when NTA came into being 40 years ago, we were already there and other stations in various state capitals. All these were merged and absorbed into one body called the NTA. When the NTA came on board, we were not sure what it was about because it was like starting from the very beginning. We had a new DG and we had to relate to the other stations as well. At the beginning, we were only seen in Lagos and Ibadan but then, working on this broad spectrum, we covered the entire country. So if we were running commentaries from Lagos, people all over the country would see it. We had about 22 stations on ground. It also involved reaching out to other bodies in Africa like the Organization of Radio and Television Stations in Africa. So from being a TV presenter, I now became the Programme Coordinator at the NTA and it was my responsibility to fish for the best programmes and put them out for the people in other parts of Africa to watch.
Once a year, we had drama competition and the programme that I picked, Moment of Truth, produced by Peter Ighodaro, was the best in Africa and we had to go to Algeria for this programme. So, apart from working at the local level here in Nigeria, we also reached out to other parts of the world. Moment of Truth became a household programme in different parts of the world.   Peter Igho, who was a producer in Sokoto, was brought to Lagos to head the department of drama. That was the beginning of Nollywood if you would like to look at it from that point of view. We began to produce programmes like Mirror in the Sun. I was, as Programme Co-ordinator then, picking the programmes, vetting the scripts and getting sponsorship from government and corporate organizations. Peter, on the other hand, was getting the actors. That was how the film industry in Nigeria started.
When we started, it was a small and humble beginning, offering what we had to people. Right now, it has gone beyond our wildest dreams. Look at Channels TV for example, standards have improved a lot. We were models for other people to emulate; we build a career, and allow you to go and start your own station.
When I went to read the news at Channels TV during their anniversary, I was very surprised. They were very professional in the way they handled news. The standard had improved a lot beyond our wildest dreams. I was amazed at the studio. If I had to compare our studio in those days, it was like being in one classroom and going to Channels TV was like going into the university. Everything was different:   the makeup department alone superseded what we ever dreamt of. I studied makeup at the BBC and I was a wardrobe mistress at some point.
But what I found there was different.   They invited you to a special room for make-up. It was like a school teacher going into the university. NTA has a lot to learn from some of these stations. They need to send people to some of these places to learn, just like I had the opportunity to go and read the news at Channels. I don't know if they used the teleprompter. In those days, I had to cram the first few paragraphs and, sometimes, pages. Before going on air, I will look at the script and, in no time, deliver it in front of the camera. This was before the days of the teleprompter. So when I got to the studios along with other legends like Anike Agbaje   -Williams, Victor Adeniyi, they said they were not conversant with the use of the teleprompter.   I said 'well, I can use the teleprompter but, at the same time, I can look at it and cram it'. By the time I finished reading the news, there was applause from the control room. I didn't know I was doing anything special because that was the way I was trained to deliver. So, as a Presenter, there is a difference in the way we deliver the news now and then. 
 What plans have you put in place to celebrate this milestone?
We actually started the celebration on the 27th of May. Most of the things I do now are actually related to the Richard Coker Foundation because I happen to be the CEO. So, apart from raising funds for sickle cell research work, we also want to encourage young people who want to come into the media.
We plan to have a concert both in England and Nigeria featuring young talents.   There is also going to be a summit on the development of young artistes. The concert will hold at the end of August at the International Conference Centre.
 Who are your favourite Presenters that remind you of yourself?
My favourite programme on TV remains Newsline on Sunday. I watch that anywhere I am. I like Abike Dabiri-Erewa. She was discovered in Channel 8 and brought to the network service.   She was a good reporter and presenter. I don't think anybody can surpass the standard she set. That's why she's still working so hard. I think when you are in broadcasting, it is like a training ground. We need to encourage young people to work hard. Maybe one day, they will also become honourable members (lawmakers).
Augusta Maduegbuna also worked hard but she has been moved around a bit. Eugenia Abu was also one of my favourites.   And in the older generation, I cannot forget Bimbo Oloyede.
Right now, there is an interview programme in the morning hosted by a young lady on NTA, Elizabeth Agbai, whom I really love. She is one of the best Presenters we have. I wish I can get people to switch off for a while to watch her.   A lot of the morning programmes can still be worked on.   Forty years and counting and things are still moribund.   They should look at Channels TV. They have the best Presenters.
 If you had to do this all over again, would you choose a career in broadcasting? 
I miss being a teacher. That is why I enjoyed working on the children's programmes. I still look forward to the day when I will be a teacher.