By Vincent Ekhoragbon
Gombe—The Economic and Financial Crimes Commission, EFCC, said yesterday it was still on the trail of politicians indicted in cases of economic and financial crimes, which it started investigating last year.
The commission last year, detained Gombe State Government House Accountant, Mr. Mohammed Balbaya, over allegation of N388 million 2015 election campaign funds allegedly intended to compromise elections results in favour of the then ruling People's Democratic Party, PDP.
EFCC's Zonal Head of Operations, Northeast, Aminu Ado Aliyu, spoke in Gombe while fielding questions from newsmen shortly after a briefing on the successes recorded by the zonal office over the last seven months.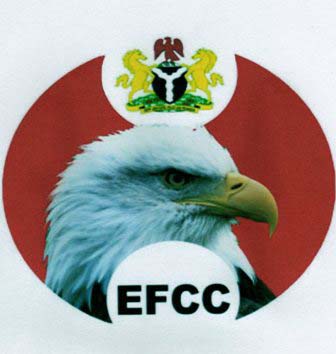 He stated that the cases were under investigation and some of the investigations would soon be completed after which the world would be informed as it is trying to be careful.
"The investigation is still on, and very soon, it will get to the politicians. If you observed, we have been inviting some of the various security heads that were on ground during the elections.
"But for now, the Commission does not want to rush to the media and at the end, the indicted persons are not guilty," he said.
The Commission's Head of Public Affairs in the zonal office had in a press statement, said Mr. Mohammed Balbaya was interrogated over his role in the N338million campaign fund sent to the state.
The statement said Balbaya admitted  collecting the said sum of money in cash from a Fidelity Bank official in the state based on the directive of Senator Saidu Umar Kumo, the Director-General of Governor Ibrahim Hassan Dankwambo's re-election campaign organization during the 2015 election.
It added that Balbaya said he contacted the Permanent Secretary and Principal Private Secretary to the governor of the state, Dr. Sani Jauro who directed him to share the money to the beneficiaries, while denying personal benefit from the windfall.
The statement as at then further indicated that the Gombe State Government House Accountant gave useful information, but did not disclose who the beneficiaries were and the amount of money given to each individual or group.