By Simon Ebegbulem
BENIN CITY—Edo State Government has waded into the crisis between the Nigerian Army at Ekenwa barracks and their host community, Oghede, in Ovia North East Local Government Area of the state as tension mounts in the area, after hundreds of indigenes of the community were sacked from their ancestral homes by the Army.
The Army was said to have invaded the community last Thursday, under the guise that the land where the community members built their homes belongs to the Army.
Children and women are now seeking refuge at the palace of the Enogie of Oghede, HRH Osadebamien Aghaghowa, who had appealed to the Oba of Benin and Governor Godwin Obaseki to come to their rescue.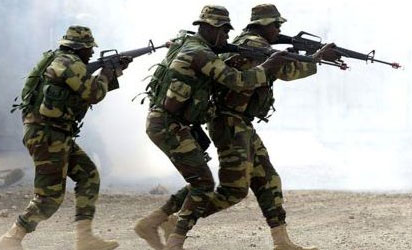 Enogie Aghaghowa described the Army's claim as false, saying: "Our community gave them land years ago through the state government and it was gazetted but they are turning around to encroach on our home, which were not given to them and have sacked my people who have lived in their ancestral homes for decades."
The tension in the area prompted  Governor Obaseki to send his Chief of Staff, Mr Taiwo Akerele to the community last Saturday and the two parties have been summoned for a meeting at Government House today.
Speaking to Vanguard, Mr Akerele who confirmed the meeting, noted, "We heard about the problem and the governor directed I should go and find situation and plead for calm in the area."
"Then after that we went to see the Enogie of Oghede and a very large crowd at his palace waiting for us. The community showed us a completely different gazette and a map which is at variance with what the military is claiming. They showed us their own land and where the military own stopped. They also took us to see some bacon that was planted there several years ago and that their ancestral home is even in that area, that how could they have given out their own ancestral home?